May 31, 2015
05/31/15

By Subscription Box Mom

0 Comments
0
Okashi Connection May 2015 Review + Coupon
Disclosure: I received this box for review purposes.
Okashi Connection is a Japanese snack box that ships worldwide for $22.00/month.   Each box is packed with about a pound of candy.  Okashi Connection sends an information sheet, but they also have a blog.  Each month, you are sent the password, so you can check out all the snacks and read in-depth descriptions. This month, Okashi Connection wrote about Golden Week on their blog.  Golden Week is the first few days in May when there are three national holidays and a weekend, making it a 5 day holiday.
The Details:
Cost: $22.00
Shipping:  Shipping is FREE and they ship WORLDWIDE.  They don't ship to a few locations, click HERE to see a complete list.
What's in the box? We send a size 60 box with around a pound (between 400-600 grams) of Japanese candy and snacks. We strive to include things that are difficult or impossible to get outside of Japan and seasonal items. We also include some information about the candy, as well as a video, hosted by Karin (13) and Haruka (11), with their opinions and instructions on how to make / eat the items.
When am I charged?   Your card will be charged on the 30th (or last day) of the month.
When does my box ship? Boxes will be shipped within the next week after being charged, and they should arrive at your door within 1-3 weeks after that. 
Website: http://okashiconnection.com/
Okashi Connection ships worldwide for FREE.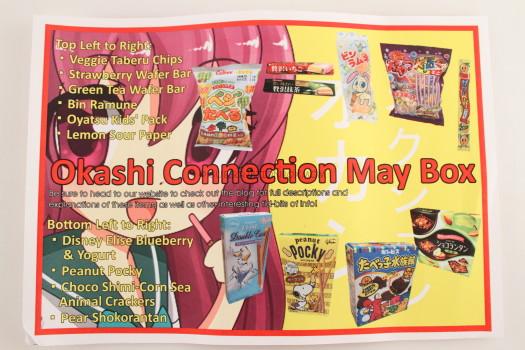 Okashi Connection includes an information sheet that is rather general, but more elaborate descriptions can be found on their website.
Bin Ramune:  This candy is shaped like a soda bottle, is made from an ice cream cone type wafer and is filled with flavored sugar.  The ramune is similar to the powder found in a pixie stick, but a slightly different taste.  To eat, you put a straw in the bottom and gently suck up the powder.  My almost 6-year-old loved this.
This is L eating the Bin Ramune.  We used a regular straw, because we didn't see the little clear straw included in the package.
Veggie Taberu Chips:  These multi-colored chips are shaped like waffle looking hearts.  The orange really did taste like carrots.
Strawberry and Green Tea Wafer Bars: This have the consistency of a Kit Kat bar but one is strawberry flavored and the other is Green Tea flavored.  The green tea flavor was a bit too much for me, bit I really enjoyed the strawberry flavored one.
Lemon Sour Paper: This is a gummy sour lemon strip that tastes similar to a sour patch kid.  My kids and I all really loved this.
Disney Elise Blueberry and Yogurt:  I love getting Elise in subscription boxes and Disney versions are even better.  These are sugar wafer cookies filled with yogurt and blueberry cream.
Peanuts Pocky Snoopy is very popular in Japan, so it's fitting he is on the box of this limited edition peanut pocky.  Pocky has a sweet cracker stick that is dipped in a peanut butter cream.  This version tastes similar to a Girl Scout Cookie Tagalong, but without the chocolate.
Pear Shokorantan: These are little squares of chocolate filled with pears, nuts and caramel.  The whole treat is very crunchy and tastes similar to a caramel apple, only with pears.
Each of the Pear Shokorantan are individually wrapped.
Oyatsu Kids' Pack:   This little mystery pack was filled with yummy treats (see below).
Aji Curry: These are crispy swirls that have a curry taste.  My husband really loved
Okonomiyaki Corn Puffs These are round corn puffs that taste similar to the curry, but is a bit sweeter.
Tamago Boro:  These look like oyster crackers,  but they dissolve in your mouth and they are very sweet.
Cola Candy: This is a piece of cola hard candy.
Choco Shimi-Corn Sea Animal Crackers: These are little animal crackers that taste just like a chocolate cookie.  My kids and I devoured these.
Final Thought: As usual, this was a fantastic box.  All the snacks were delicious (minus that green tea wafer) and this box is always a fun one to review.  Okashi Connection sends a huge box of snacks and it ships free worldwide.  If you want to Okashi Connection,  click HERE to subscribe and use the code Boxmom to get $1.00 off your box.
Do you like FREE SUBSCRIPTION BOXES?  Click HERE to see my free subscription box list.
You can see my FULL coupon list HERE.
Do you love Giveaways?  Click HERE to enter all my Giveaways.