May 13, 2015
05/13/15

By Subscription Box Mom

0 Comments
0
Kiwi Crate May 2015 Review – 50% Coupon + Free Box
Disclosure: This box contains affiliate links.
Kiwi Crate is a craft subscription for kids 4-8.  Boxes are 19.95 a month, and each month your child gets at least two big crafts along with Explore Magazine.Explore Magazine is a magazine that is included in every box. You can also add supplies for a sibling for only $9.95.  Kiwi Crate was our first subscription box, and it remains one of our favorites.
The Details:
Cost: Month to Month $19.95
3 Months: $59.85
6 Months: $111.00
12 Months: $203.40
Sibling Add On: Get extra materials for a sibling to share the crate. Customers call it the "no fight" crate. (available for $9.95/month with a monthly subscription, $28 extra for a 3-month, $56 extra for a 6-month, and $112 extra for a 12-month subscription). Only one sibling add-on can be added per subscription
Coupon:  Click HERE and use the code SHARE10 to save $10.00 on your first month
What's in the box? Every month you'll receive all the materials and inspiration for projects related to a theme such as music, gardening, dinosaurs or colors. Projects may include arts and crafts, science activities, imaginative play and more. We've hand selected and kid tested projects that are open-ended and encourage curiosity, exploration and creativity!
What ages is Kiwi Crate for?  Ages 3-8 but older children can enjoy it too.
When am I billed? You will be billed for your first crate immediately. After that, you will be billed up to 10 days before your ship date. This would be on or around the 5th of each month.
When does the box ship? The first crate will be shipped within 2 business days and subsequent crates will ship the next month around the middle of the month in the U.S. Crates to Canada will be shipped on or around the 15th of each month
Can I skip? Yes – if you do not want to receive a crate for a period of time, you can pause your subscription for 1, 2 or 3 months. To pause, log into My Account page, click "Manage Subscription" next to the subscription that you'd like to pause and then click Pause. You will not be charged while your subscription is paused. Your subscription will automatically resume after the pause period is complete. Pause by 7:00 PM EST on the 4th of the month to avoid being billed for the next crate.
How do I cancel?  To cancel, please call (866) 639-6502
Website: www,kiwicrate.com
Each Kiwi Crate comes addressed to your child.
The theme for this month is "Interesting Insects".  The two main projects are "My Bug Tic-Tac-Toe" and "My dragonflyers".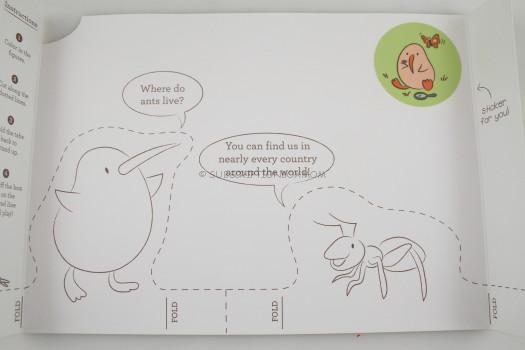 The back of the information card features Steve the Kiwi Bird and an animal friend for your child to color and cut out.  There is also a sticker to add to your poster (you get a poster with your first box).
Explore Magazine is a little magazine full of cartoons, games, and activities.
This month, there was a project in the magazine to make a bug catcher.  This is an easy craft with materials you probably have around the house.
In the very back of the magazine, there are bug parts to cut out and assemble just how you like.
The first project was "My Bug Tic-Tac-Toe".  This rated medium on the messiness scale and medium on the parental involvement.
The instructions are full color and easy for even non-readers to follow.  In this craft, your child will make a tick-tac-toe board, along with clay bugs to use as pawns.
There were many different materials for this craft.
Using the clay, you make 5 little balls then roll them out and fold over the wings.  The yellow made bees.
There was also red dough with ladybug wins.  You can add your own dots, to each bug.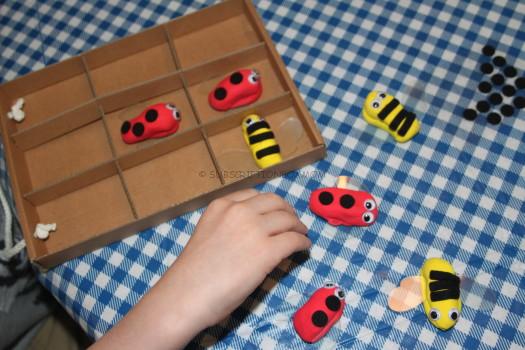 After everything was put together, we played tick-tac-toe.  L also liked flying his bugs around the house to all the different plants.
This is the finished project.  This game is really cute.
The second activity was to make "My Dragonflies".
This project had a low messiness scale and low parental involvement.  Your child will make dragonflies that fly!
There were two parts to the instructions, but they were really easy to follow.  I didn't need to help L at all.
Kiwi Crate included color change markers, a bottle, sticky foam, straws, a stopper and dragonflies.  I love it when Kiwi Crate includes reusable materials.
L had fun with the color change markers.  He normally doesn't color longer than a few seconds, but he really took his time with the markers.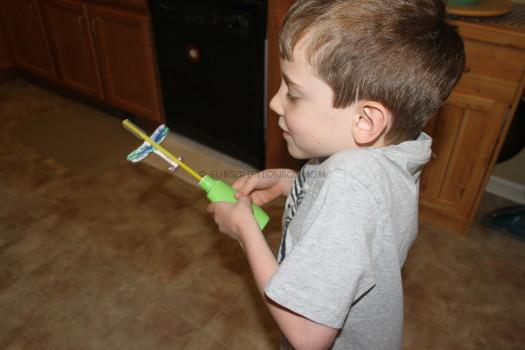 The dragonflies were lots of fun.  It is important to make sure the sticky foam is lined up straight, as that makes them fly farther.  I wish there were a couple extra pieces of sticky foam, but luckily L didn't make a mistake.
This is the finished project.  There was also an extra straw included in the box, in case one gets damaged.
Final Thought:  I love the insect theme this month.  L has been studding insets at school this month, so this was a great activity to further his learning.  The tic-tac-toe board is our favorite project.  Both projects will be able to be played with again and again.  If you want to try Kiwi Crate, click HERE and use the code SHARE10 to save $10.00 on your first month.  This will work on Tinker Crate, Koala Crate and Doodle Crate too.
Free Box
Kiwi Crate has partnered with Gymbore to give back to KaBOOM!  KaBOOM! is the national non-profit dedicated to bringing balanced and active play into the daily lives of all kids.  When you donate $5.00 to KaBOOM, you will get a free Limited Edition Mini Kiwi Crate box from Kiwi Crate and Gymboree.  Just use this link to sign up!  You will be signed up for a subscription, but you can cancel anytime.
Do you like FREE SUBSCRIPTION BOXES?  Click HERE to see my free subscription box list.
You can see my FULL coupon list HERE.
Do you love Giveaways?  Click HERE to enter all my Giveaways.