May 10, 2015
05/10/15

By Subscription Box Mom

1 Comment
1
Hello Flo New Mom Kit Review
Disclosure: This box was received free for review.
Hello Flo is a time of the month subscription box.  In addition to their monthly plans. they have a shop with some one time only boxes.  Monthly boxes are $20.00/month and there are discounts for longer subscriptions.  Hello Flo has a special New Mom Kit that is packed with all the essentials a new mom needs.  The New Mom Kit is $49.95 is a one time only box and is available in their shop.
The Hello Flo New Mom Kit shipped in a little brown box.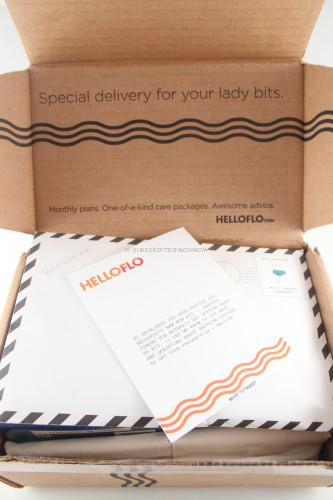 First Look: There was a note on top thanking for the review.
There was a guide about postpartum car in the box.
This guide is really detailed.  It discusses bleeding, breastfeeding, bathroom habits, baby blues and sex.
There was a little envelope from "Dear Kate"
Dear Kate Leak-free Underwear $34.00  This is not an ordinary pair of underwear.  These underwear are made with wicking + stain releasing inner layers and a protective outer layer.  This pair protects you from any kind of leaking.
Always Infinity Heavy Flow Without Wings 16 ct.
 $3.97 I love Always Infinity products.  These are a great way to stay protected, but you won't have a huge pad.
Hello Flo Fabric Box: This fabric box is designed to hold all your feminine needs.
Bamboobies Boobease Natural Nipple Balm – 1 oz
 $12.89  This balm is 100% organic and is made for cracked and painful nipples.  I breastfed both of my children for almost 2 years each, so I know how valuable a nipple balm can be.
Motherlove Sitz Bath Spray (2oz)
 $9.95  After childbirth, that pain doesn't go away.  You spray this "down there" and it helps to soothe sore perineal muscles.  This is also all natural and organic.
Olay Fresh Effects Everything Off  $1.32 These makeup remover wipes are great for new moms.  When you are exhausted at the end of the day, you just want to have a quick wipe off of makeup and go to bed.
Hair Ties: .50:  I love these hair ties, so I was happy to see some in the box.
SW Basics Cream $10.67 This lotion is made with only 3 ingredients: shea butter, coconut oil, and olive oil.  There are no fragrance, no synthetics, and no water.  This smells like a natural lotion with a hint of coconut.
SW Basics Cocoa Lip Balm $4.00 Like the lotion, this is only made with three ingredients: cocoa butter, coconut oil, beeswax. This is organic, free trade and it smells like chocolate!
Torie and Howard Organic Hard Candy $4.99  I really love Torie and Howard candies.  They have a hug selection of candy and all the flavors are very tasty.  These pomegranate and nectarine candies are amazing!
Luna Bar Chocolate Cupcake $1.25 I am really not a fan of Luna bars, although I haven't tried this specific flavor.  This has 4 grams of fiber and is gluten free.
Super Soft Washable Nursing Pads by Bamboobies $8.33  Nursing pads are a lifesaver.  They protect your bra and clothing from unsightly leakage.  These are resusable/washable breastpads.  These also help protect chaffed nipples.
 Final Thought: This box had a total value of $91.62, which doesn't include the cloth storage basket.  I thought this was a perfect box for a new mom.  I personally used a variation of most everything this box, after each of my children were born.  Hello Flo packed all those items that help new moms, but they are also the ones that no one talks about.   This would make a fantastic gift for a new mom.  You can pick up this box with this link.  
Do you like FREE SUBSCRIPTION BOXES?  Click HERE to see my free subscription box list.
Do you love Giveaways? Check out all my Giveaways HERE
Disclosure: I received this box free for review.  My opinions are my own