May 1, 2015
05/01/15

By Subscription Box Mom

0 Comments
0
Sprouting Threads April 2015 Review + Coupon – Children Clothing Subscription Service
Disclosure: The $20.00 styling fee was waved for this review.
Sprouting Threads is a new clothing subscription service for children.  The cost of the box, depends on what you keep.  You will pay a $20.00 styling fee to sign up, then that amount comes off your total, as long as you buy two pieces.  You fill out a profile about your child's size, likes and dislikes.  You are able to rate several different outfits, so Sprouting Threads can best match you with stylish pieces.  You also decide how many outfits you are sent at one time.  You can choose between 2 and 5 outfits at a time and you will decide if they are all new or 1/2 reThreaded (used).  You also choose if you want to receive a box monthly or seasonal.
ReTreaded Clothing is second hand clothing that has been inspected, cleaned and approved to be sent out.  When you child is done with their clothing, you can send it in to Sprouting Threads and get credit to use on your next box.  Sprouting Threads only carries boutique brands like: crewcuts, tea collection, mini boden, charlie rocket and more.
Once you get your box, you decide what to keep, then send back the pieces you don't want in the prepaid envelope.  You have 5 days to send back the pieces you don't want.
The Details:
Cost: $20.00 styling fee plus the cost of clothing.  The $20/shipment styling fee is credited toward your order if you keep just two or more new pieces.
What's in the box?  Based on your selections, you will receive a box full of stylish boutique clothing for your child.  Buy the pieces you like and send back what you don't
ReThread:  You can get previously worn items at a lower cost, if you select that option for your box.  Even better, you can send back the clothes you buy for credit, once your child outgrows them (providing they are in the right condition).
I was waived the $20.00 styling fee and was sent a box to review.  I selected the 5 outfit option 1/2 ReThread / 1/2 new items.  This is for a 3 year old boy.
Sprouting Threads shipped in a huge box and it arrived by UPS.
Everything was neatly folded in the box and wrapped in tissue paper.
I was excited as soon as I saw the clothes!
There was a return envelope included to return your clothes.
Sprouting Threads included a card about their ReThreading program.  When you reThread, you will get get 20% of the value in Sprouting Threads credit.
There was another paper with all the clothing items listed, along with the cost.  The top part of the paper just has my address, so I folded it over.
Tea Collection Plaid Shirt (New) $35.00:  This plaid shirt is nice and soft.  The fabric feels really nice and I love the colors.  T needs birthday pictures taken so I am going to buy this.
Tea Collection Knit Shorts (New) $19.50  My son loves knit shorts, but so many look like cheap gym shorts.  These shorts are cute and tailored with little pockets.  They fit great and I am buying these too.
Tea Collection Kantha Fish Graphic Tea $22.50  This is listed for $17.50 on the Tea Collection website, but it is sold out.  I really love this shirt.  The fish has a cool patter and it's different from other shirts he has.  I haven't decided if I am keeping this, but I am learning toward yes.
Tea Collection Plaid Shorts $22.00  These sell for $35.00 brand new.  These shirts don't show any signs of wear, and if it had not been for the tag, I would never know they were used.  I like the shorts, but I tend to not buy pattern shorts, since they are hard to match with man things.  I am returning this.
Tea Collection  Long Sleeve Hoodie T-Shirt  (reThread) $24.00  This reThreaded item sells for $29.50 new, but it is on sale for $21.95 through the Tea Collection.  The shirt is in excellent condition and I really love the style.  The little v-neck colar is really cute.  Since it is getting warmer, T won't wear this till fall, so he will need a bigger size.  I really love the shirt, so I might buy it from Tea Collection.
 Tooby Doo Lightening Bolt Tee (reThread): $20.00  This shirt sells for $32.00 new and the reThreaded shirt looks brand new.  I really love this shirt and think I am going to buy it.  The fabric is thick and soft, so I think it will wear nicely.
Tooby Doo Ram Shirt (New) $20.00  I actually don't see this shirt or sale anymore, but I really like it.  It has a ram (I thought it was a longhorn) and is nicely made.
Tooby Doo Cargo Shorts (New) $30.00  I couldn't find these for sale, but the price seems reasonable for the brand and quality.  I am not sure if T need cargo shorts, so I am putting this in the maybe pile.
Janie and Jack Khaki Pants (reThread) $20.00  I love Janie and Jack clothing, but their prices are usually too much for me.  This khaki pants are used but they look brand new.  If I hadn't already bought khaki pants for T, I would buy these.
Crew Cut Straight Leg Jean (reThread) $24.00  I couldn't find these brand new, but the Crew Cuts brand is really expensive.  These are a nice pair of jeans, but I am not in love with the wash.
The Model:  T tried these outfits on, to give you the idea of fit and style.  Note, he is three, so if he was somewhat looking at the camera, that was a win for me.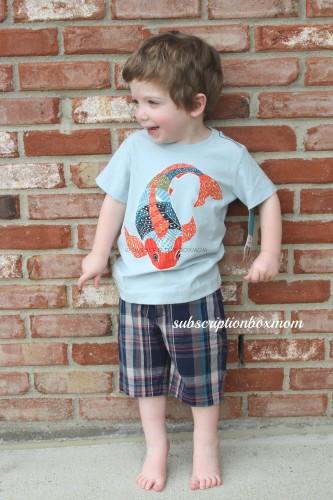 Outfit 1: I love the fish shirt and I think it looks so cute on him.
Outfit 2:  This is a nice dressy outfit, but the plaid shit can be dressed down with shorts.  I really love the shirt.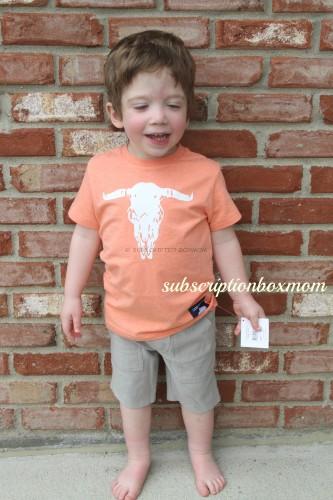 Outfit 3: Yes, the closed eyes was the best I could do.  I love the shirt and shorts on this look.
Outfit 4:  I am slightly torn if I like the orange shirt or the blue shirt.  They are a size different.  I tend to buy slightly bigger, since kids grow.
Outfit 5:  Again I love this shirt, but it will be too small before he wears it in fall.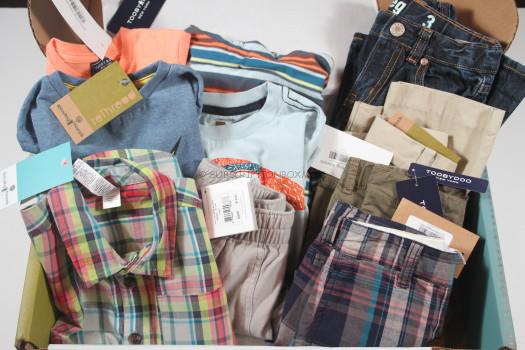 Final Thought:  I really love Sprouting Threads.  The quality of both the new and the used clothing was fantastic.  While I have heard of the Tea Collection, I have never personally shopped their lines.  What I love, is I can try clothes in the privacy of my home, and decide what I want to buy.
Everything was picked to my preferences, and I think Sprouting Threads did a great job matching my tastes.  The clothing pieces are not cheap, but boutique prices aren't cheap and I think this is a great way to fill your child's closet with a few stylish pieces each season.  What's even cooler, is you can return the clothes for credit, once your child outgrows them (providing they are in great shape).  If you want to try Sprouting Threads, use this link with the code BOXMOM25 to save 25% on your first box.
Do you like FREE SUBSCRIPTION BOXES?  Click HERE to see my free subscription box list.
You can see my FULL coupon list HERE.
Do you love Giveaways?  Click HERE to enter all my Giveaways