April 7, 2015
04/07/15

By Subscription Box Mom

15 Comments
15
Whistle Work Box April 2015 Review – Coupon + Giveaway
Disclosure: This box was received free for review.  Whistle Work Box is responsible for all prize distribution.
Whistle Work Box is a subscription box devoted to making your workplace a bit more fun  You can get a box for a man or woman and each box is $19.99/month.  Each box will be filled with fun and useful things for your office like, office supplies, office decor, office lifestyle products, snacks, and more.
The Details:
Cost: $19.99/month for a man or woman box.
Shipping: $5.95/month to US only.
What's in the box? "Every month you will receive a new kit including work inspired products to create your work-space. It may include office supplies, office decor, office lifestyle products, snacks, etc…."
When will I get the box? Boxes ship at the end of the month.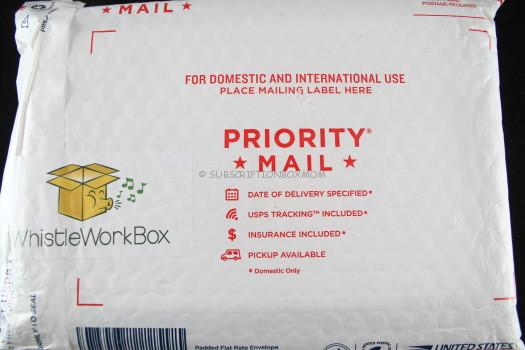 Whistle Work Box shipped in a polymailer bag from USPS.  I love when boxes ship priority mail.
Whistle Work Box shipped in a little brown box with a green label.  The box may look small, but it was packed with goodies.
First Look.  There was an information card on top with everything the box listed.
The Gentleman's Club Face Coasters $6.99  This is the coolest thing I think I have received in a box.  You put this on your nose and they are a funny face.  There are 40 different faces to choose from, ranging from babies to weird mustaches.  If I still worked in a cube, I would have fun putting on different faces, every-time someone (co-workers) came to talk to me.
This is an example of what they look like.   Major kudos go to my husband, for letting me post this picture.
Notebook & Pencil $9.99 This notebook has a build in pencil.  I am constantly looking for a missing pen or some paper, when I need to write down an appointment.  This notebook set keeps everything together.
This is a look inside the book.
Get the Funk Off 5pack
 I saw a couple of negative reviews on Amazon, so I made sure to test these out for myself.  These worked really well.  They were very moist and was able to clean my computer screen and my phone screen with the same wipe (I used one side for each).  They also have a pretty funny name.
YooDara Good Luck Tribe $6.99 This keychain is a good luck charm and it comes with a downloadable game.  I may gift this, so I didn't open it to play the game.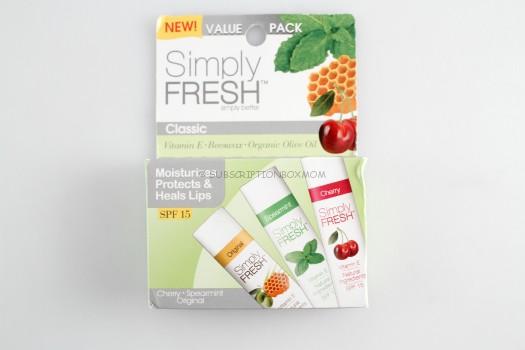 Simply Fresh Classic Value pack Lip Balm  This was a bonus item and wasn't listed on the information sheet.  This lip balm comes in a three pack with original, spearmint and cherry.  My husband and I are going to split this.  It's great to have a lip balm to store at your desk.
Light Up Micro USB Cable $4.99  My husband has an android phone, so I think this will work for him.  This USB cable lights up!  This is really cool.
It lights up as soon as you plug it in.
Bonus Items: There was a bookmark and two mints also included in the box.  When you use the bookmark, it looks like there is a hand reaching out from the book.
Final Thought: This box had a total value of $34.95.  This box was really awesome.  Those face coasters are so fun.  My husband and I have been using those for the last few days.  We periodically just put one on, as we go through our day.  This box was both useful and fun.  The key-chain wasn't my cup of tea, but I loved everything else.  The Get the Funk Off wipes worked really well, and I want to get more for my office.  If you want to try Whistle Work Box, use this link with the coupon springy to save $5.00 off the May box.  Whistle Work Box is also giving away a free box to one of my subscribers.  Just enter below!