April 23, 2015
04/23/15

By Subscription Box Mom

0 Comments
0
Sock Panda April 2015 Review + Exclusive Coupon
Disclosure: This post contains affiliate links.  I received this subscription for review purposes.
Sock Panda is a sock subscription service for Men, Women and Children.  Each month, you get a pair of socks in cool fun patterns and colors.  Adult socks are $12.00/pair and children's socks are $11.00/pair.  You can also get two pairs of adult socks for $19.00.  Sock Panda also gives /back socks to people in need!  Men's socks fit shoe size 8-12 and Women's socks fit size 5-10.  For adults, you can choose between bold or cool socks.  Bold will be more flashy socks!
The Details:
Cost and What's in the box?  Men and Women: Pay $12.00/month for 1 pair or $19.00/month for 2 pair, Kids: Pay $11.00/month for 1 pair of amazingly cute socks
Shipping:  Sock Panda ships worldwide.  International subscribers pay $3.00 shipping. US customers, shipping is free.
Sock Panda ships in a plain white poly mailer bag.
Men:  These socks have two robots on the side and they say "Robot Fight" on the side.  The socks are soft and comfortable.  My husband wears a size 13 shoe, so these were a little snug for him, but my husband doesn't have a normal shoe size.
Women: These green and blue socks are super cute.  I love the little pandas on the side and the socks are really soft.  The socks are made with 85% peruvian cotton, which is very soft.  The designs on the socks leave threads on the inside, which I don't normally like, but again they are comfortable.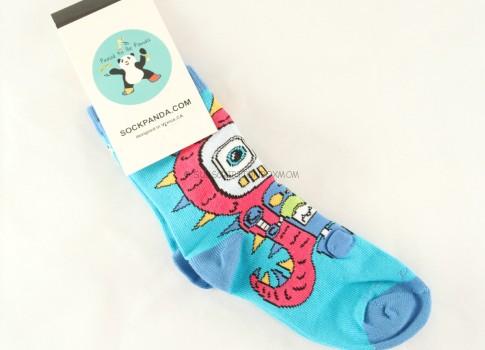 Kids:  I think these are girl socks, but my 5 year son loves these.  These feature a pink alien robot with cute little feet.
Kids socks:  We received a more "boy" pair of socks as well.  These socks feature Hoot Hoot.  Hoot Hoot is a ninja owl and loves to read.
The owl socks also have a snap on the side.  I love this snap!  You snap the socks together and then they won't get lost during washing.  This is the coolest feature I have ever seen on socks and I have to have more.
This is the look at both pairs of kid socks.  Note, the light blue are the same size, I took these after my kids tried them on, so they are slightly stretched.
Sock Feet!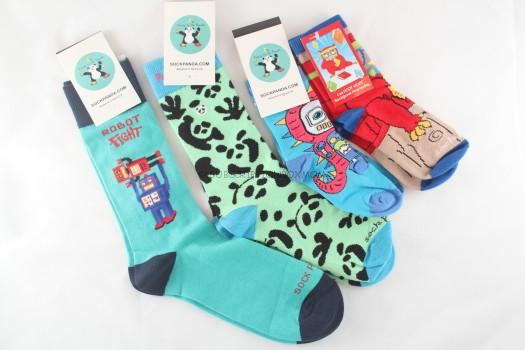 Final Thought:  I thought all the socks were really cool and quite comfortable.  My favorite socks were the kid socks.  The snaps on the owl socks were so neat, I have never seen a feature like that.  While the socks are cheap, I like that Sock Panda gives back to charity and the sock are pretty cute.  If you want to try Sock Panda, use this link with the code BOXMOM15 to save 15% when you subscribe.