April 4, 2015
04/04/15

By Subscription Box Mom

1 Comment
1
Snack Sender April 2015 Review
Disclosure: This box was received for review purposes.
Snack Sender is a snack subscription box that lets you customize the snacks in your box.  Snack Sender was developed when the owner was a freshman in college.  After seeing the work that went into sending a care package, the owner set out to set up something easier.  Snack Sender is $23.99/month plus $2.99 shipping.  There are discounts for longer subscriptions.  When you subscribe, you add various snacks to your cart, the top 5 snacks in your cart will be sent to you each month.  You have till the 20th of the month to personalize your cart.  There are a wide variety of healthy and not-so-healthy snacks.  Snack Sender also lists the ingredients on their website, so you know everything you are eating.  Each bag of snacks contains 4 oz of food.
The Details:
Cost: $26.00/one time box, $23.99/month, $22.99/month for 3 months, $21.99/month for 6 months.
What's in the box? Each box contains 5 bags of 4 oz snacks, personalized by you.
Shipping: Shipping is $2.99 and ships to The United States.
When will I get my box?  Boxes ship the first week of the month.
Snack Sender shipped in a white box with a red bow printed on top.  I like the addition of the bow, especially for a college care package. A note about my review, I didn't personally pick out my five snacks, I was just send an assortment of 5 snacks.
I have never seen a snack subscription box with so much packing material. Snack Sender really took the time to make sure nothing was damaged.
Whole Wheat Raspberry Bars: There are three whole wheat raspberry bars in a bag.  These have 110 calories a bar and are great for breakfast.
These were yummy and fresh.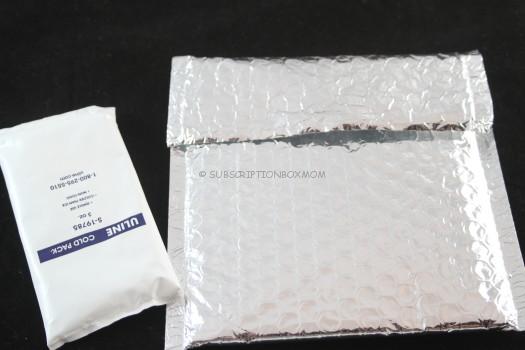 Snack Sender went all out with the packaging.  The next chocolate snack was packaged with an ice pack and cooler bag to prevent melting.
Dark Chocolate Pretzels:  These were really fresh and tasted fantastic.  I resisted the urge to eat the whole bag.
I think these did happen to melt and re-harden before arriving, but they were still good.
Flax Corn Chips:  These taste like a Frito with flax seeds.  I was the only one in my family who enjoyed these, but that's okay by me.
Here is a closer look at the chips.
Mango: These are dried pieces of mango.  The main ingredients are mango, honey and sugar.  This really tasted like dried mango.
These were really tasty and fresh.  I highly recommend these.
Gummi Peachies:  I wasn't a huge fan of these, because I felt they were a bit stale.  My 5 1/2-year-old loved these.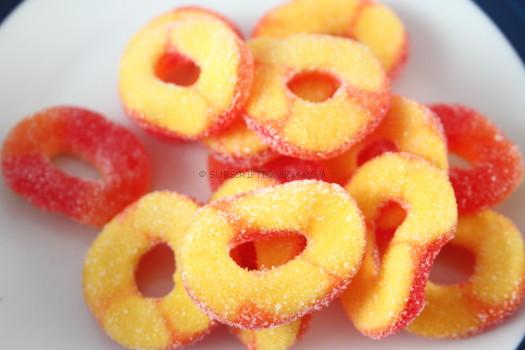 A closer look
Final Thought: The cost of this box worked out to $5.40 per snack.  I really like the concept and snack selection of this box, but feel the price is a bit high.  Granted boxes like these are more about convenience than saving money.  I do wish the snacks had the ability to be resealed.  I couldn't sit and eat a 4 oz container of gummies in one sitting, so I will need to transfer these to plastic baggies.  I do think this is a neat subscription, especially for college students whose loved ones want to send a care package.  If you want to check out Snack Sender, click HERE.
Do you like FREE SUBSCRIPTION BOXES?  Click HERE to see my free subscription box list.
Do you love Giveaways? Check out all my Giveaways HERE
Disclosure: I received this box free for review.  My opinions are my own