April 10, 2015
04/10/15

By Subscription Box Mom

1 Comment
1
Love with Food April 2015 Tasting Box Review – "Starry Nights" + Exclusive Coupons + Free Box Offer
April 2015 Love with Food Review:  Disclosure: This post contains affiliate links.  I received this box free for review.
 I was delighted when Love with Food offered me an advanced box of the April 2015 Love with Food Tasting Box.  Love with Food is a wonderful snack subscription box.  I have personally been a subscriber since 2013, and I enjoy every box.  The tasting box features eight or more snacks for only $10.00/month (plus $2.00) shipping.  The is a deluxe version that features 16-20 snacks and is $19.95/month (free shipping).  For those on a gluten free diet, the gluten free box contains 8-12 snacks for $24.50/month.  I have a few great coupons for all of these boxes, including a free box offer, just read to the end of this review.
One Box One Meal
For every box Love with Food sells, they donate a meal to fight hunger in America.  I love subscription box companies that give back.
Point System
Love with Food has a referral program and a point system.  When you accumulate 500 points, you get $10.00 to spend in the Love with Food store.  If you refer a friend to Love with Food, you will get 500 points.  You can also review your snacks in your box for 10 points each.
Love with Food ships in a bright red box.
First Look
Every box contains a booklet that gives you an overview of the tasty snacks in the box.  The theme for this month is "Starry Nights" .  This box is filled with all kinds of yummy snacks to eat late at night.
Not only does Love with Food give you descriptions of each product, but they let you know if a product is vegan, gluten free or non gmo.
Back to Nature Honey Graham Sticks:  Since discovering these in a subscription box, these have become a family favorite.  The honey graham sticks are free from preservatives and artificial flavors.  They do not contain high fructose corn syrup.  I pull these out when my kids want a cookie or a sweet treat.  They only have 120 calories, so even I snack on these.  I will be buying some more from the Love with Food shop this month.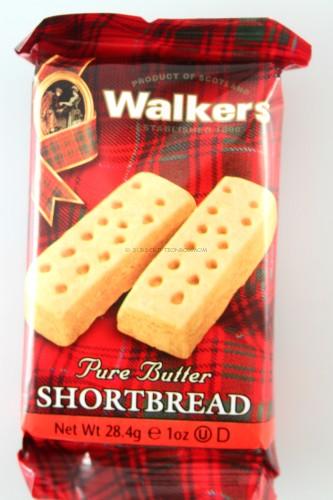 Walkers Pure Butter Shortbread:  I have had these in a subscription box before and they are fantastic.  Walkers has been around since 1898 and after tasting these shortbread cookies, it's easy to see why.  These are best with a tall glass of ice cold milk.  There are two cookies in the package, so my husband and I each get one.
Wild Garden Hummus Snack Pack by Ziyad I had never tried hummus, until I discovered it through subscription boxes.  Hummus is an excellent snack and this kit also contains a bag of protein rich sea salt Quinoa chips.  Together the Quinoa chips and the hummus made a fantastic snack.  I will be purchasing more of these kits, as they are a great tasting snack and there is only 122 calories in the entire box.
Inside the box was a bag of chips with the packet of hummus.
Together, the hummas and chips were fantastic!  This is a must try snack.
Sour Beans by YumEarth This is another snack our family is family with.  YumEarth makes various candies without all the bad stuff other candies have.  These sour beans are a gummie covered in sugar, but there are no artificial dyes or flavors.  Just one pack of these beans contains 100$ RDA and vitamin c.  My kids grabbed these as soon as I brought up the box.
Luna Minis Lemon Zest:  These Luna bars might be small, but they contain calcium, folic acid and protein, along with a lemon zest taste.  I am personally not a fan of Luna bars, but I have family who love these, so that is who I save mine for.
Garlic Olive Oil Pasta Chips by Vintage Italia:  Do you love the bread you dip in garlic and olive oil at restaurants?  This tastes like that yummy restaurant treat, only in chip form.  These chips contain 60% less fat than regular potato chips and are incredibly good.
Green Tea Tropical by Mighty Leaf Tea: This tropical flavored green tea not only contains a fruity flavor, but it promises to improve brain function and fight the aging process.  I don't drink tea, but this really makes me wish I did.  My husband loves tea, so he will enjoy this in the morning.
Bonus:  There was a bonus Love with Food magnet star.
Final Thought: This box was full of some old favorites and some tasty new discoveries.  Love with Food always introduces my family to new and exciting treats.  I love the I get new healthy snacks for my kids each month.  I strive to set good, healthy eating habits, and Love with Food helps me achieve that.  If you want to try the Tasting Box, use this link to get it FREE (just pay $2.00 shipping).  You can save $20.00 on any 6 or 12 month subscription plan when you use this link with the code SBMOM20.  Finally, you can save 50% on your Gluten Free box,  just click HERE.
Coupons!
1.   Tasting Box, use this link to get it FREE (just pay $2.00 shipping).
2.  SAVE $20.00: You can save $20.00 on any 6 or 12 month subscription plan when you use this link with the code SBMOM20.  
3.  Gluten Free Box: You can save 50% on your Gluten Free box,  just click HERE.
Do you like FREE SUBSCRIPTION BOXES?  Click HERE to see my free subscription box list.
Check out my Full List of Subscription Box Coupons