April 24, 2015
04/24/15

By Subscription Box Mom

0 Comments
0
Little Lace Box April 2015 Review + $10.00 Coupon
Disclosure: This post contains affiliate links.  I received this box free for review.
Little Lace Box has gone through some changes recently and I was really excited to see what the April box would look like.   Little Lace Box is $59.99 for one time boxes and there are discounts for longer subscriptions (6 and 12 months).  Instead of monthly boxes, Little Lace Box is now bimonthly.  Subscriptions are open for June, and you can click HERE and use the coupon SBM10,  you will save $10.00 on a 6 and 12 month subscriptions.  Little Lace Box also has a point system!  
The Details;
Cost: $59.99/bimonthly, $ 149.97/6 months, $ 269.95/12 months.
Coupon:  Just click HERE and use the coupon SBM10 to save $10.00 on a 6 and 12 month subscription plan.
What's in the box? Little Lace Box is a a subscription service that delivers hand-curated, nearly impossible-to-find designer products directly to your doorstep every month.  Each month you will get high-end, brand name beauty, lifestyle, and home product samples.  
Shipping:  Shipping is free from all the 50 states, including Alaska, Hawaii and Puerto Rico
How do I cancel? You can cancel from your account
Website: http://littlelacebox.com/
Little Lace Box was really big and heavy this month!
Little Lace Box includes a two page newsletter with information about this months' theme, next months' theme and a list of everything in the box.  This months' theme is "Nonna's Kitchen", which is a combination of memories of grandmother's kitchen.  I will put information about next month's theme, at the end of this review.
The back of the information card was filled with a list of everything in the box.  There was a huge list of goodies in the box!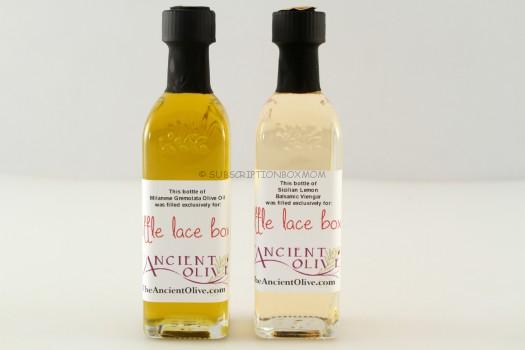 Gourmet Olive Oil & Balsamic Vinegar from The Ancient Olive $13.99  There was two cute  little bottles of Olive Oil and Balsamic Vinegar.  The Sicilian Lemon Balsamic Vinegar is a light and fresh vinegar, great for cooking.  The Milanese Gremolata Olive Oil is a mix of lemon zest, minced garlic Italian flat leaf parsley and mint.  I love Olive oil and I cook with it all the time.  My husband loves Balsamic Vinegar, and I will be using this with a seafood dish.
One Full-Sized Ancient Olive Oil or Balsamic Vinegar $13.99:  Little Lace Box wanted to include full size bottle of Olive Oil or Balsamic Vinegar, so they gave a code to subscribers, to redeem for one in from the Little Lace Box shop.
Olive Oil Dipping Bowls by Le Cadeaux $15.99 This set of four Melamine bowls that are perfect to use with the olive oil and balsamic vinegar.  These look fancy, but they won't shatter if my 3-year-old drops a bowl.  I love the cute patterns on these bowls!
Filotea Pennetta della Domenica from Marx Foods $8.99  Filotea used to only provide gourmet Italian pasta to fine Italian chefs, but now it's available to everyone.  This artisan egg pasta is imported from Italy, and it looks fantastic!
Trentasette Pesto, Sauce and Pate from Marx Foods $8.50  You can't have pasta, without a gourmet sauce.  This red pesto sauce has truffles and is a great companion to the pasta.  This is made with basil, garlic, pine nuts, olives and peppers.
Tea Towel by Belle & Union Co $14.99 This tea towel has antique trucks with the phrase "Farm to Market". This is a nice thick dish towel and it reminds me of ones my grandmother had.
Market List Notepad by Brianna (Little Lace Box) $4.99  This notepad is designed by Brianna, one of the owners of Little Lace Box.  This goes nicely with the dish towel.  I do wish it had a magnet on the bag, so I could hang it on my refrigerator.
Porcelain Jewelry Dish by Artisan Janelle Beaulieu $14.99 This porcelain dish is made to store your jewelry while you are cooking.  I actually made something like this in a craft box, but mine didn't turn out as nice.
Cucina Dish Soap from Fruits & Passion $8.99  This is the fanciest looking dish soap, that I have ever seen.  This is biodegradable and is free from phosphates.  This has a lime zest scent and is cruelty free!
Final Thought: This box had a total value of $105.42.  This box had a huge value and it more than makes up for the recent price increase.  I loved this box, and I will use everything in this box!  I can't wait to have Italian night this weekend.  The tea towel is already hanging on my oven and I am ordering my full size Olive Oil from Little Lace Box today!  If you want to get Little Lace Box, you can click here, and use the coupon SBM10, to save $10.00 on 6 and 12 month subscriptions.    
June: The June box is themed "Classy and Fabulous".  This box will include inspiration and accessories to glam up your summer style and take you from day to dinner.
Do you like FREE SUBSCRIPTION BOXES?  Click HERE to see my free subscription box list.
You can see my FULL coupon list HERE.
Do you love Giveaways?  Click HERE to enter all my Giveaways