April 2, 2015
04/02/15

By Subscription Box Mom

0 Comments
0
Julep Maven April 2015 Review "The Paradise Collection" + Free Boxes
Disclosure: This post contains affiliate links.
The theme for The April 2015 Julep Collection is "The Paradise Collection".  Julep is $24.99/month or $19.99/month with a 3 month subscription.  You can sign up with one of the free offers (at the end of this review) and get your first box free, just pay $2.99 shipping.  Once you are a maven, you will be able to select the items in your box between the 20th and 24th of the month.  I have been a Maven since 2013 and I personally love the company.
I loved the entire collection this month, so I selected the ultimate upgrade.
First Look: Oh my they are all so pretty.
I love all the pretty colors, so I had to include another photo.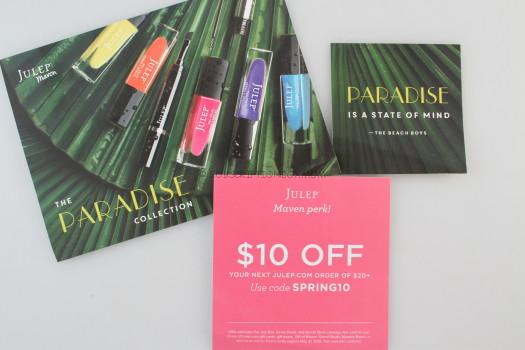 There was an information card was included, along with a $10.00 off coupon and a quote.  The quote was "Paradise is a state of mind" by the Beach Boys.
Drew -Bombshell: Fabulous fuchsia crème.  This is a re-release from the Julep Vault.  I love this pink and I only needed one coat.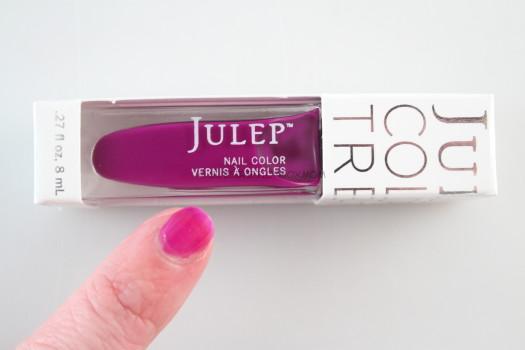 Connie РClassic with a Twist Hot magenta plum cr̬me.  This polish is a thinner polish, and almost like a jelly.  I applied two coats for the look above.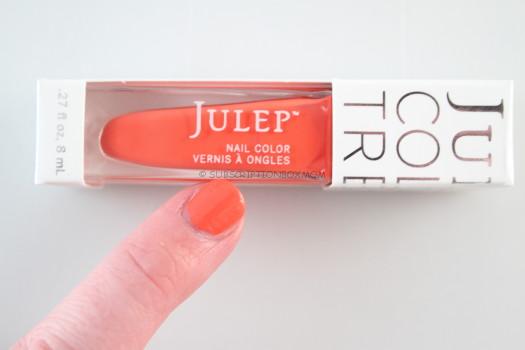 Jenna РClassic with a Twist: Tangerine burst cr̬me I only own about 2 orange polishes, because generally I am not a fan.  This polish has a great formula and is a bright cherry orange.
Addison РIt Girl: Tart lemon cr̬me I generally feel the same way about yellow, as I do orange.  Once again, this is a great color and it doesn't make me look washed out.
Danielle – It Girl Cerulean wave duochrome This is a really cool blue.  It has a an iridescent look and I really love the color.
April РBoho Glam Vermillion cr̬me This is another orange-ish polish, but it has a much deeper color.  I didn't like the formula as much as the other, as it was a bit too thick and streaky.
Danica – Boho Glam Blue violet iridescent chrome This is a pretty iridescent purple.  It goes on rather thin, so I had to use 3 or 4 coats.
Randi Boho Glam Pink plumeria crème This is a beautiful pink and it has a nice full coverage.  I actually only needed one coat.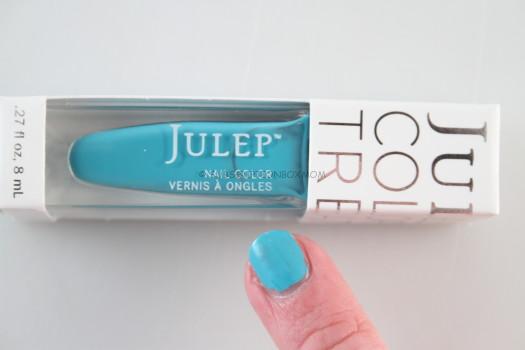 Cassidy -Bombshell Bondi blue crème This blue is so pretty, it reminds me of blue waters in the Caribbean.
I love all the polishes!
Light on your Lips "Girl Code": I love Julep's new lipsticks.  The cap has a magnet on it, so it won't fall off in your purse.  The colors are rich and moisturizing.  This is a really pretty pink color.
Light on your Lips "Footloose":  This is the other new color from Julep and it has a nice pink/coral color.
Swatches:  The top two swatches is "Girl Code".  The top line is several swatches and the bottom is one swatch.  The bottom two colors are "Footloose".  The top line is several swatches and the bottom is just one swatch.
Julep Oxygen Bonding Base Coat: This is a new base-coat from Julep.  You apply this, wait 60 seconds and then apply your polish.  This is a great base coat to keep your polish staying put.  I tried it with my manicure today, and I excited to see how long it lasts.
Don't leave your brows at home:  This brow powder and brush combination is brand new from Julep.  Julep included the colors warm brown and rich brown.  There are two other colors available through Julep.
Don't Leave Your Brows At Home – Rich Brown  Based on my hair color and skin color, I tried out the Rich Brown.  The brush is angled and you dip it in the brow powder.  I really loved the look this gave my brows, even more than my Anastasia Brow Pencil.  The color blended in nicely with my dark brown hair.
Lock Down Your Brows I actually don't think I ever used brow gel before.  This tamed my brows but didn't make them look weird.
As a special treat, a package of Gobstoppers were included in the box.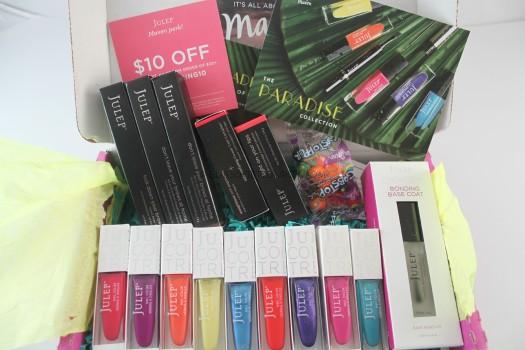 Final Thought: This was a fantastic collection.  I love all the colors and I am enjoying my rainbow mani.  The lipsticks are fabulous and I am loving the brown powder and brush.  I am very glad I upgraded my box this month.  I love Julep.  The quality of their products are outstanding and their customer service has always been top notch with me.  If you want to try Julep, check out these deals!
Offer: Join Maven and get the April Birthstone Welcome Box FREE ($66 value) – just pay $2.99 shipping.  Use the code DIAMOND when you sign up.
Offer: Julep Maven 4-piece Welcome Box FREE for New Subscribers. ($62 Value) Just pay $2.99 shipping.  Use the code SCORE when you sign up.
Coupon:  For any purchases in the Julep store, use the coupon SPRING10 to save $10.00.
Do you like FREE SUBSCRIPTION BOXES?  Click HERE to see my free subscription box list.
Check out my Full List of Subscription Box Coupons
Do you love Giveaways?  Click HERE to enter all my Giveaways