April 20, 2015
04/20/15

By Subscription Box Mom

12 Comments
12
Cooper & Kid Cooper Kit "Magic" Review – Coupon + Giveaway
Disclosure: This is a sponsored review from Tomoson.  This post contains affiliate links.
Cooper & Kid Cooper Kit is a quarterly subscription box devoted to nurturing the bond between fathers and children.  Cooper Kit is $65.00/quarter and is an award-winning kit designed for the modern dad, who is actively involved in their children's development.
Each quarter, Cooper & Kid will deliver a box to your door filled with
A box full of activities (6-9 activities) for dad to do with their children.  The box also turns into a toy!
An in-dept guide that takes you through the theme of the box and every activity in the box.
A story for dads and children to read together
A website of exclusive digital content
A "Just for Dad" section for dads to enjoy
A themed dinner menu with recipes.
A "Beyond the Box" section to take your box to the next level.
I was sent "The Science of Magic" for review.
The Cooper Kit ships in a big box that turns into part of the fun!
When you open the box, everything was wrapped in black tissue paper and sealed with a cute sticker.
There were two layers of goodies.  There was a cool scroll, along with a wand.  Cooper & Kid really has great attention to detail.  Each box is perfectly themed, right down to the information books
The scroll is a letter to both dad and child.  The script at the top is the letter to the child.  Children will learn the tricks of "brain warping, kinetic power and alchemy".  The rest of the scroll gives dad an overview about what's in the box.
The instruction booklets and other information was in a little packet.  The sticker read "Don't open if you are afraid of magic".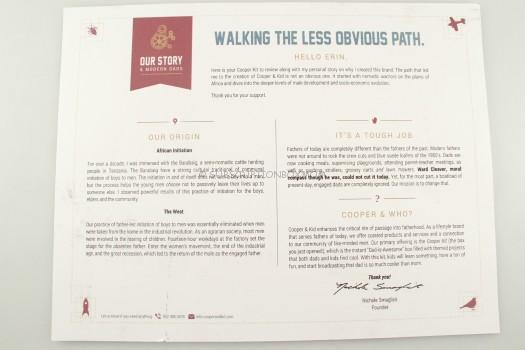 Cooper & Kid included a story breakdown of how Founder Nichole Smaglick created Cooper & Kid.
As if the box of goodies wasn't enough, Cooper & Kid has a "Beyond the Box" section.  There are additional resources and information about the projects in the box.  There is also a special "dad" section online with fun articles and information just for dad.
All the projects and instructions are in "The WIzards Magic Manual".
Each month comes with instructions for a special meal.  This month is all about a magic meal.
The Wizard Magic Dinner:
Illusion Fruit
Devilish Owl Eggs
Vanishing Starfruit Salad
Abra Cadabra Chameleon Spaghetti
Desert: Edible Wands
Magic Potions: The Kafizzle Appertif and Magic Ice Sparkling Water
Before beginning any magic, a magician needs a Secret book of spells.
There were all kinds of potions inside the book and there were lots of materials to decorate the box.  Each little magician uses the materials to customize their book.
My husband and son worked a long time on customizing their book.
The finished book:  This side says "Stay Out Warning".  The spine is made of magic paper that turns colors when someone touches it.
Once the book was finished, it was time to fill the bottles with all the potions and label them.
These are the potions in the box: I love all the unique names.  My son loved Unicorn Drool
Pungent Potion aka Vinegar
Unicorn Drool aka Citric Acid
Vile Concoction aka Baking Soda
Hipster Elixir aka Laundry Soap
Turtle Venom aka Pop Rocks
Dragon Tears aka Water Pellets
Once the book is personalized and the potions are completed, there are Three Levels of Activities.
Level One: Brain-Warping (Neuroscience)
The picture above shows all the items for level one.  Level One is called Brain-Warping is manipulating the audience's perception.
These are the projects for level one
Sorcerer's Cylinder
Dime Through a Balloon
Pull an Owl Out of the Box
Befudding Baton
My husband and son first completed the Sorcerer's Cylinder trick.  For the trick, you show an empty tube then magically pull out a piece of tulle.
The next project is pushing a dime through a balloon.  My son really had fun showing me and my youngest son the tricks.  I will also say, I was really impressed with the level of tricks.  We haven't completed every trick yet, but my husband and son are having a blast with the box.
Level Two: Kinetic Power (Physics)
Level two focuses on how things move.  Projects using Kinetic Power will focus on levitation and moving objects across the room.
These are the projects for level two:
The Magnet Maze
Levitation Wand
Magic Coin
Upside-down Glass of Water
My kid's loved the Levitation Wand.  Using the wand, your child makes a silver ball levitate.  My family has been playing with this wand for several days.
Level Three: Alchemy  (Chemistry) 
Alchemy focuses on Magic Potions!
These are the projects for level three:
Color Concoctions
Turtle Venom (Pop Rocks) Potion
Disappearing Water
Rising Water Trick
Pour Air on Candle
The final part of the activity book is the bed time story.
Cooper & Kid included the book Strega Nona's Magic Lessons
.  I had a Strega Nona book as a child, so I was glad to see this book in Cooper & Kid.  This book is about Stega Nona and how her magic doesn't always go as planned.
This is peek inside the book
My husband and I regularly read to our children.  Strega Nona's Magic Lesson was a really cute story and my kids enjoyed it.
Final Thought: This box was really fun and truly packed with activities.   You could spread the activities out and have enough to last three months.  I am really impressed with Cooper & Kid and their mission to nurture relationships between father's and children.  Cooper & Kid sends a box that encompasses fun, learning and bonding time.  If you want to try Cooper & Kid use this link with the code SNUFFLEUPAGUS to save $10.00 on your first box.  Also, Cooper & Kid is giving one subscriber a box from Cooper & Kid!  Just enter the giveaway below.  Just a note, the giveaway contains options to visit our Facebook page (and Cooper & Kid).  This giveaway is only for 1 week, so be sure to enter now!