April 30, 2015
04/30/15

By Subscription Box Mom

25 Comments
25
Chococurb April 2015 Review – Coupon + Giveaway
Disclosure: This box was received free for review.  Chococurb is responsible for all prize distribution.
Chocolate lovers unite!  Chcococurb is a subscription service devoted to introducing people the best tasting chocolate.  Each month Chococurb sends 5 to 7 personally selected, extraordinary chocolate treats.  Chococurb sources their chocolate from both local chocolatiers and national brands.  When you find that bar of extraordinary chocolate in your box, you can buy more in their online store.  Chococurb is so serious about chocolate, that they have tasting tips posted on their blog.  Apparently, you are not supposed to scarf down the bar.  For the best chocolate tasting experience, pay attention to the sight, smell, sound, touch, and taste of each piece.  For more detailed tips, check out Sarah Benner's article.
The Details:
Cost: $35.00/month, $33.00/month for a 3 month subscription, $30.00/month for a 6 month subscription.
What's in the box? Inside each Chococurb box, you'll find assortment of 5 to 7 chocolates or chocolate related items. These items can come from small, local chocolatiers to more established, national brands. Every box will have something new, exciting, and absolutely delicious.
Shipping: United States only and there is free shipping.
When does the box ship? Second Monday of the month.
The Chococurb box came in a priority mail mailer.  The box is a beautiful blue color.  In summer months, or any temperature over 70 degrees, Chococurb will package their chocolate in foil bubble wrap packaging with ice packs.
Inside the big box, was a smaller white box.
The inner box was made of sturdy cardboard, so nothing was going to be damaged.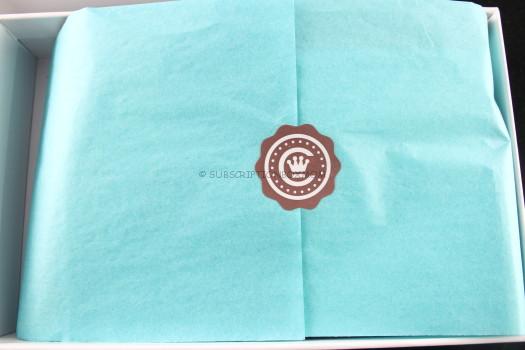 Can you tell I love the packaging?  This is photo four, and we are not to the chocolate yet.
First Look
Instead of an information card, there was a general card about Chococurb.  You can check out more information about the chocolate in your box, when you go to their website.
Oma Freedom Chocolate Bar $8.00  Oma not only wants to satisfy your sweet tooth, but they strive to help you to think, dream and be in a better place.  This bar is a mix of Lavender, Rooibos Tea and of course, chocolate (61% dark chocolate).
The Taste: This bar was one of my favorites.  It has a nice rich dark chocolate taste.  I couldn't really taste the Lavender or Rooibus Tea, because all the flavors blended nicely together.
Once again, the packaging is just so pretty.  Oma is all about making you happy with their chocolate and they are also conscious of the environment.  Their cocoa is fair trade and rainforest protected.  The cocao beans come from Colombia, Costa Rica and Ecuador.
Diego's Chocolate – Spicy $6.00: Diego Chocolate is made in Guatemala in small batches.  They get their criollo cacao from local farmers, so the community benefits from Diego Chocolate.  This bar is made with 75% dark chocolate and finely ground Coban (Guatemala) chiles.
The Taste: This wasn't quite my cup of tea.  This was a dryer chocolate and it had a pretty strong spice to it.  It was very different from any other chocolate I have tried.
Dolcetta Artisan Sweets – Dark & Candied Orange Bar $4.00:  Dolcetta chocolate is made in Seattle, but a former pastry chef.   Dolcetta also gives a portion of their profits to Food Lifeline.  Food Lifeline gives healthy food to people in need.  This bar is made with Bolivian 72% with candied orange zest.  My father loves dark chocolate and orange flavors, so I have to save this for him.  He is going to love it.
The Taste: I haven't personally tasted this one, because I am not a fan of orange and chocolate together.  My father loves chocolate and orange together, so he will be very happy to receive this.
Theo Chocolate – Bread & Chocolate Dark Fantasy Bar $3.25 Theo chocolates are organic and they use fair trade cocao beans.  This bar is made with 70% cacao dark chocolate and toasted breadcrumbs.
The Taste: This is another one of my favorites  The breadcrumbs give the chocolate a nice crunch.  This was a bit like a gourmet Nestle Crunch Bar.  This one was quite wonderful.
Marou Chocolate Ben Tre $9.00: This chocolate comes from the Ben Tre province, which is in the Mekong Delta.  In this location.  The cacao trees are planted with the coconut trees.  This has a bit of a spice and has notes of nutmeg, cassia & peppercorns and a smooth, buttery texture.
The Taste: The chocolate itself is thin and it has a nice dark chocolate flavor, but it still maintains a nice sweetness.
Pacari Chocolate Fig Chocolate Bar $5.99 Pacari Chocolate is made in Ecuador by a family owned business.  All of their chocolate is 100% organic.  This bar is made with gourmet chocolate and figs.
The Taste: This is a more fruity chocolate. The fig and dark chocolate combine to make a really tasty chocolate.  My husband really enjoyed this one.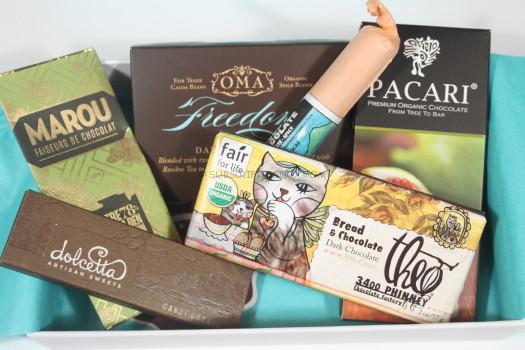 Final Thought: This box was a wonderful blend of some great gourmet chocolates.  The total value of this box was $36.24, which was over the price of the box.  The Oma and Theo chocolates were my favorite.  I think Chococurb did an excellent job sources chocolates from all over the world, and each had a very unique taste.  If you want to try Chococurb, use this link to sign up (Effective July 2015, the coupons have expired).  Also, you can enter to win a FREE Chococurb box! Just enter the widget below!