April 3, 2015
04/03/15

By Subscription Box Mom

2 Comments
2
Awesome Pack March 2015 Review + Exclusive Coupon Code
Disclosure: This box was received for review purposes.  This box contains affiliate links.
Awesome Pack is a subscription box that sends fun for the whole family.  There are two different subscription boxes, a Family box and a Big Kid box.  Each box is filled with at least a board game, along with other fun activities and toys specifically picked for your family.
The Awesome Family Pack is made for families with children 15 years old and younger.  The box is filled with a family board game and activities for the whole family to do together, along with other great items.  The Big Kid Mode is for adults only or children 12 years old and older.  The Big Kid boxes are filled with a "higher quality" game, an activity and other extras.
Each box will contain items from the following categories:
Awesomely

Unique Board Games: These are games the whole family can play and enjoy.

Hands on Fun:

Each box includes an activity your whole family can do together.  This activity will be be fun and educational.

Big Fun from Little things

: Boxes includes small activities like books and puzzles that will be fun for kids.

Awesome Activity Book and Goodies:

A special activity book will be in every box.  Each activity book will have pages to journal your family activities along with fun stuff for the whole family.
When you sign up, you fill out a detailed questionnaire about what games your family has, your family composition, likes, dislikes and more.  You can even make special requests and they have a referral program.  I was excited when Awesome Pack sent me a Family Pack for review.
The Details:
Cost:  $44.99/month
Shipping: Awesome Pack ships to Canada and The United States free.
What's in the box:  Awesome Pack packs their Big Kid Box and Family Pack boxes with a game, activities and other goodies picked just for you!
When will I be billed?  1st of the month
When does the box ship?  15th of the month.
Can I pause/cancel:  Just contact Awesome Pack to pause or cancel your subscription!
The Family Pack shipped in a giant box, with bright stickers and tape.  I liked, that even the outside of the box was fun.
First Look: There was an information card and a birthday card inside the box.  My 3 year old had a birthday in March, so I loved they recognized it.
With a name like Awesome Pack, you know they wouldn't send a boring information card.
Inside the information card were pictures, descriptions and the card was personalized with our family name.
The birthday card was even personalized with my little guy's name!  This is the first subscription box that has ever recognized a birthday.  I love how this box was really personalized for our family.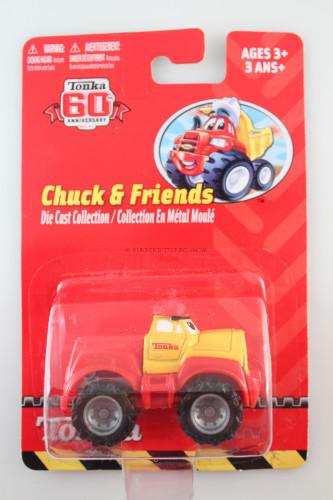 Chuck and Friends Die Cast Truck: $4.99  T loves Chuck the truck, so he is going to love this truck.
Marvel Grab Zags $6.97 each:  These are mystery grab bags with either a flashlight or an ink pen inside.  We received a "The Thing" flashlight and a Hulk pen.  The purple part pulls off to reveal the pen.  I will give the pen to my 5 1/2-year-old and the flashlight to my 3-year-old.  A 3-year-old with a pen, would not be a good idea.
Ultimate Spiderman Stickers $2.00 each There are two packs of stickers to collect.  Each pack has 7 stickers.
Marvel Ultimate Spider-Man Sticker Album
 $2.00 each  I remember Panini albums from my childhood.  You collected all the stickers and put them in these albums.  There was one for each child.  There was also a Spiderman poster inside.
Inside the book are places to put all the stickers.
Great Gizmos Dig A Glow Dinosaur
 $10.06:  I am really excited about this toy.  I loved dinosaurs as a child and I still think they are pretty neat.  You can be like a real paleontologist and dig out a dinosaur, only this one glows in the dark.  I can't wait to help L with this.
4M Dinosaur World Craft Kit
 $9.99  You child paints, adds glitter and puts together three different dinosaurs.  Last year L would be bored with this, but he has really be interested in painting this year, so I know he will love this.
This is a look at how the project is completed.
Disney Junior Spuzzle: $14.19  It would be an understatement to say our family loves Disney.   We are crazy obsessed Disney fans (at least my husband and I).  We have a huge collection of Disney games, but Spuzzle is new to us.  To win, you race your fellow players to complete 5 puzzles first.  This was perfect for our family.
There was a fun activity book in the box.  This book is filled with recipes, games, and fun activities to do as a family.  There are even some pages to journal your family activities.
Here is a peek inside the book.
There was also a awesome magnet and sticker.
Final Thought: This box had a total value of $61.97.  This box had a great value, but more importantly, it was filled with things my whole family loves.  There is not another subscription box like Awesome Pack.  Awesome Pack really pays attention to your family's likes and dislikes.  Each box is packed with fun stuff the whole family can enjoy.  I would highly recommend Awesome Pack.  You can check out Awesome Pack HERE and use my special coupon SBMISAWESOME to save $5.00 on your 1st box.  Code expires May 15th, 2015.
Do you like FREE SUBSCRIPTION BOXES?  Click HERE to see my free subscription box list.
Check out my Full List of Subscription Box Coupons
Do you love Giveaways?  Click HERE to enter all my Giveaways