April 1, 2015
04/01/15

By Subscription Box Mom

0 Comments
0
April 2015 The Boodle Box Review: Boodle 1 + Boodle 2 Box Reviews
 Disclosure: These boxes were received free for review.
I was really excited to see the April 2015 Boodle 1 and Boodle 2 boxes on my doorstep today!  The Boodle Box is a super cute subscription box for girls 6 through the teen years. Boxes are $24.99/month, plus $5.00 shipping.  The Boodle 1 box is for girls 6-11 and the Boodle 2 box is for girls 12 and up.  Each box is filled with trendy accessories, beauty products and more.  I love that everything the Boodle Box sends is age appropriate and cute.  If you have been debating what box to get, I will show you both Boodle 1 and 2 boxes.
The Details:
Cost: $24.99 a month, $19.99/mo for 3 months, $19.99/mo for 6/mo (free shipping), $19.99 for 12/mo  (free shipping) and you get 1 month free.  Note: You can pay by Paypal!
Shipping.  There is a $5,95 shipping charge for a 1 month or 3 month subscription.  The Boodle Box ships to The United States, Puerto Rico and Guam.
What's in the box? The Boodle Box sends trendy products for teens and tweens from some of the top manufacturers in the beauty and fashion industries.  There is nail polish, beauty products, accessories and more in the box!
Website: https://www.theboodlebox.com
The Boodle 1 Box: Ages 6-11
Each Boodle Box is super sturdy and is really colorful.  I save my Boodle boxes and use them for storage.
First Look:  The theme for April is "April Showers".  This box is designed to "shower you with colorful fun and freshness".
The back of the information card has a list of everything in the box.
Bonus Item:  Each Boodle One box came with a two year subscription to Family Fun!  It starts automatically, so you don't need to do anything (a $9.99 value).
Color Bar Breaded Bracelets $10.75 for 2: These are really cute hot pink beaded bracelets.  I would and will wear them both, but I know a little girl would also love them.
This is a closer look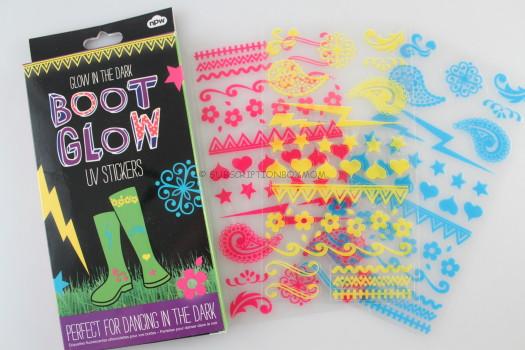 Boot Glow Wellie Stickers: $7.00  There were three sheets of colorful stickers, that can be applied to rain boots.  They also glow in the dark, how fun!
Colour Block Lips Mini Wipes $2.00  These are for sticky messes from all those summer ice cream treats.  They can also be used to remove lip balm and be just like mom.  I love it when companies make products for little girls that look like "mom's things", but are age appropriate.
Pink Bunny Bath Poof: $2.50  Little girls may not always want to take a bath, but this cute bunny bath poof makes it more fun.
Good For You Girls Body Wash $3.00 This body wash smells like honeydew and is free from parabens, sulfates, phthalates, synthetic fragrance, and dyes.  Basically, this body wash is filled with natural soapy goodness.  I am going to take the body wash on vacation.
Macaroon Coin Purse: $14.50 This little coin purse looks like a macaroon and is perfect for lunch money, and a little lip balm.
This is a look inside.
Dapper Duck Posh Peach Lip Balm: $4.95  Ah so cute!  This little duck is filled with lip balm.  I love this.
The lip balm can be found under the duck.  It is a pretty nice lip balm too, non sticky and clear.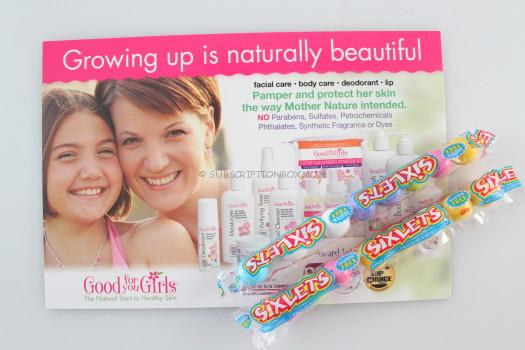 There was a 25% coupon for Good for you Girls and two things of sixlets!
The Boodle 2 Box: Girls 12 and up
The Boodle 2 Box looks just like the Boodle 1 Box.
First Look:  Everything was hiding in this box.  I could only see lots of colorful squiggles.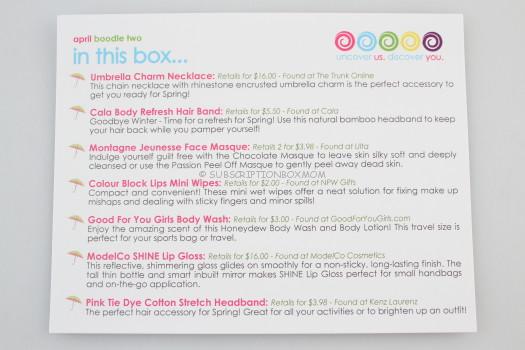 The back of the information card had a list of everything in the box.
Colour Block Lips Mini Wipes $2.00  Again, these wipes can be used for makeup or sticky messes.  These are perfect for a backpack or purse.
Good For You Girls Body Wash $3.00  There was a body wash that was supposed to be included, but it got left out.  I actually didn't notice it was missing, until Boodle Box sent me an email.  They are sending one right out.  I was really impressed they noticed an item missing, before I did.
Pink Tie Dye Cotton Headband $3.98  I love wearing these kinds of headbands when I am working around the house.  For teens, this is a pretty headband that is bright and colorful.
Montagne Jeunesse Face Masque $3.98 for 2  I have had 7th Heaven masks before, and they are really nice.  These masks are great for getting fresh, clean skin.
Cala Body Refresh Hair Band:  $5.50  This hair band is perfect for keeping hair out of your mask or to keep your hair from getting in the way for morning makeup applications.
ModelCo SHINE lip gloss $16.00 I love ModelCo makeup, so this is a great addition to the box.  This gloss is a baby pink gloss with shimmer.  Very pale and a barely there gloss.  This is also not sticky!  I also love the cute little mirror on the side.
This is a swatch of the gloss.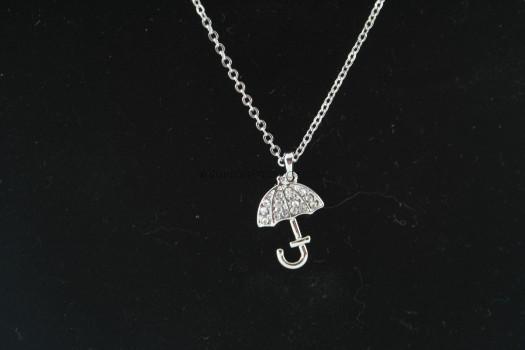 Umbrella Charm Necklace $16.00  This silver necklace features an umbrella filed with crystals.  This is perfect for making a rainy day, a bit brighter.
Just like the Boodle 1 box, there was a 25% coupon for Good for you Girls and two things of sixlets!
Final Thought:  Both Boodle Boxes were jam packed with fun and value.  The Boodle 1 Box had  total value of $54.69 and The Boodle 2 Box had a value of $53.46.  I loved both Boodle Boxes.  The lip balm and and boot stickers were my favorite items from the Boodle 1 Box.  The ModelCo lip gloss and headband were my favorite items from the Boodle 2 Box.  What did you think?  You can get your own Boodle Box HERE.
Do you like FREE SUBSCRIPTION BOXES?  Click HERE to see my free subscription box list.
You can see my FULL coupon list HERE.
Do you love Giveaways?  Click HERE to enter all my Giveaways