April 14, 2015
04/14/15

By Subscription Box Mom

0 Comments
0
April 2015 Ivy Kids Review + Coupon
Disclosure: This box was received free for review.
Ivy Kids is a craft and activity box for 3-8 years olds.  Each box is packed with fun learning activities, all made a featured book. There are usually more than 10 activities in each box, each in their own little bag.  
Since a 3 and 8 year old have different learning needs, Ivy Kids sends instructions for "Little Ivys" (3-5) and some for "Junior Ivys" (5-8).   There are also tips for parents to help facilitate more learning.  As a bonus, Ivy Kids includes a personalized item in every box.  The April 2015 Ivy Kids was made around the book "The Tiny Seed" by Eric Carle.
The Details:
Cost: $38.95 monthly, $36.95/mo for 3 months, $34.95/mo for 6 months.  Add a sibling pack for $5.00 a month.
Coupon: Click HERE and use the code IVY20 to get 20% off your subscription.
What's in the box?: Each month you will receive a kit containing a book and ten or more activities based upon the story. Everything you need to learn and play is included in your kit. The activities have been carefully crafted to encourage curiosity, problem solving, and creativity in young children. The Ivy Kit games and projects are a fun way to develop fine and gross muscles, build math and literacy skills, encourage reading comprehension, and promote scientific thinking.
When does the box ship? Boxes ship around the 22nd of the month for ongoing subscribers with the expectation that the kit will arrive within 5-10 business days in the U.S.  You can check the status of your shipments in the U.S. on your My Account page once your kit has shipped.
When will I receive my kit?  Kits arrive around the 1st of the month
When am I billed? When you sign up for the monthly membership, you will be billed for your first kit immediately. After that, you will be billed on the 20th of each month until cancelled.
Can I skip?  Yes!  Just email  info@ivy-kids.com
How do I cancel? You can cancel a monthly subscription any time after the first kit ships. Please cancel by the next month's billing date to avoid getting billed for and shipped the next kit. Gift subscriptions (3 or 6 month terms) are not eligible for cancellation. Auto-renewing subscriptions (pay every 3 or 6 months) are only eligible for cancellation after the initial prepaid term has been completed. To cancel, please email customerservice@ivy-kids.com
Website: http://ivy-kids.com/
Ivy Kids comes in a big green box and ships by Priority Mail.
First Look
Inside the lid, there is a full color sheet with all the activities listed.
"The Tiny Seed" by Eric Carle:  This is a really cute book about the journey of a seed.   I love the illustrations that Eric Carle makes.  My kids loved this book.
Every box always includes a bookmark with questions to ask your child, about the book you read.  There was also a coupon to share with you!
The personalized item this month was a little journal with my son's name on it.  There was also a pencil to help document findings.
Birdhouse: A kit was included in the box, to make a birdhouse.  The pieces just snap together and then your child paints and decorates it with stickers.
My 3 year old loves to paint and draw, so I knew this would be a perfect project for him  Both of my children did different projects from the box, at the same time.  T painted for really long time on his birdhouse.  He had so much fun.  Normally, T is running around my house at full speed, so it was nice to see him concentrate and paint.
My little boys birdhouse.  It is just precious.
My Giant Flower: Using the given materials, your child creates a flower.  Both of my children worked together to complete this project.
L painted the stem of the flower and glued down the roots.
T was in charge of painting the flower.
This is the completed project.  Both of my children worked to glue down the parts.  I loved teaching my boys about the parts of the flower and I loved how they were able to work together to complete the project.
Garden Sticker Collage:  Using the repositionable stickers, your child creates a garden scene.
My little guy had a blast with this project.  He spent a good half an hour working on his picture.  Removing the stickers from the sheet was a great way to work on his fine motor skills.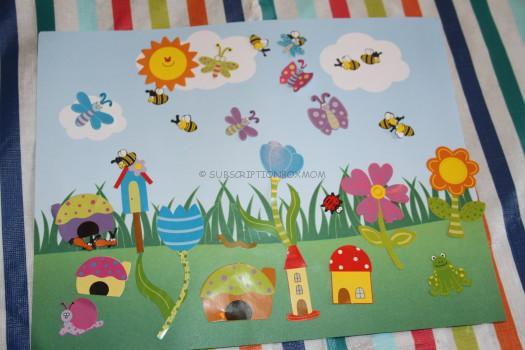 This is the completed picture.
My Very Own Garden: This activity comes with a packet of seed to examine with a magnifying glass.  Your child can then plant these and watch them grow.  We are still working on finding a place to plant them.
Planting Marigolds:  Your child can decorate a flower pot and plant marigold seeds.  There is a full instruction sheet about planting marigolds.  There was also an observation booklet to document how the plants grow.
The Garden:  There is always a game included in the box.  Each person picks a bug and travels around the board.  You earn flowers for landing on certain places.  You move backwards for landing on places that hurt animals and forward on places that help animals.
My boys and I played the game two times in a row.  Both of them had a blast earning flowers.  Sometimes playing board games with 3 year olds can be tricky, but the games in Ivy Kid boxes never take too much time.
Plant Life Cycle: Your child learns about the life cycle of a plant, then places the cards in the right order .  One sheet is the life cycle diagram and the other sheet punches apart into different squares.
Marigold Seed Germination: Using the marigold seeds, your child wraps them in a wet paper towel, then puts them in a baggie to germinate.
Counting Seeds: There are 100 bubbles on the cards.  Your child uses the big bag of seeds, and places a seed in each bubble.  This is a great activity to practice counting.
L working really hard counting.  He only counted to 50, but we will work on the other 50 later.
Sorting Seeds: There is a seed fact sheet to review with your child.  The fact sheet gives information about the makeup of a seed and other interesting facts.
First L sorting the seeds by size.
Then he sorted the seeds by type.
Seed Germination: The biggest activity was seed germination.  Using the bag of seeds, your child wraps two seeds in a wet paper towel and puts each in a labeled bag.  There was a germination sheet for every seed in the bag (5 total).  L drew pictures of each seed on the sheet and then will draw the seed once it germinates.
L drawing the seeds
You put the labeled germination bags in a window to germinate for 7-10 days.
Final Thought: This was another fantastic box.  I think my 5 year old was more excited about this Ivy Kids box, than previous boxes.  Both of my boys love the outdoors and they enjoy plants.  We have spent several hours working on the the box and learning about seeds.  This is a great box to engage, and teach little kids.  My kids are excited to check out the germinated seeds.  If you want to try Ivy Kids, click HERE and use the code IVY20 to get 20% off your subscription.  
Do you like FREE SUBSCRIPTION BOXES?  Click HERE to see my free subscription box list.
You can see my FULL coupon list HERE.
Do you love Giveaways?  Click HERE to enter all my Giveaways.