March 23, 2015
03/23/15

By Subscription Box Mom

0 Comments
0
Popsugar Special Edition Resort Must Have Box Review + May 2015 Coupon
Disclosure: This post contains affiliate links.
When I found out about the  POPSUGAR Special Edition Resort Must Have Box , I knew I had to have it.  It might be the constant cold this winter, or my yearning for a vacation, but a resort box sounded great.  The  POPSUGAR Special Edition Resort Must Have Box was $100.00 and is sold out! At the end of the review, there will also be a subscription coupon for Popsugar!
Popsugar Limited Edition boxes always ship in a brown box.
Instead of the normal pink and white box, Limited Edition Popsugar boxes come in sturdy black boxes.  I have saved all my limited edition boxes and used them as storage.
Special Edition boxes are always packaged so beautifully.  There was beautiful blue tissue paper that wrapped up all the goodies.  Each product was individually wrapped in black tissue paper.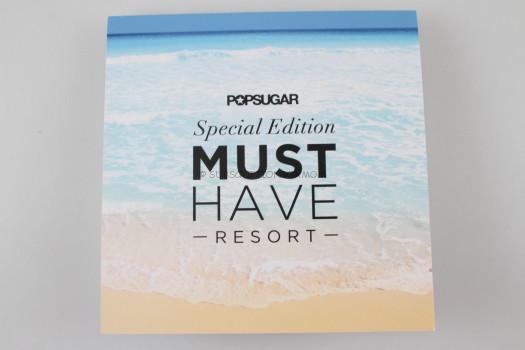 There was a fold out information card with everything listed in the box.  I would love to be at that beach right now, or anywhere that is warm.
This is a look at the information card.  It is two-sided and has everything in the box and the retail price.
Stephanie Johnson White Dot Train Case (POPSUGAR Exclusive): $80.00 This is special to POPSUGAR and I really love it.  The case is made very tough, so you won't have problems with your items being smashed.  The sides of the case aren't hard, but the base is made so sturdy, this case keeps it shape.  The inside has some great features (see next picture).
The inside of the case is hot pink and is made with a plastic coating, that can easily be wiped down.  There is an elastic band, that has places to put several different bottles.  The elastic band is divided, so the bottles won't knock against each other.  There is also a cute mirror in the lid, for applying last-minute touch ups on the go.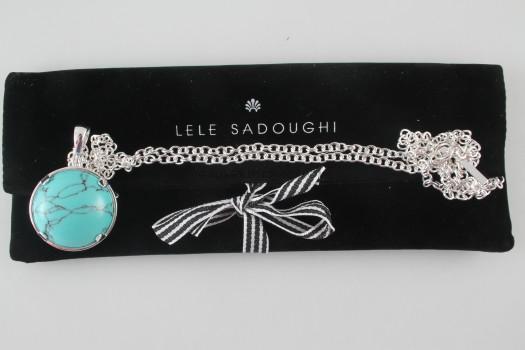 Lele Sadoughi Half Moon Pendant (POPSUGAR Exclusive) $110.00 I wouldn't pay $110.00 for this, but I love it.  The chain is silver and hangs down a little over 16″.  The center turquoise stone is made of howlite and marble.  It is simply stunning.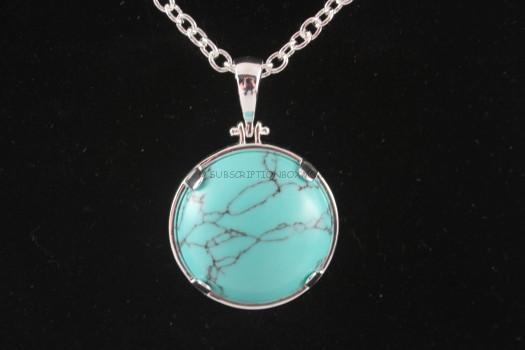 This is a close up of the stone.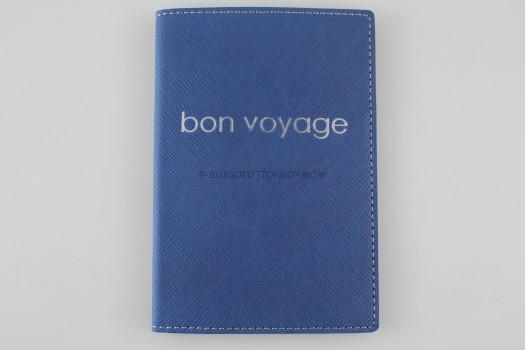 Sloane Stationery Passport Holder (POPSUGAR Exclusive) $48.00  I have a passport, so I can use this!  I would actually love to have one of these for everyone in my family, but I won't spend $150.00 to do it.  Our family has some international trips planned (in the distant future), so I will put this to good use.
This is made of leather and has a place for your travel documents and your passport.  I love that you can store everything together.
 Drunk Elephant C-Firma Day Serum $80.00  This serum is made with pumpkin ferment extract, which doesn't have the best smell.  It does have antioxidants, fruit enzymes and essential nutrients, all designed to give you brighter firmer skin.  I am going to try to ignore the smell, and use this.
Jane Iredale Makeup Kit $58.00  I was a bit disappointed when I saw this spoiler, because I thought the colors would be too warm for my cool complexion.  The colors  go on very lightly and the blush and bronzer have a velvet feel when you apply them.  I love this and I am taking it on our next vacation.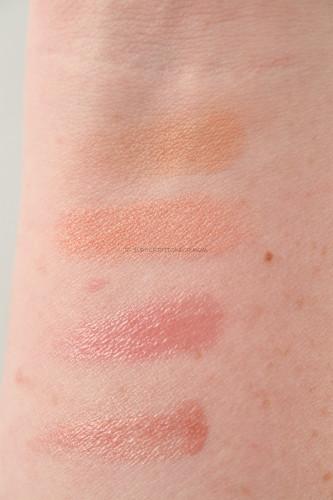 These are swatches of the makeup.  From top to bottom: bronzer, blush, and the two lip glosses.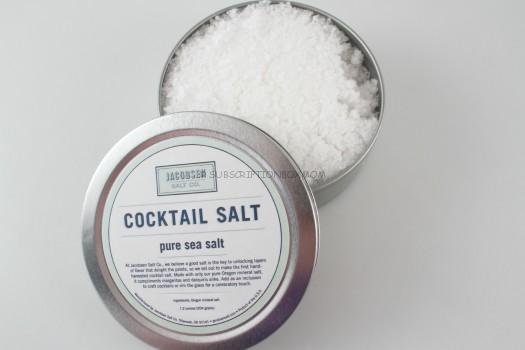 Jacobsen Salt Company Pure Sea Salt Cocktail Salt $14.00  The sea salt comes from the cold waters from the Oregon Coast.  I don't really drink any alcoholic drinks with salt, but I will save it for parties.
Final Thought: This box had a total value of $370.00.  While I wouldn't pay the prices for the items in the box, but I liked the box.  My favorite items are the travel bag, makeup, necklace and the passport book.  I am going to use the serum and see if it works, but I am not fond of the smell.  I am not sure how I will use that much cocktail salt, but I will have a few parties this summer and see.  This box is sold out, and the April box is sold out, but you can still sign up for May!.  If you want to subscribe to Popsugar, use this link with the code MUSTHAVE5!
Do you like FREE SUBSCRIPTION BOXES?  Click HERE to see my free subscription box list.
You can see my FULL coupon list HERE.
Do you love Giveaways?  Click HERE to enter all my Giveaways