March 28, 2015
03/28/15

By Subscription Box Mom

0 Comments
0
Okashi Connection March 2015 Review + Coupon
Disclosure: This post contains affiliate links.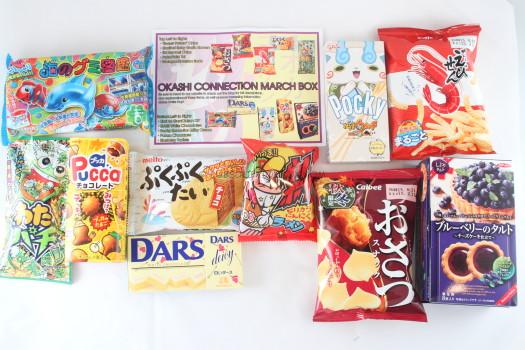 Okashi Connection is a Japanese snack box that ships worldwide for $22.00/month.   Each box is packed with about a pound of candy.  Okashi Connection send an information sheet, but they also have a blog.  Each month, you are sent the password, so you can check out all the snacks and read in-depth descriptions.  This month, Okashi Connection posted information on their blog about White Day.  White Day in Japan is an extension of Valentine's Day.  White Day is celebrated on March 14th.  On this day, men are to buy gifts for women, who bought them chocolate and sweets on Valentine's Day.
The Details:
Cost: $22.00
Shipping:  Shipping is FREE and they ship WORLDWIDE.  They don't ship to a few locations, click HERE to see a complete list.
What's in the box? We send a size 60 box with around a pound (between 400-600 grams) of Japanese candy and snacks. We strive to include things that are difficult or impossible to get outside of Japan and seasonal items. We also include some information about the candy, as well as a video, hosted by Karin (13) and Haruka (11), with their opinions and instructions on how to make / eat the items.
When am I charged?   Your card will be charged on the 30th (or last day) of the month.
When does my box ship? Boxes will be shipped within the next week after being charged, and they should arrive at your door within 1-3 weeks after that. 
Website: http://okashiconnection.com/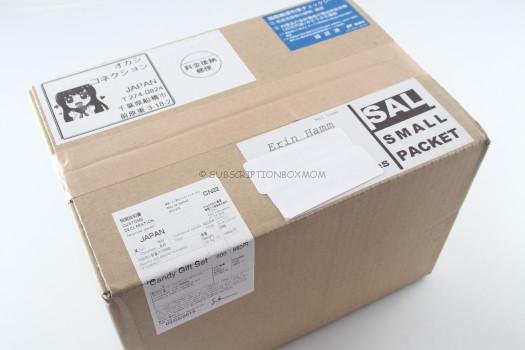 Okashi Connection ships from Japan FREE.
First Look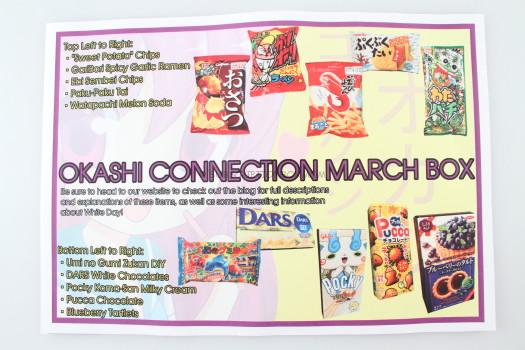 As I stated before, there is an information sheet to identify the names of each snack and then more information is provided on their blog.
"Sweet Potato" Chips: These are a light and fluffy chip that tastes just like sweet potatoes.  My whole family really loves these.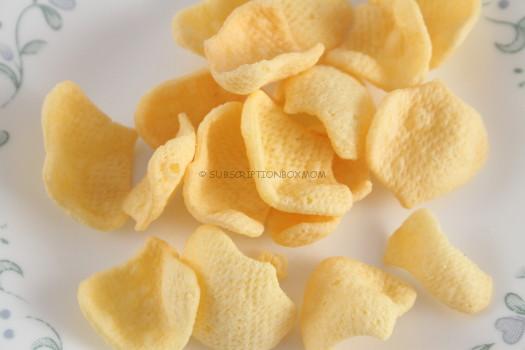 This is a look at the chips
GariBori Spicy Garlic Ramen: This looks like the Ramen you cook, but it is made as a cracker/chip version.  This has a slight spice, but it wasn't too spicy to enjoy.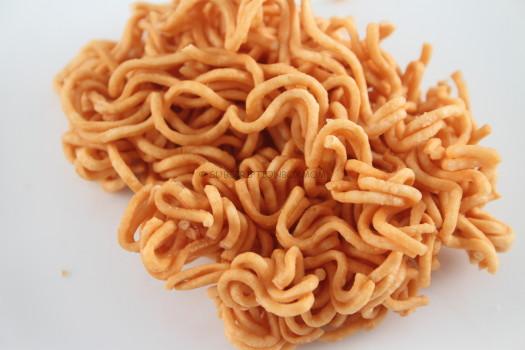 This is what the Ramen looks like.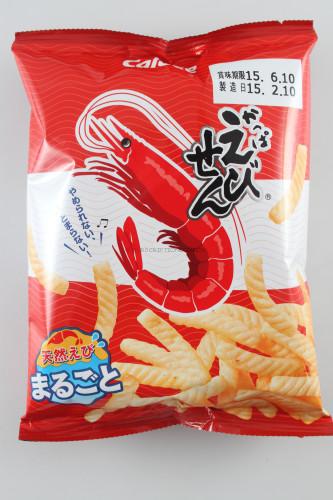 Ebi Sembei Chips: These are shrimp flavored chips.  They have a light crunch and the have more of a shrimp smell, than an actual shrimp taste.  I have had something similar before, and like them.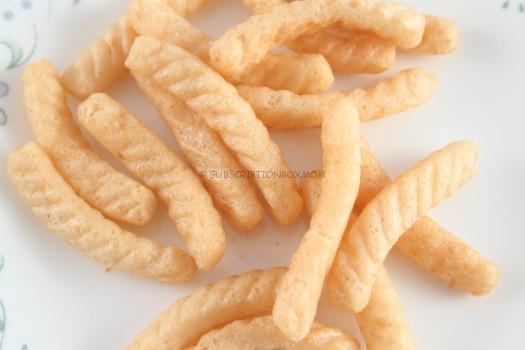 This is a look at the Ebi Sembei Chips.
PukuPukuTai: I have had this in a previous box and it was really good.  This is a cookie/chocolate treat that is shapes like a fish.  The cookie part tastes just like an ice cream cone (the cone part) and it is filled with fluffy chocolate.
This is what the PukuPukuTai looks like.
Watapachi Melon Soda: This is cotton candy and Poprocks mixed into one treat.  I have had this before, and I wish I could buy it locally.  The flavor is melon soda, which tastes similar to cream soda in America.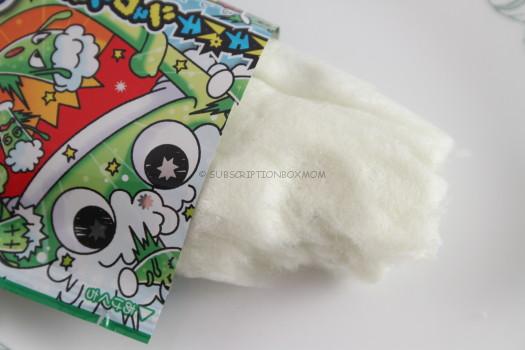 This is a look at Watapachi Melon Soda.  You can't see the Poprocks, but they are buried in the cotton candy.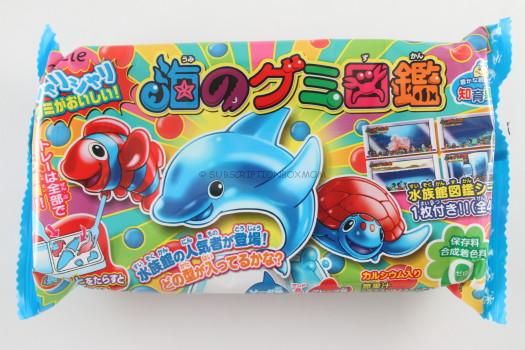 Umi no Gumi Zukan DIY:  This is a fun DIY candy kit.  You get a plastic tray, water dropper and some candy powders.  You mix various powders to get candy gummies.  I have had these DIY kids before and they were really fun.  Okashi Connection included the instructions in English and put them on their blog.
Dars White Chocolates: This is a box of white chocolate.  They have a great flavor.
This is a look at the chocolate., super yummy.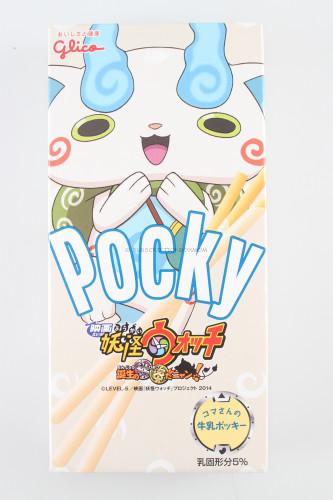 Pocky Koma-San Milky Cream: Okashi Connection noted on their blog that they don't try to send Pocky, since it is so popular, but this is a special box.  The box is a Limited Edition design and the flavor is also limited edition.  The box features a cartoon dog, that is made to represent the statues of dogs in front of Japanese shrines.  These are crunchy sticks and they are covered 3/4 of the way with a milky/icing coating.  These were really good.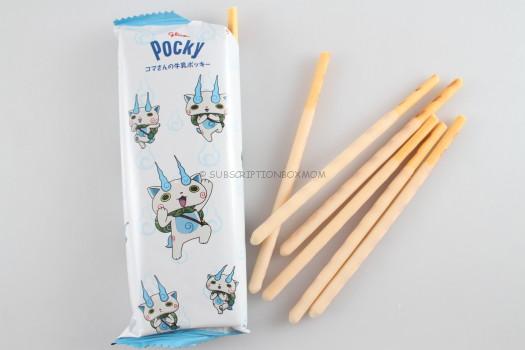 This is a look at the Pocky.  I like the cute little characters on the foil package.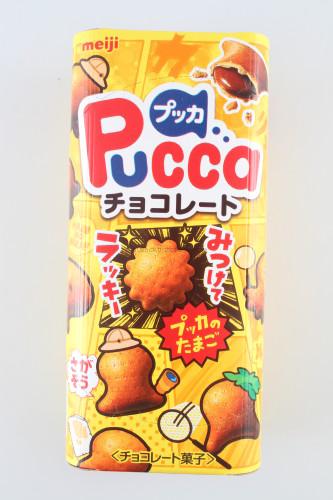 Pucca Chocolates: These cookies are similar to Koala's March, but the outside is a much crunchier cookie.  These are filled with chocolate and are fantastic.
This is a look at the cookies.  My 3-year-old loves these.
Blueberry Tartlets: These are soft cookies with blueberry jelly on top.  These are over half gone in my house, my whole family loved them.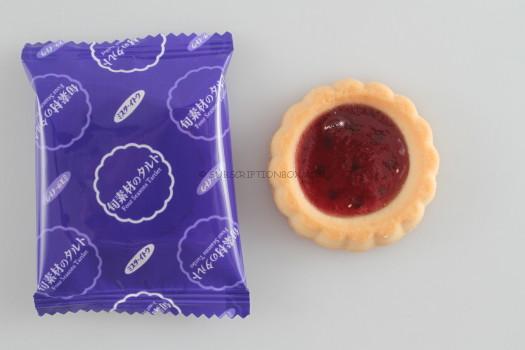 This is a look at the cookie.  I like that they are individually wrapped, so they all stay fresh longer.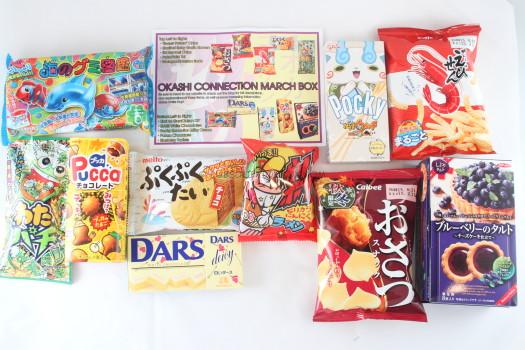 Final Thought:  One again, Okashi Connection delivered a box packed with goodies.  My family enjoyed every single snack, so nothing will be wasted.  I received a few old favorites and many new treats.  Okashi Connection is a fantastic deal and my family always enjoys the box.   If you want to Okashi Connection,  click HERE to subscribe and use the code Boxmom to get $1.00 off your box.
Do you like FREE SUBSCRIPTION BOXES?  Click HERE to see my free subscription box list.
You can see my FULL coupon list HERE.
Do you love Giveaways?  Click HERE to enter all my Giveaways.