March 2, 2015
03/02/15

By Subscription Box Mom

0 Comments
0
Okashi Connection February 2015 Review + Coupon
Disclosure: This box was received free for review.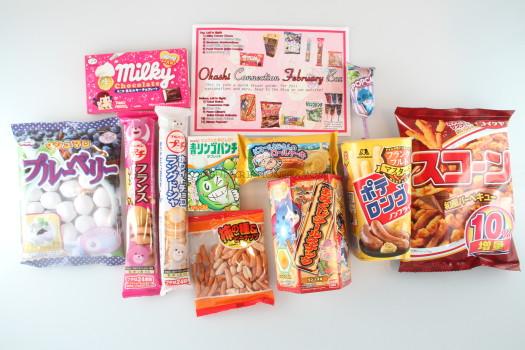 Okashi Connection is $22.00/month and each box is filled with about a pound of yummy Japanese candy and treats.  Okashi Connection is such a fantastic box.  When you subscribe, you are given a password to their blog, so you can read details about each treat.  I love all the Okashi Connection boxes that I have received.  
The Details:
Cost: $22.00
Shipping:  Shipping is FREE and they ship WORLDWIDE.  They don't ship to a few locations, click HERE to see a complete list.
What's in the box? We send a size 60 box with around a pound (between 400-600 grams) of Japanese candy and snacks. We strive to include things that are difficult or impossible to get outside of Japan and seasonal items. We also include some information about the candy, as well as a video, hosted by Karin (13) and Haruka (11), with their opinions and instructions on how to make / eat the items.
When am I charged?   Your card will be charged on the 30th (or last day) of the month.
When does my box ship? Boxes will be shipped within the next week after being charged, and they should arrive at your door within 1-3 weeks after that. 
Website: http://okashiconnection.com/
Okashi Connection ships from Japan, so it takes a bit to get to you.  Okashi Connection arrives at the end of the month.
First Look:  Okashi Connection sends a basic information card.  The information card has pictures of everything in the box.
Frankfurter and Mustard Fries: These are french fry chips that taste like hot dogs with mustard,  they have a great taste.  I don't like mustard, but the mustard taste in these give the chips a little kick.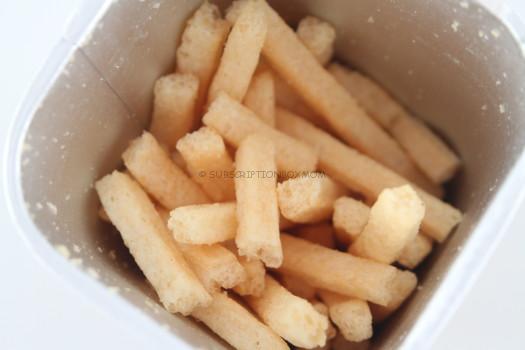 Here is a look at the fries.
Disney PopCan: I am saving this for one of the kids.  This is a candy sucker with a Disney theme.  Some of the flavors this sucker comes in are : Strawberry-Peach, Blue Soda, and Grape & Muscat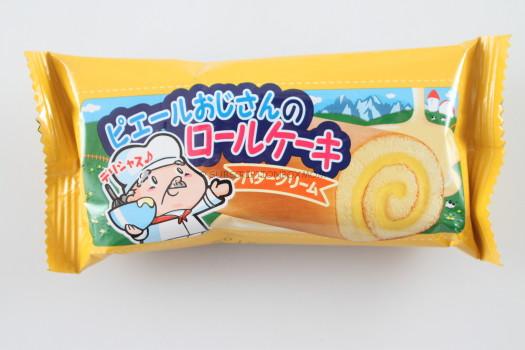 Pierre-Ojisan's Butter Cream Rollcake: This cake is similar to a Little Debbie cake.  There is soft yellow cake that is swirled with butter cream flavoring.  This was really good.  C and I ate the cake before I could a picture. Sorry guys, but it was yummy.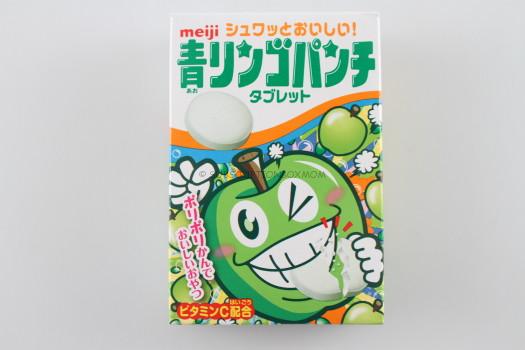 Apple Punch Tablet:  These tablets are small, round and are in blister packs similar to various medications.  You can chew these up or let them dissolve in your mouth.  They have a nice green apple flavor and are really good.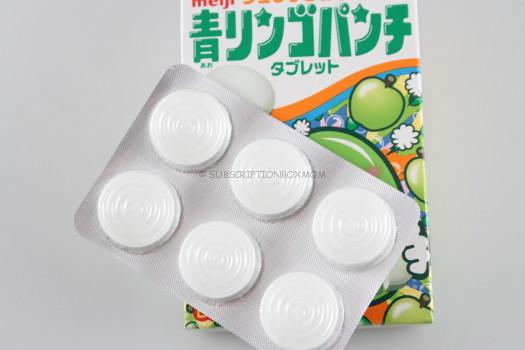 These are the tablets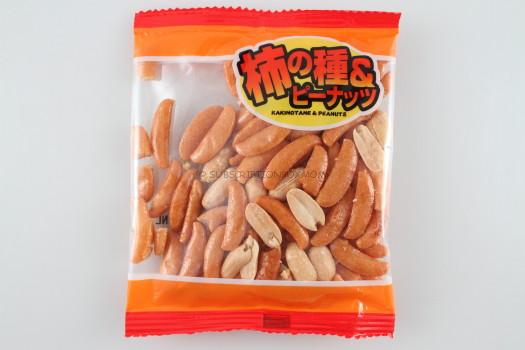 Kaki-no-Tane: This is a combination of soy flavored crackers, mixed with peanuts.  This tastes pretty good.  I wish there was more peanuts in this, but I like the combination of flavors.
Puchi French Butter Cookie and White Chocolate: There were two different cookies in the box.  The pink package are really tasty butter cream cookies.  The white package are two little sugar cookies with white chocolate in the middle.  The cookies were really fresh and very tasty.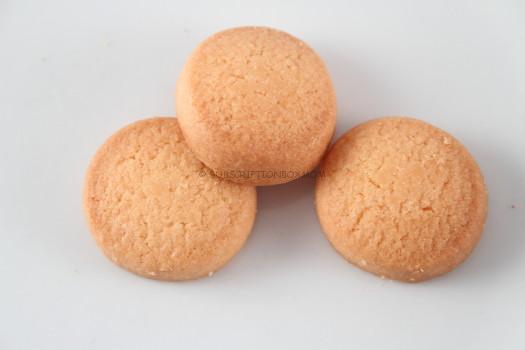 Puchi French Butter Cookie
Puchi White Chocolate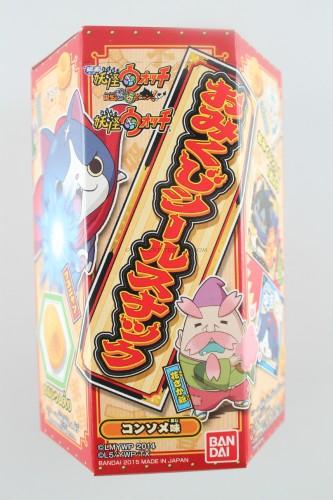 Yokai Watch Consomme:  These are little round puffed chips that have a very light flavor.  They are quite addicting and you can easily eat the whole box in one sitting.  The flavor tastes similar to romaine noodles.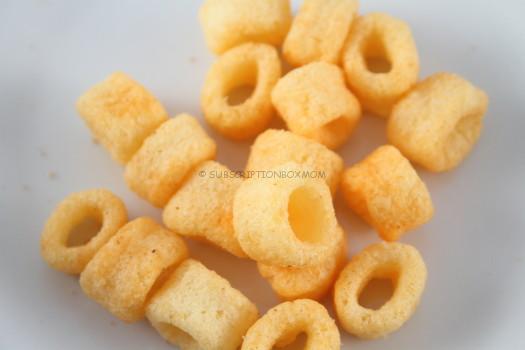 Here is a look at the Yokai Watch Consomme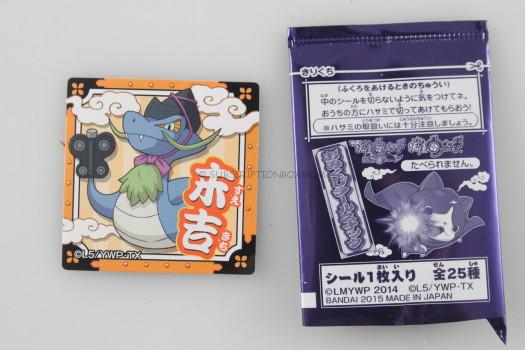 This is the sticker we received.  The sticker looks like Pokemon maybe.  Does anyone know who  this little guy is?
Milky Cream Choco; These are little rectangles with little dogs and girls on them.  The box itself is super cute, it has shimmery/glitter all over it.  The candy has a vanilla cream center and is surrounded by rich milk chocolate.  The chocolate takes over the taste of the treats, so you only taste a little vanilla.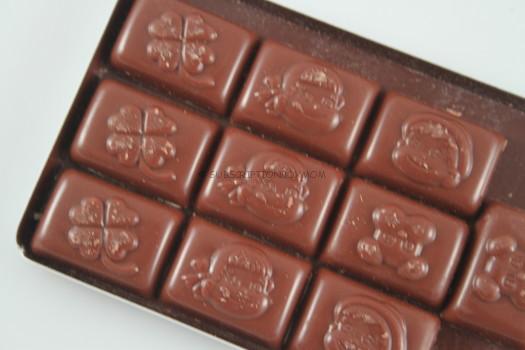 I love the cute designs on the chocolates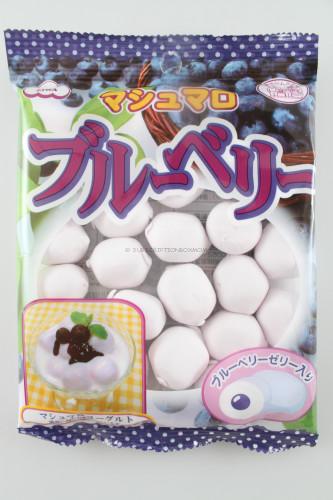 Blueberry Marshmallows: These are marshmallows filled with blueberry jelly.  The marshmallow tastes a bit gummie.  These were really good and my children will also love them.
SCorn BBQ: These are shaped liked Cheetos but have a Japanese BBQ taste.  My husband loves these.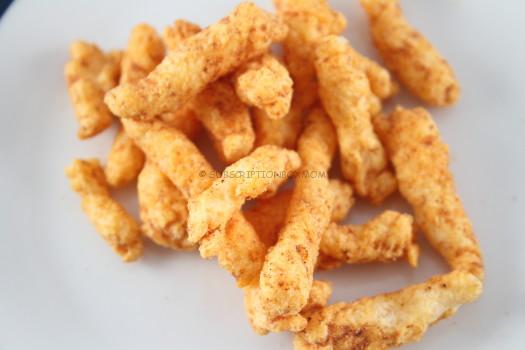 My kids loved the SCorn BBQ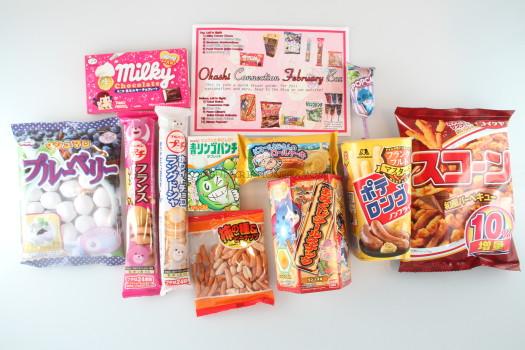 Final Thought: This was another very tasty box and I enjoyed everything in the box.  I didn't love the Kaki-no-Tane, but I didn't dislike it either.  Okashi Connection is a very affordable subscription, and they sends a generous amount of snacks.  I love that Okashi Connection tries each snack, before including it into the box.  Okashi Connection is really passionate about their subscription, and each box reflects that.  If you want to Okashi Connection,  click HERE to subscribe and use the code Boxmom to get $1.00 off your box.
Do you like FREE SUBSCRIPTION BOXES?  Click HERE to see my free subscription box list.
Check out my Full List of Subscription Box Coupons