March 21, 2015
03/21/15

By Subscription Box Mom

1 Comment
1
Nerd Block Jr March 2015 Review – Boy + Coupon
Disclosure: This post contains affiliate links.  This box was received free for review.
Our Nerd Block Jr arrived and my son (age 5 1/2) couldn't wait to unbox it with me.  Nerd Block Jr is a great subscription box filled with toys and collectibles for kids 6-11.  Boxes are $13.99/month plus shipping.  There are girl and boy boxes, but you can pick which box you want for your child.
The Details:
Cost: $13.99 plus $6.00 shipping
Coupon: To subscribe to Nerd Block Jr, click HERE and use the code SUPERHERO to save 10%.
What's in the box: Nerd Block Jr. is filled with toys, games, and collectibles from your kids favorite brands including Star Wars, Disney, Adventure Time, My Little Pony, Angry Birds, and many more!
When am I charged? Initially, you will be charged for your first Block at the time you register for your subscription. Then, you will be billed at the beginning of every month for that month's subscription (January block is billed on 1 January). The monthly billing closes on the 8th of the month. 
For example, if you subscribe on January 10th, that payment will be applied to February Block (remember, the closing date for January was the 8th). Your next billing will occur on March 1st for the March Block.

 
If you subscribe prior to the closing date for that month's Block (you subscribe on January 7th or prior) you will be billed immediately for January's Block and your next payment will occur February 1st for February's Block.

The closing date can be found on the homepage (hint: it's the countdown timer).
When does it ship?  Nerd Block Jr. is sent out at the same time as Nerd Block – approximately the 15th of every month, give or take a day. Once your Nerd Block Jr. is shipped, you'll receive an email notifying you of your tracking information! 
How do I cancel? Cancelling a subscription is easy! Just email cancel@nerdblock.com with your name and address, and they will cancel your account. Please note that all orders must be cancelled 24-hours prior to the 1st of every month.
Website: https://nerdblock.com/#nerdblockjr
Nerd Block Jr ships in blue boxes for boys, purple boxes for girls.
Mr J's April Fools Kit: $4.00 est This is an exclusive set for Nerd Block Jr subscribers  There is a whoopie cushion and a two flies in ice cubes.  My son loves playing jokes on people, so he loved these; unfortunately, the whoopie cushion popped after it's first use.  We were being careful sitting on it, but the air didn't escape.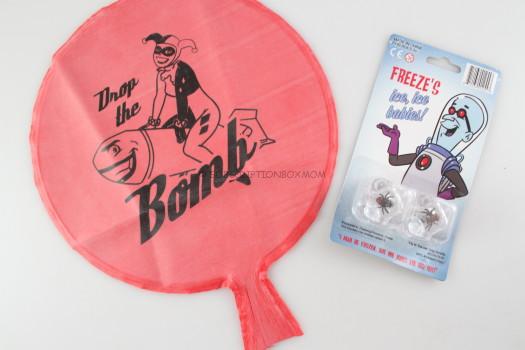 This is a better look at the items in the bag.
Splat Slammers: $2.99  You can stretch and splat this against a hard surface, and it will go back to it's shape. It feels slimy, but it doesn't leave a residue.  My son loved this.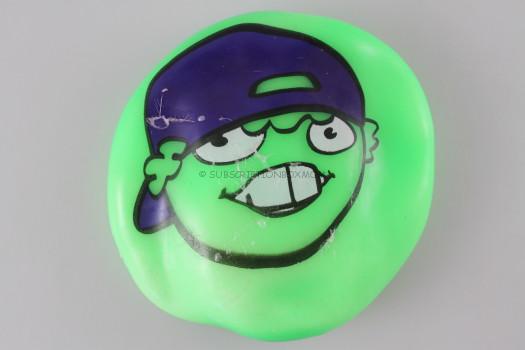 This is a look outside the package.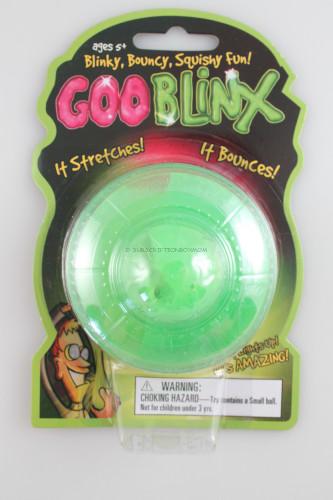 Goo Blinx UFO $4.99  This is a sticky, slimy UFO, with a ball inside that lights up.  This is really cool, but it easily sticks to things, so be careful where yo bounce it.  It is practically impossible to get back in the container, so that is frustrating.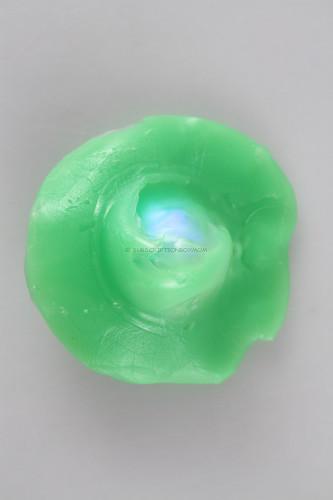 This is what the goo looks like.
MegaBloks Spongebob Mystery Character: $4.49  This is a mystery MegaBloks character from the new SpongeBob movie.  L isn't allowed to watch the show or move, but he knows who SpongeBob is.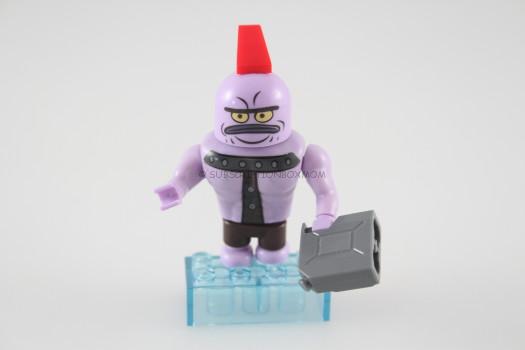 Mob Fish:  This is Mob Fish.  I don't know anything about him, nor do I know what he is carrying.  It looks like a gas can?  I only know this guy's name, because I sorted through 67 online pictures to find it.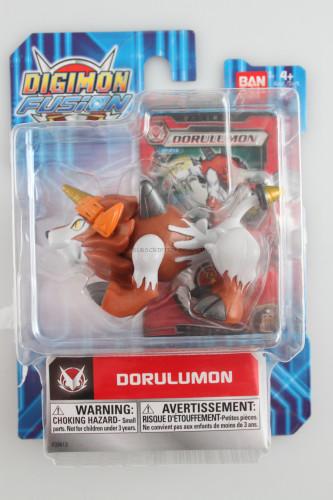 Dorulumon Digimon Fusion Figure with Card
 $4.99 My son doesn't watch Digimon, but he liked this little beast, so that's all that matters.
This is what he looks like outside the package.  The character comes with a trading card.
Lego Legends of Chima Brick Erasers 4 Pack
 $6.69:  My son likes erasers and LEGOS, so he was excited for these.  He was a bit disappointed they didn't really stick together.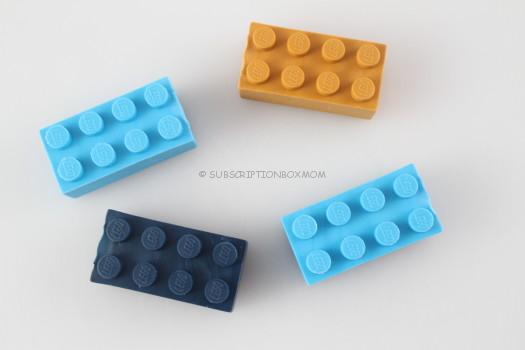 The erasers had the little LEGO logo on them, so I thought that was neat.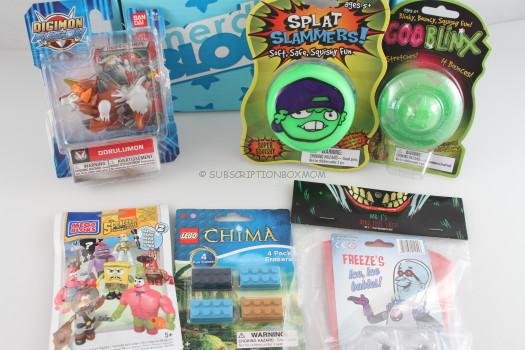 Final Thought: This box had a total value of $28.14.  It thought a couple of the items had some quality issues, but my son enjoyed the box.  There are very few options for 6-11 year olds, and all in all, I think Nerd Block Jr is a cute box.  L didn't know the SpongeBob character, or the Digimon character, but he still enjoyed them.  I do wish the whoopie cushion didn't pop.   If you want to try Nerd Block Jr, click here and click HERE and use the code SUPERHERO to save 10%. If you want to see an example of a girl box, see my February 2015 review.
Do you like FREE SUBSCRIPTION BOXES?  Click HERE to see my free subscription box list.
You can see my FULL coupon list HERE.
Do you love Giveaways?  Click HERE to enter all my Giveaways.