March 21, 2015
03/21/15

By Subscription Box Mom

7 Comments
7
March 2015 POPSUGAR Must Have Box Review + Coupon Code
Disclosure: This post contains affiliate links.
Popsugar is one of the boxes I get just for me.  POPSUGAR is $39.95/month and filled with must have products for all aspects of your life.  Each box is filled with things like snacks, items for your home, jewelry and more! POPSUGAR is one of my favorite subscriptions and I always look forward to getting my box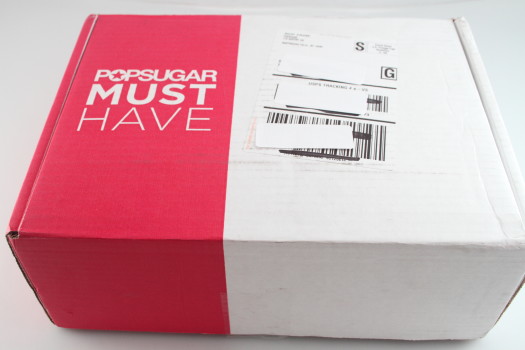 Popsugar has such a pretty box, I love the pink and white combination.
First Look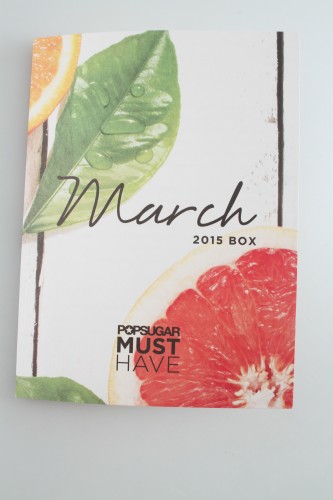 The March 2015 was created around the theme renewal, citrus, spring break, fresh and traveling.
The information card lets you know more detail about everything in the box.  I like that there is pictures to go with descriptions.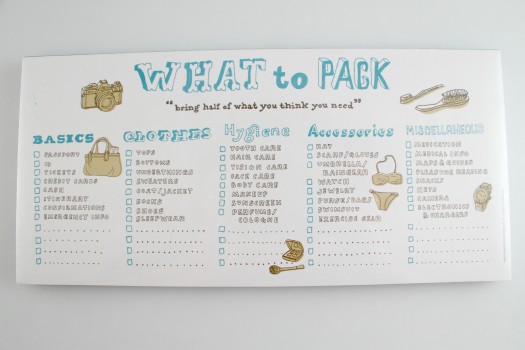 Knock Knock What to Pack Pad: $7.00 I never make a packing list for trips, so I really won't use this.  I like the concept of a packing list pad, but I wish there were spaces to write how many of each item.  For example, I know I need tops, but how many?   When I pack, I just walk through my day and pack that way.  Since I am a mom of two, my biggest worry is forgetting the diapers, underwear, or socks.
Bliss Micromagic Microdermabrasion Treatment: $48.00  This is designed to exfoliate your skin and soothe it with vitamin E and aloe.  The one thing that gives me some hesitation on using this, is parabens.  While I know there is a huge controversy on parabens, I am not entirely comfortable using it.  I am going to do some more research and decide later on using it.  I do wish Popsugar had included a paraben free product, but you can't please everyone.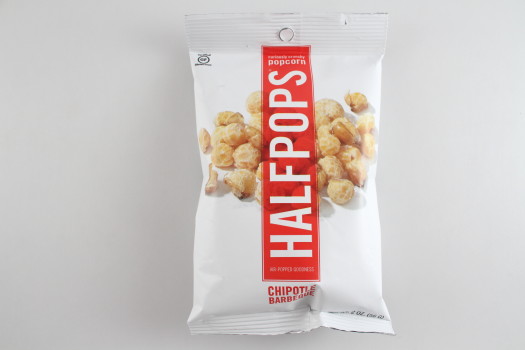 Halfpops Halfpopped Popcorn in Chipotle Barbeque: $1.69  These are halfpopped popcorn and they come in various flavors.  I have a crazy obsession with popcorn (I have 4 different popcorn poppers).  I am always up for trying new popcorn, so I opened this right away.  Unfortunately, this snack fell short with me.  I thought the snack would look more like popcorn, but it actually looked and tasted like kernels.  i loved the chipotle barbeque flavor, but I hated all the hauls.
These are the Halfpops, they were not very good, in my opinion.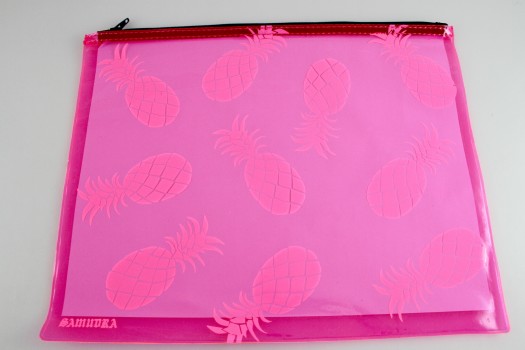 Samudra Pink Pina Zip Pouch: $40.00:  This is an exclusive pouch for Popsugar.  It's made of pink plastic and has pineapples on it.  I actually think the pouch is cute, but the $40.00 retail value really turned me off.  I have no problem paying more money for fine, quality items, but a plastic pouch, no.  $40.00 is way to much for this.  If you look close, there are some flaws with the plastic, and I would imagine it costing no more than $5.00 at Target.
Now, I am familiar with Samudra, and they make some wonderful items.  I received a Samudra Pouch in my Summer Limited Edition Popsugar Box in 2014, and I love it.  It is super sturdy and I have used it on countless trips.  I worry about what to put in this pouch, as I could see it easily getting a hole.
Greenmarket Purveying Co. The Archivist Lemon + Cucumber Reed Diffuser Kit $20.00 This is my favorite item in the box!  This diffuser actually smells like the cucumber melon line from Bath and Body.  It has a nice fresh scent and I have it in my living room right now.
Wet Brush The Squirt: $4.99 I received a big Wet Brush in the October 2013 POPSUGAR box and I still use it daily.  I don't have particularly tangled hair, so I can't speak for how well it detangles hair.  This is a nice travel size and I will use it on vacation.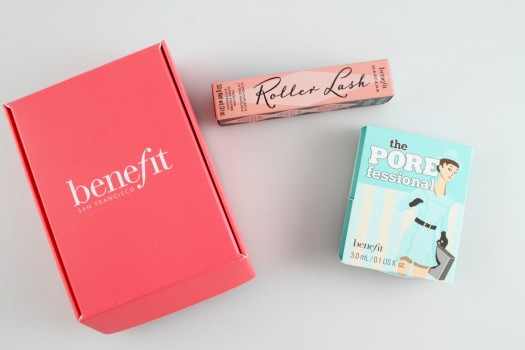 Benefit Cosmetics Roller Lash Mascara and POREfessional  I am a big fan of Benefit, so I am happy to see samples it the box.  I love the POREfessional product, I own it already and it really helps to minimize pores and leave your skin smooth.  I haven't tried the roller lash mascara yet, but I will add it to my mascara stash.
Final Thought: This box had a total value of $121.68, but I was really disappointed in this box.  To be honest, I was really only excited about the diffuser and the benefit products.  The pouch is cute but it is way overpriced.  This box didn't live up to my expectations, but I still love POPSUGAR.  The April box is sold out, but you can get the May box, and save $5.00 on your first box, when you use this link and the code MUSTHAVE5.
Do you like FREE SUBSCRIPTION BOXES?  Click HERE to see my free subscription box list.
You can see my FULL coupon list HERE.