March 8, 2015
03/08/15

By Subscription Box Mom

0 Comments
0
March 2015 Ivy Kids Review + Coupon
Disclosure: This box was received free for review.
Ivy Kids is a craft and activity box for 3-8 years olds.  Each box is packed with fun learning activities, all made around a certain theme. There are usually more than 10 activities in each box, each in their own little bag.  Since a 3 and 8 year old have different learning needs, Ivy Kids sends instructions for "Little Ivys" (3-5) and some for "Junior Ivys" (5-8).   There are also tips for parents to help facilitate more learning.  Every book, which helps tie all the activities together.  Even though this box is full of learning activities, kids have a blast with this box, and don't even realize they are learning.  As a bonus, Ivy Kids includes a personalized item in every box.
The Details:
Cost: $38.95 monthly, $36.95/mo for 3 months, $34.95/mo for 6 months.  Add a sibling pack for $5.00 a month.
Coupon: Click HERE and use the code IVY20 to get 20% off your subscription.
What's in the box?: Each month you will receive a kit containing a book and ten or more activities based upon the story. Everything you need to learn and play is included in your kit. The activities have been carefully crafted to encourage curiosity, problem solving, and creativity in young children. The Ivy Kit games and projects are a fun way to develop fine and gross muscles, build math and literacy skills, encourage reading comprehension, and promote scientific thinking.
When does the box ship? Boxes ship around the 22nd of the month for ongoing subscribers with the expectation that the kit will arrive within 5-10 business days in the U.S.  You can check the status of your shipments in the U.S. on your My Account page once your kit has shipped.
When will I receive my kit?  Kits arrive around the 1st of the month
When am I billed? When you sign up for the monthly membership, you will be billed for your first kit immediately. After that, you will be billed on the 20th of each month until cancelled.
Can I skip?  Yes!  Just email  info@ivy-kids.com
How do I cancel? You can cancel a monthly subscription any time after the first kit ships. Please cancel by the next month's billing date to avoid getting billed for and shipped the next kit. Gift subscriptions (3 or 6 month terms) are not eligible for cancellation. Auto-renewing subscriptions (pay every 3 or 6 months) are only eligible for cancellation after the initial prepaid term has been completed. To cancel, please email customerservice@ivy-kids.com
Website: http://ivy-kids.com/
Ivy Kids comes in a big green box and ships by Priority Mail.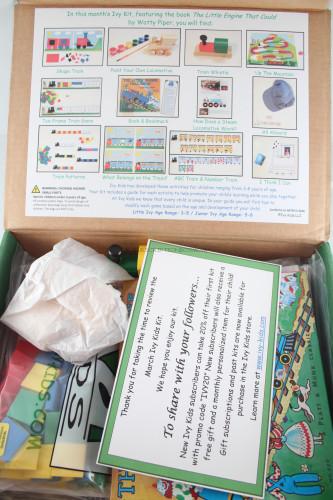 First Look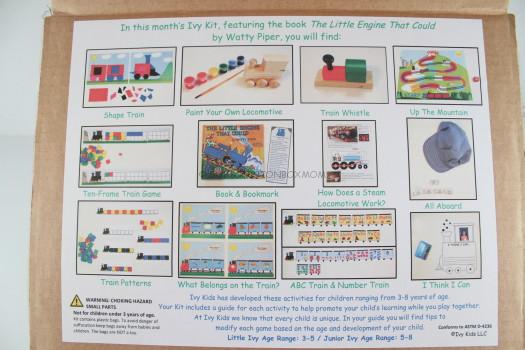 Inside the lid, there is a sheet with all the activities in the box, this acts as an information card.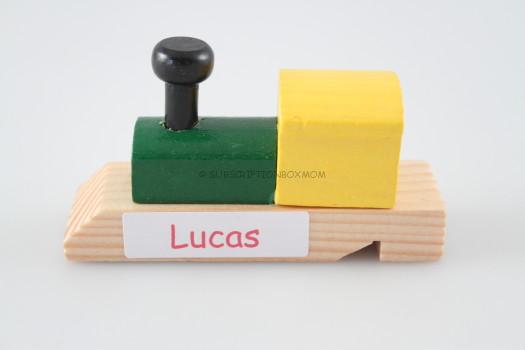 As I mentioned before, each box includes a personalized item.  This month, it was a train whistle with my oldest's name on it.  My son loved this whistle and I have been hearing it all day.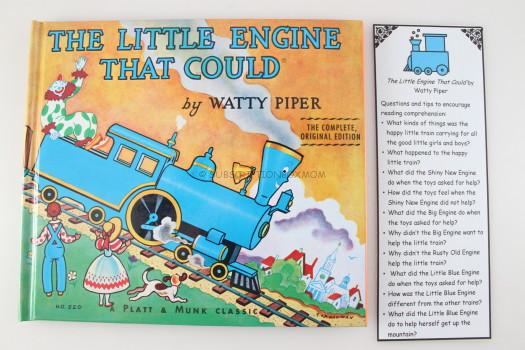 The featured book this month is The Little Engine That Could by Watty Piper, this is a classic book that every child should own.  I actually own my original The Little Engine That Could from the 70's. This had a retail value of $8.99.
Each activity in the box comes in it's own bag, I love this.  You can have all the bags in you child's you area, and they can grab one as they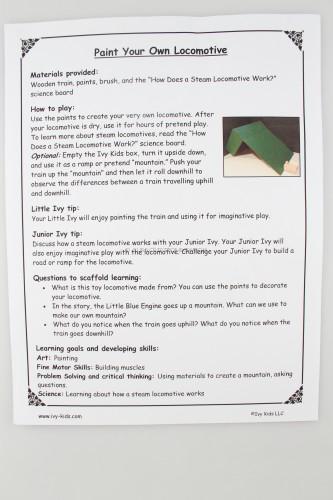 Each activity has an information sheet with it.  Each information sheet lists materials provided, how to play or do each activity, Little Ivy Tips, Junior Ivy Tips, Questions to scaffold learning, and Learning golds and developing skills.  I love how Ivy Kids gives parents so much information about each activity.
Paint Your Own Locomotive & How Does a Steam Locomotive Work: Your child reads the How Does a Steam Locomotive Work paper.  L loves learning how things work and will watch YouTube videos about machines working, over cartoons.  L loved reading this with me.  After reading about trains, your child paints their own train!
L put on the engineer's hat (see later in the review) and got to work on the train.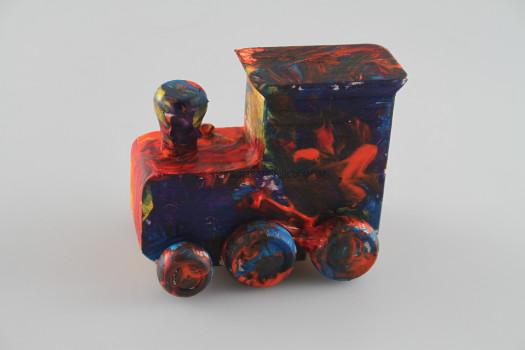 The finished train.  I love L's use of color.  He painted the whole train orange and then added more color.
You can turn the box into a mountain and makes your little engine go up.  "I think I can, I think I can".
All Aboard: Ivy Kids included a train engineer's hat and tickets, so you child can make their own train.  The personalized whistle is great for letting everyone know the train is leaving.  Your child can use chairs, boxes and other props around the house to make their own train.
Shape Train: There are two scenes for your child to create their own trains from the shapes.  Little Ivys can look at pictures of trains for inspiration.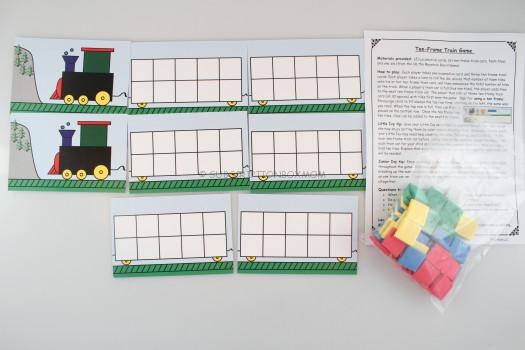 Ten-Frame Train Game: This game also includes a dice, but I didn't place it in the picture.  You child rolls the dice and adds that number of foam squares.  The first person to fill their train wins.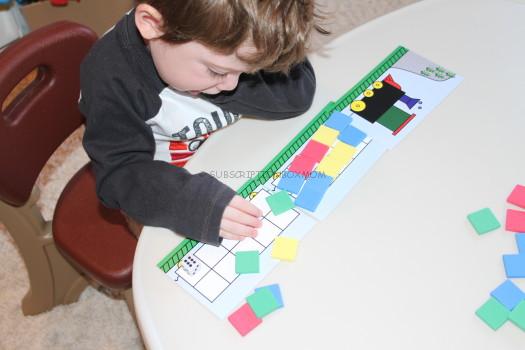 My little T played with me and won.  I was impressed with his ability to sit and fill up both train cars.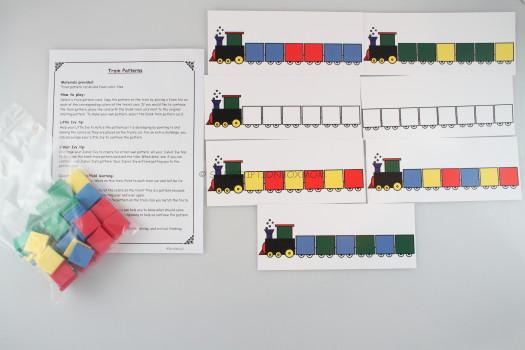 Train Patterns: Kids take turns filling out the patterns on each card.  There are two black ones for older kids to create their own patterns.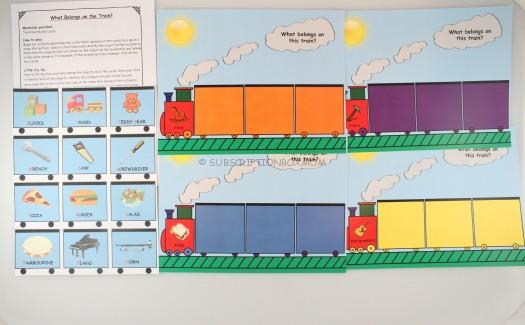 What Belongs on the Train: There are four cards and your child puts the appropriate cargo in each one: food, toys, tools, and instruments.

This activity was very easy for L, but he had fun.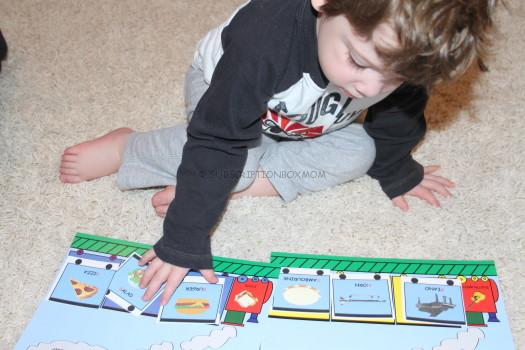 This activity was challenge for T (3 next week), so L helped him out.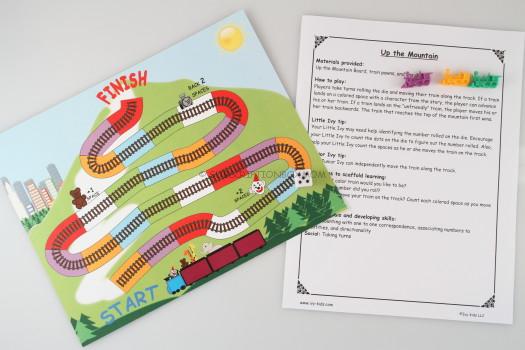 Up the Mountain: This is a really fun game with tiny trains.  You roll the dice and move the train, when you lady of a friendly person, you move forward, unfriendly characters cause you to move back.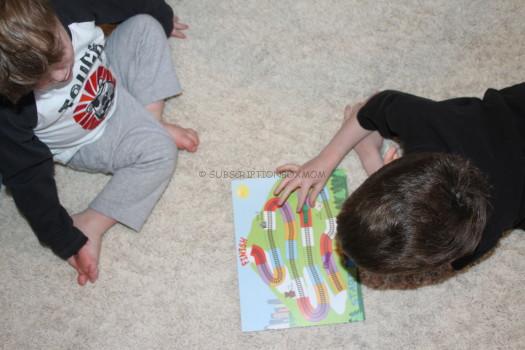 There were three little pawns, so my husband and boys played.
This was a really fun game and it didn't last to long.
I Think I Can: Your child writes about a time that was very difficult for him/her.  Your child can paste a picture of themselves or draw a picture where the engineer sits.
Alphabet Train and Number Train: Your child lines up the letters and numbers in orders.  Older kids can name various animals that begin with each letter.  T enjoyed the letter cars while L liked the numbers.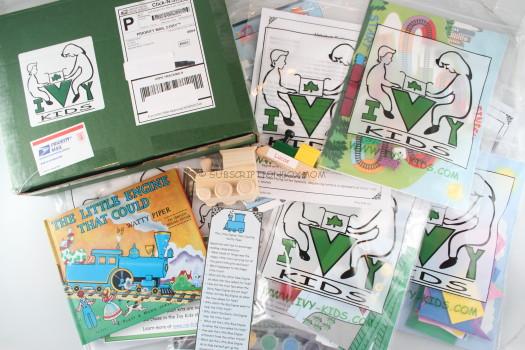 Final Thought: This box was packed with activities and they were train themed, which was really cool for my train-loving boys.  Ivy Kids is a wonderful subscription to keep kids entertained, while educating them.  The train theme this month was just perfect for my kids.   If you want to try Ivy Kids, click HERE and use the code IVY20 to get 20% off your subscription.  
Do you like FREE SUBSCRIPTION BOXES?  Click HERE to see my free subscription box list.
You can see my FULL coupon list HERE.
Do you love Giveaways?  Click HERE to enter all my Giveaways.