March 17, 2015
03/17/15

By Subscription Box Mom

0 Comments
0
March 2015 Citrus Lane 3 Year Old + 5 Year Old Boy Review + Coupons
Disclosure: This post contains affiliate links
I was happy to see my boys' Citrus Lane boxes show up today!  Citrus Lane is $29.00/month and each box is filled with all kinds of goodies for you child: books, snacks, toys, and more.  Boxes are aged for children 0-5, although my 5 1/2-year-old still loves his Citrus Lane.  Since both boxes are almost exactly the same, I am combining my 3 year old and 5 year old reviews.
Both of my Citrus Lane boxes arrive a bit banged up this month.  I am not sure what happened, luckily, nothing was damaged.
First Look
There was a coupon for Care.com in the box (parent company to Citrus Lane).  As usual, there was an information card, with everything listing in the box.  There were also a few promo codes for the included companies.
Melissa and Doug Reusable Sticker Pad: $4.99 This sticker pad is for my 3 year old.  I have one of these saved back as a gift, so I will give this one to the other boy.  This has several sheets of habitat backgrounds with over 150 stickers to place.  The stickers are removable, so they can be used again and again.  We have one in our van (different theme), and it is a great toy to keep them busy.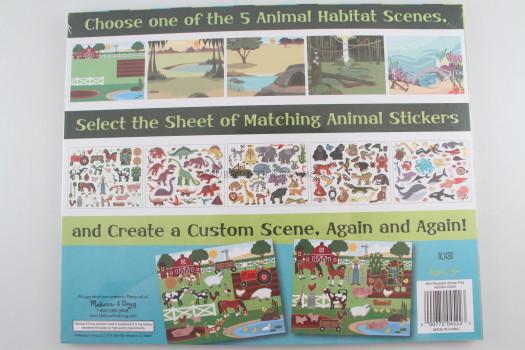 Here is a look at the back, you can see the habitats and stickers.
I wondered why the sticker pad had Citrus Lane on it.  I grabbed my other one and compared.  The Citrus Lane version is much smaller than the original.  They both have the same number of sheets and stickers, but I imagine they needed something smaller for the box.
Melissa and Doug Sticker Pad Vehicles: $4.00  This sticker pad is for my 5 year old.  This is the version we have in the van, and my 3 year old especially enjoys it.  Like the habitats, this has over 150 stickers and 5 different scenes.
Here is a look at the different scenes and stickers.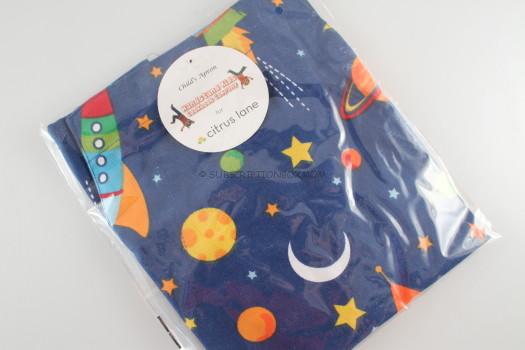 Child Apron from Handstand Kids Cookbook Company: $20.00  This is a cute space apron.  My oldest son's apron is getting old and my youngest doesn't have an apron.  This is a perfect size for a child and has a cool space theme.  I was a bit surprised this was $20.00, but it's cute.  This is made of thick cloth material.  Each of my boys received this.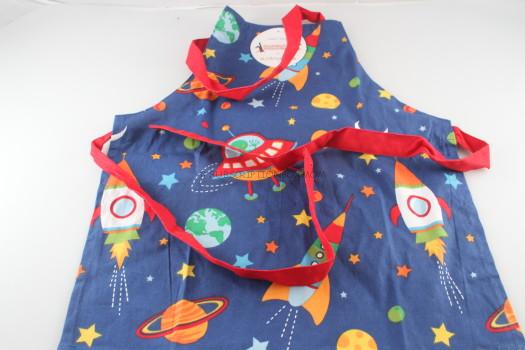 Here is what the apron looks like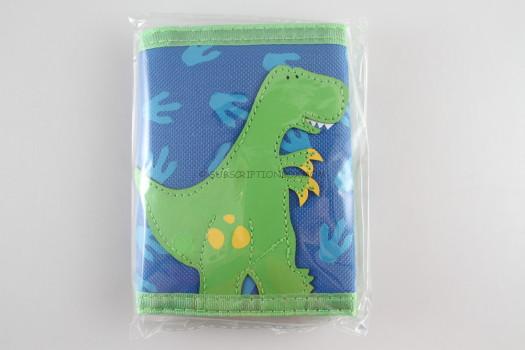 Stephen Joseph Dinosaur Wallet $8.99  Both of my boys received this in their box.  My kids love money and want to be just like dad.  I am saving these for Easter Baskets.
The wallet has places for everything!  They have some old hotel keys they use as credit cards.  They will love these.
Back to Nature Honey Graham Sticks $1.00 These Graham crackers taste great, but they are also free from artificial colors, flavors and high fructose corn syrup.  Each boy got a package of these and they are also going in the Easter baskets.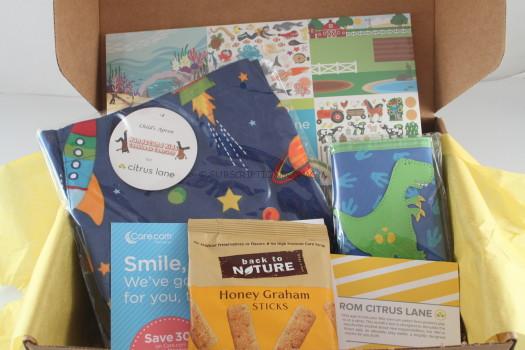 This is everything in my 3 year old's box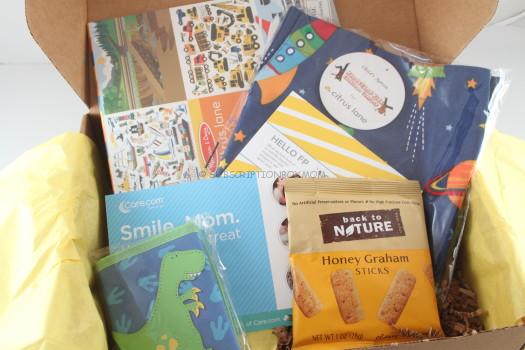 This is everything in my 5 year old's box
Final Thought: Each box was worth $34.98.  These were not my favorite Citrus Lane boxes, but they were not bad either.  I liked that both boy got the same/similar items, so there will be no fighting over goodies.  Citrus Lane is a great box for kids 0-5.  I really feel it is a great all around box for kids.  If you want to try Citrus Lane, use this link with the code HOORAY30 to get a free Skip Hop Lunchie and Straw Bottle AND save 30% on your 1st box.
Check out my Master Coupon Page 
Do you like FREE SUBSCRIPTION BOXES?  Click HERE to see my free subscription box list.