March 14, 2015
03/14/15

By Subscription Box Mom

0 Comments
0
March 2015 Birchbox Review + $10.00 Coupon
Disclosure: This post contains affiliate links
Birchbox is a fantastic beauty subscription box, and it's only $10.00!  Birchbox sends five sample beauty and skin care products, every month.  Some subscriber can now upgrade to a $30.00 box.  The $30.00 box will contain 2 full size beauty or skin care products, along with the five usual products.  I don't have access to upgrade yet, but I know some who have.  This is my March 2015 Birchbox review.
When you sign up, you fill out a profile, so Birchbox can customize your box to your preferences.  There is a regular monthly box and they also have guest editor boxes. Birchbox releases spoilers and a full reveal of the guest editor boxes, so you will know which box to choose.  I actually have two Birchbox subscriptions.  This is the box for my newest account.
Here is the details about the Birchbox Point System
For every 100 points you earn, you get $10.00 to spend in the shop. There are lots of ways to earn points too!
1.  Subscribe 
2.  Review Your Products: You get 10 points for every sample review you complete.  Each box contains 4-5 products, so that is around $5.00 in points you can earn monthly!  This makes the box $5.00 a month.  Right now, when you sign up, you can use the code JILLIAN and get 100 bonus points.  100 bonus points equals $10.00 in the Birchbox store, so it's like getting your 1st box free.  You can use this link to sign up.
3.  Shop!: For every dollar you spend in the Birchbox Store, you earn 1 point for each dollar spent on full-size products in the Birchbox Shop.
4.  Refer Your Friends: For every friend you refer to Birchbox, you will earn 50 points
I was excited to see my Birchbox this month.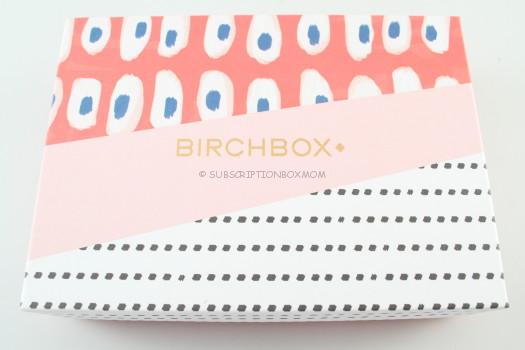 The box had a two-tone look this month.  As a reminder, Birchbox wants everyone to save their Birchbox boxes this year.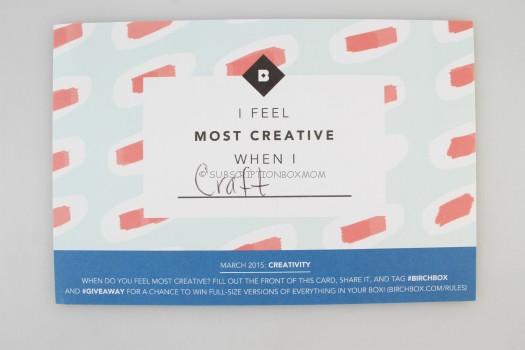 The information card has a fill in the blank activity.  I feel most creative when I am crafting.  I love to craft and I find it very relaxing.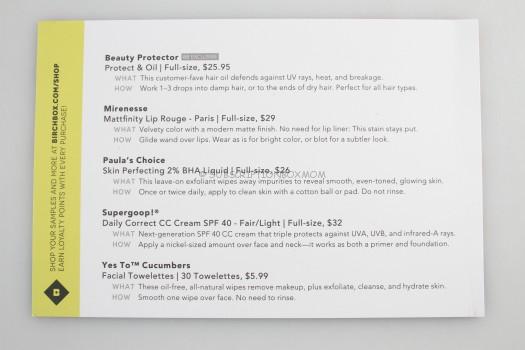 The back of the information card has a list of everything in the box, along with how to use each product.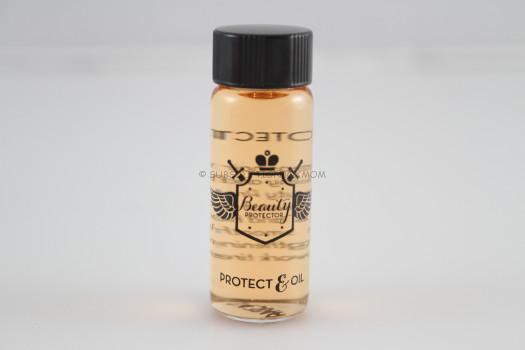 Beauty Protector Protect & Oil   $2.00  I think this is the item I picked during sample choice.  I am really happy to get this oil.  You can use this on wet hair or you can apply it to the end of dry hair.  This has a nice scent but it's tricky to get out of the bottle without spilling it.
Supergoop Daily Correct CC Cream Spf 40 $2.73  This cc cream has an SPF of 40 and is in the shade light!  I never get "light" complexion products in my boxes, so I was happy Birchbox followed my profile (or maybe I got lucky).  This blended well with my complexion and I am going to use it as a primer.  This also protects your skin from UVA, UVB and infrared A rays.
Paula's Choice Skin Perfecting 2% BHA Liquid $6.50 This is a liquid exfoliate that you just wipe on your skin.  I am not sure if I love it, It seemed to make my face feel a bit oily, but maybe I used too much.
Mirenesse Mattfinity Lip Rouge-Paris $7.02  I rarely meet a lip product that I don't love, unless it's the wrong color or sticky.  This lip stain has a beautiful berry color.  You can wear this very bold, or wear a nude gloss on top, for a calmer look.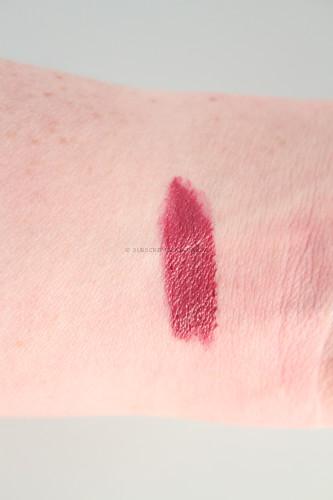 This is what the lip stain looks like.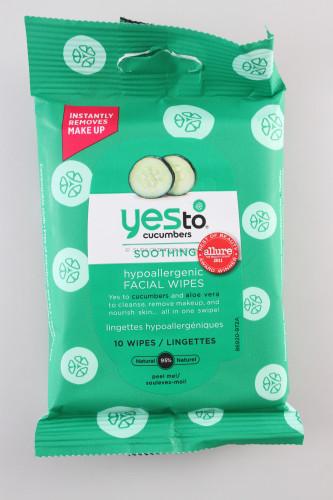 Yes to Cucumbers Soothing Facial Wipes $2.00  I really enjoy getting facial wipes in subscription boxes, they are not exciting, but very useful.  These remove makeup, but they also hydrates skin.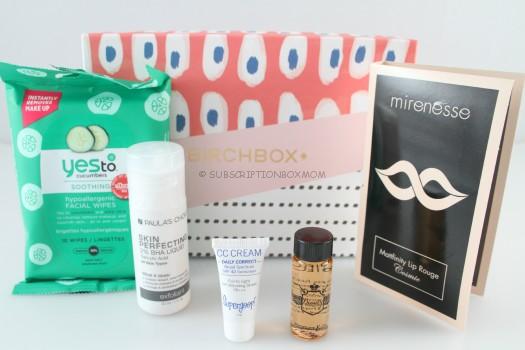 Final Thought: This box had a total value of $20.25.  I really enjoyed this box, and it is one of my favorite boxes.  I will use everything in the box, with the exception of maybe the skin perfecting lotion.  Birchbox is the one of vest values in the subscription box world.  Boxes are only $10.00/month and the point system is fantastic.  If you want to try Birchbox, use this link with the code GAP10 to get 100 bonus points, which is $10.00 to spend in the shop.
Do you like FREE SUBSCRIPTION BOXES?  Click HERE to see my free subscription box list.
You can see my FULL coupon list HERE.