March 14, 2015
03/14/15

By Subscription Box Mom

1 Comment
1
February 2015 Genius Box Review "Crystals" + Coupon
Disclosure: This box was received free for review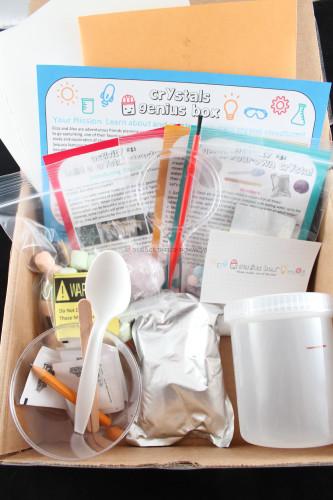 Genius Box  is a box for children 8-12 that send 3 STEM activities per month.  STEM is science, technology, engineering and math.  Boxes are $25.00/month, but you can save 25% on your subscription with the code twentyfive.  Each box includes full narrative cards, explaining the activity.  I loved science as a child and I would have loved getting a box like this.  When Genius Box sent me this box for review, I was really excited.
The Details:
Cost: $25.00/month
Shipping: Genius Box ships to the United States free.
What's in the box? Genius Box sends three STEM activities each month for kids 8-12.
Website: www.geniusbox.me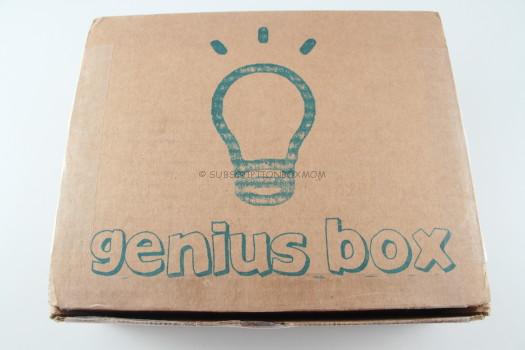 Genius Box shipped by USPS and there was a cute little light bulb on the box.
First Look: There was an envelope on top marked "Top Secret".  This envelope was filled with all the instructions and the reporting sheet.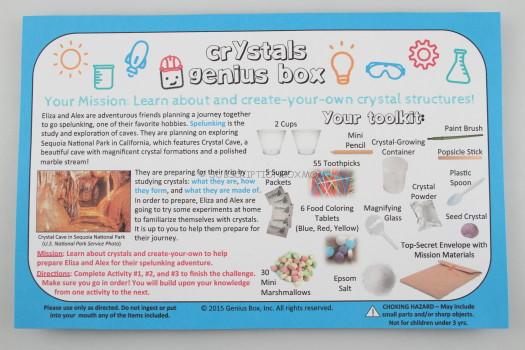 The theme for this month was "crystals" and Genius Box explained the reason for the theme.  Eliza and Alex are going spelunking to Sequoia National Park in California, which features Crystal Cave.  This box is to explore all about crystals, to prepare for the trip.  There was also a full picture list of all the items in the box.
The back of the card has information to fill in about each activity.
There were three activity cards included in the box.  Each card is two-sided, and genius box informs kids about what they will learn with each activity and how to complete the activity.  You start with #1 and end with #3, as each activity builds on each other.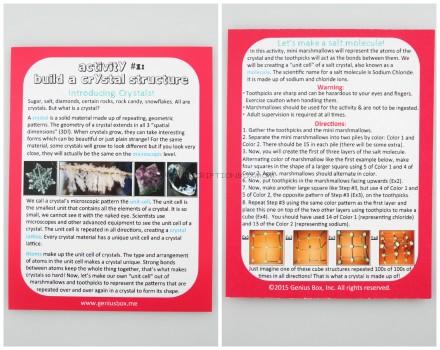 Activity #1: Build a Crystal Structure: This activity teaches children about the makeup of a crystal.  A unit cell is the smallest unit of all the elements of a crystal.  A crystal lattice is made up of many unit cells.  This activity will let your child make their own salt molecule.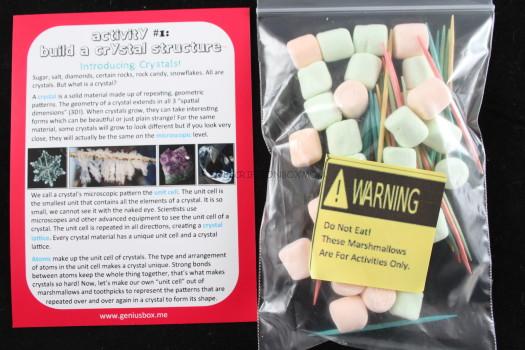 Genius Box includes mini marshmallows and toothpicks.
My husband and L (age 5 1/2) started working on the molecule.  You basically made repeating cubes.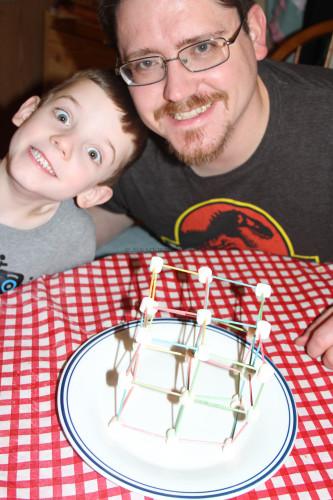 They had lots of fun building together.
This is the finished salt molecule.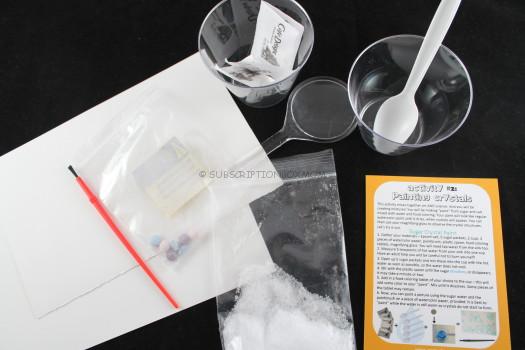 Activity #2 Painting Crystals Your child makes paintings that turn into crystals.  There are materials to make salt paint and sugar paint.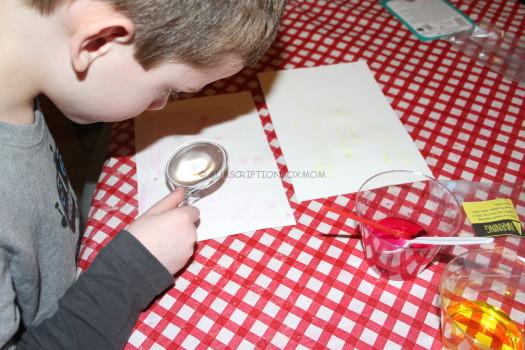 L painted his papers and took out his magnifying glass to see the crystals.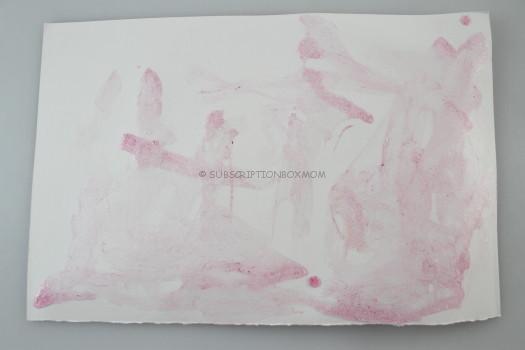 It's really hard to see the crystals, but this is the salt painting.  The salt crystals showed up really well on this one.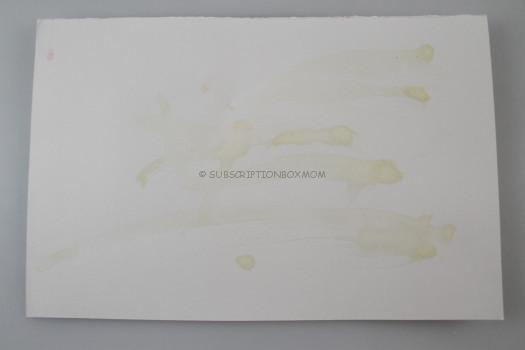 This painting was made with sugar.  The crystals didn't show up as well on this one.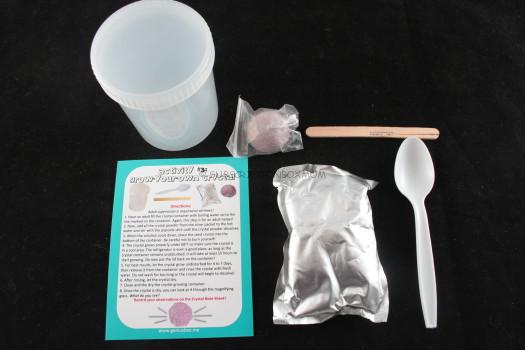 Activity #3 Grow Your Own Crystal The third activity was to grow you own crystal!  Once you make the product, it takes 4-7 days to grow the crystals.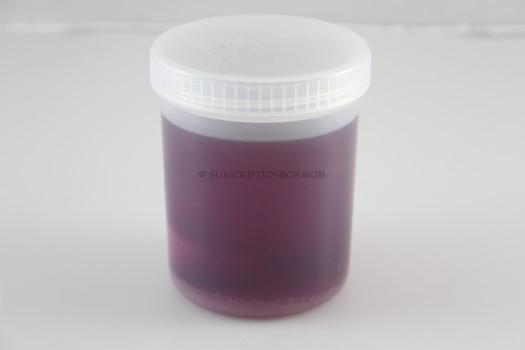 This is where the crystals grow.
This is all three finished projects (the crystals are still growing)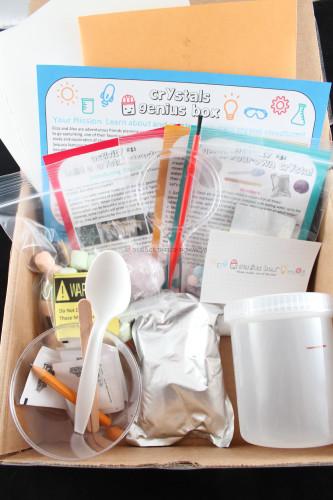 Final Thought: Genius Box is a great box for children who love to learn, experiments and create.  Your child will explore with STEM, but will have fun in the process.  My oldest is 5 1/2 and had fun with this box, although he did need lots of supervision.  I liked how each activity built on each other, so your child had a full knowledge of crystals by the end.  If you want to try Genius Box, use this link with the code twentyfive to save 25%.
Do you like FREE SUBSCRIPTION BOXES?  Click HERE to see my free subscription box list.
You can see my FULL coupon list HERE.