March 1, 2015
03/01/15

By Subscription Box Mom

0 Comments
0
ElementaryBox February 2015 Review – Kindergarten Box
Disclosure: This box was received free for review.
ElementaryBox is a subscription box for teachers, that sends teaching resources, student incentives, and handcrafted teacher gifts.  I received a box for a preschool teacher in September, and it was such a cute box. This box makes a great gift for a teacher.
The Details:
Cost: $29.00/month
Coupon: Use the code SPRING to save 10% during checkout!
What's in the box? Elementary Box includes something educational for the classroom, a personalized gift for the teacher, and shared teacher tips and ideas.
When does the box ship? Elementary Box ships during the last week of each month so that our teachers receive their boxes within the first week of the next month.
When am I billed? You will be billed for the first month's box when you check out. The remainder of your payments will be billed on that same date of each month.
How do I cancel? Simply go to the "Contact" tab and fill out the form. Be sure to put "unsubscribe" and your or your teacher's name in the comments section, and submit the form.
Prepaid subscribers may cancel only during the first month of their subscription. After the initial month, prepaid subscribers are not eligible to cancel their subscription.
Website: http://www.elementarybox.com/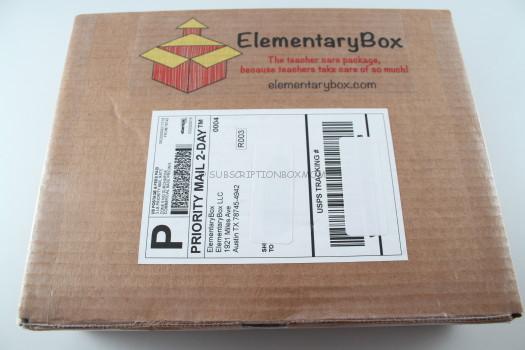 Elementary Box ships by Priority Mail.  I really love when boxes ship Priority Mail.
First Look
ElementaryBox's information cards look like a little note card.  Even though they are printed, I think it gives the box a more personal touch.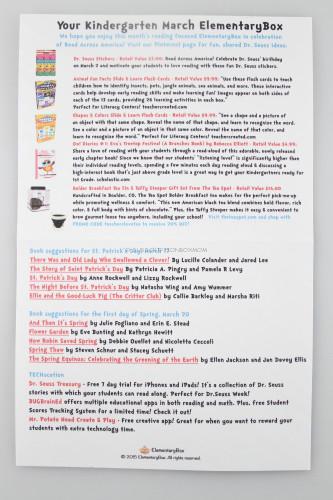 ElementaryBox not only includes everything in the box, but suggestions for books, activities and educational apps.  This month, there were book suggestions for St. Patrick's Day and the first day of spring.   There were also three educational app recommendations.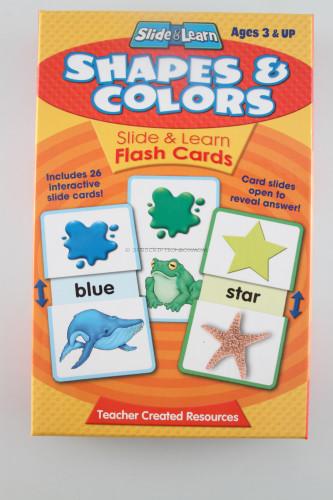 Slide & Learn Shape & Colors $13.29 This is a set of 26 slide cards.  The cards feature various colors and shapes.  Once the child guesses the correct color or shape, the card can slide open to reveal the answer.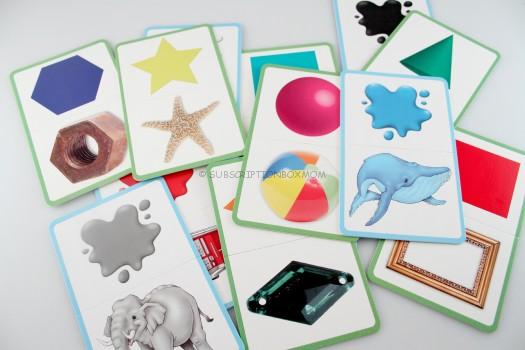 The is a look at all the cards in the box.  There are easier cards and progressively harder cards.  I like that there are various kinds of cards, so the teacher can start easy and work to the harder cards.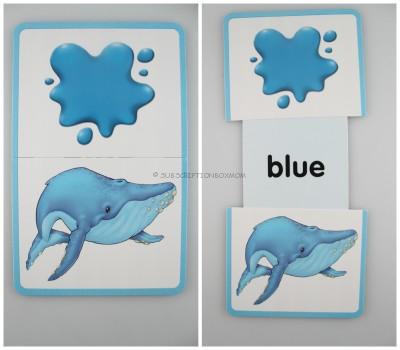 This is a look at one of the cards.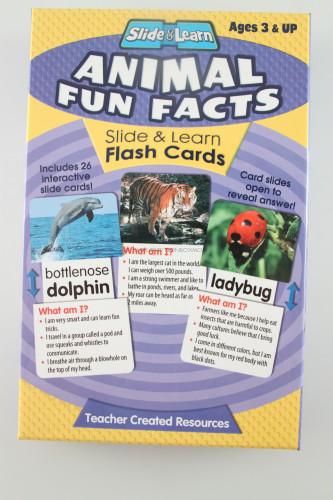 Slide & Learn Animal Fun Facts: $14.59 These slide and learn cards feature 26 different cards.  Each card has a picture of an animal and some descriptive faqs.  Once the child has guessed the animal, you can slide the card to reveal the answer.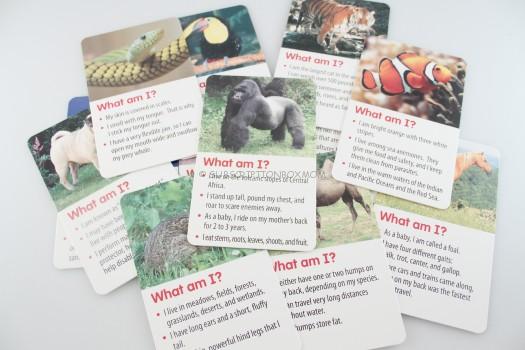 This is a look at all the cards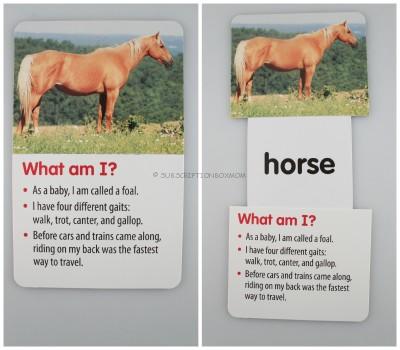 This is a look at a card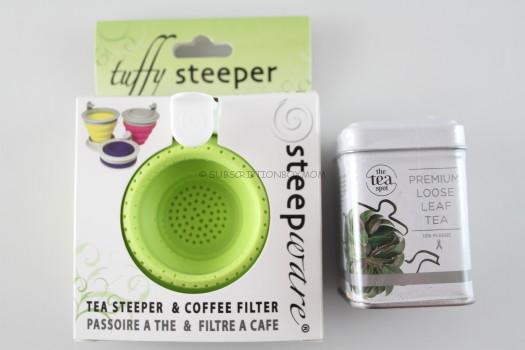 Bolder Breakfast Tea Tin & Tuffy Steeper Gift Set from the Tea Spot: $14.00  This steeper is perfect for school.   The steeper expands and you just sit it in your coffee cup.  The loose leaf tea goes in the middle.  After you let the tea sit in the steeper, you remove the steeper and enjoy your tea.  ElementaryBox also included a little tin of black tea.
There were a few promotional materials for the Tea Spot.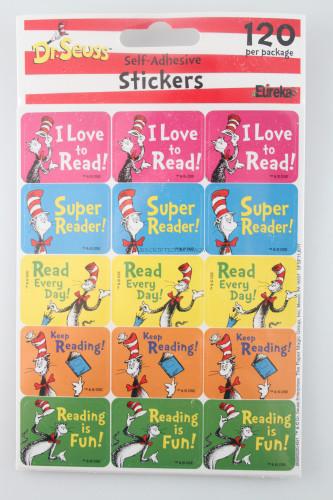 Eureka Cat in The Hat Reading Stickers
 $4.99  Stickers are a must have item for teachers.  Stickers are on almost every supply list, so this is a great addition to the box.  March 2 is National Reading Day, so these come at a great time.
Owl Diaries #1: Eva's Treetop Festival (A Branches Book)
 $4.99 This is a beginning chapter book about a cute little owl named Eva.  ElementaryBox recommends reading this book out loud to children, as their listening attention span is greater than their reading attention span.  This is over the grade level for Kindergarten, but it's a book to read out loud.
This is a look inside the book.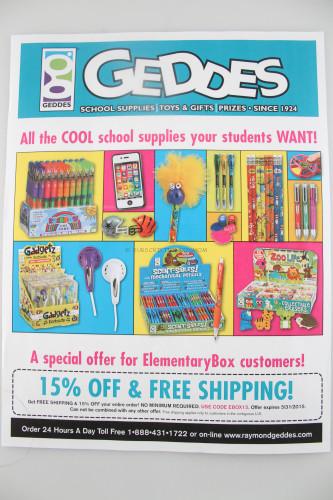 There was a promotional sheet from RamondGeddes.com.  You can get 15% off their online store with free shipping, just use the code EBOX15.
Final Thoughts: The total value of this box $51.86.  ElementaryBox included values for each product, and their value was $41.97.  I couldn't find many of the products for sale as cheap as their prices.  I absolutely love the fact that ElementaryBox's values were lower than I could find on the internet.  If you want to subscribe to Elementary Box, or give as a gift, click HERE.   Use the code SPRING to save 10% during checkout!
Do you like FREE SUBSCRIPTION BOXES?  Click HERE to see my free subscription box list.
Check out my Full List of Subscription Box Coupons