March 18, 2015
03/18/15

By Subscription Box Mom

2 Comments
2
Bramble Box March 2015 Review + Coupons
Disclosure: This post contains affiliate links.  I received this box free for review.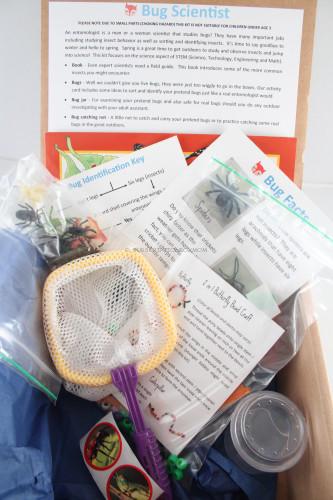 Bramble Box is a fun, creative subscription for children 3-8 years old.  Each box is $25.00/month and boxes are filled with dramatic play materials. Each box has specific themes, like post office, detective, and scientist.  I really love this box and I was excited to review it again.
The Details:
Cost: $25.00/Month, $75.00/3 Months, $144.00/6 Months, $276.00/12 Months.
Coupon: Save 40% on your first box, use this link with the code betterthaneggs.  exp 4/27
What's in the box? Each box will contain props and play materials to fuel your child's imagination.
Website: http://www.brambleboxprops.com/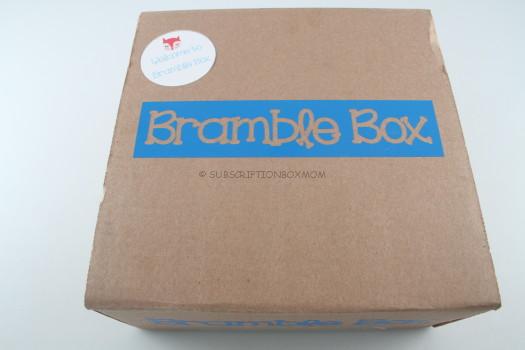 Bramble Box ships in a little brown box with Bramble Box written on top.  Bramble box ships by USPS.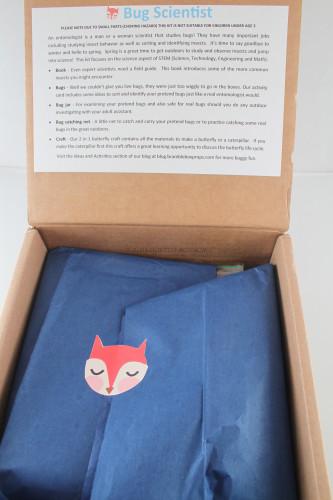 First Look:  I love the little fox sticker that seals in the goodies.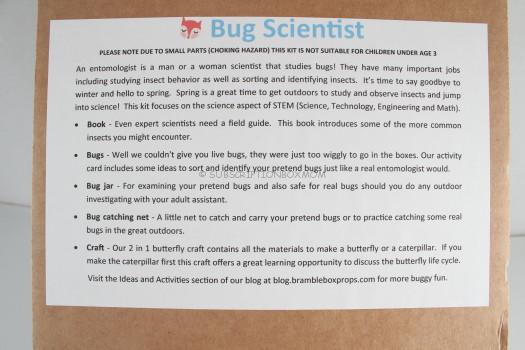 Inside the lid, there is an information card with a list of everything in the box.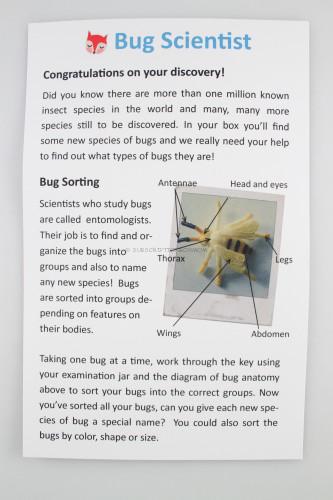 The theme for this month is "Bug Scientist".  Bramble Box introduced entomologists to children and encouraged them to complete a bug sorting activity.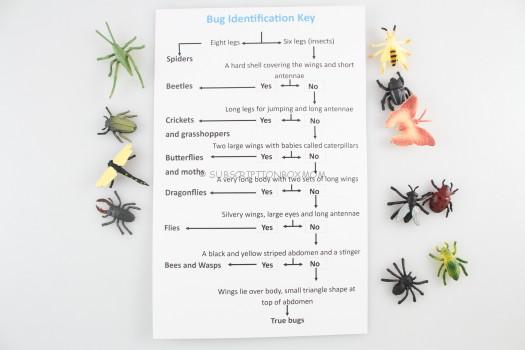 This activity was really fun.  Your child starts at the top and your child answers each question, to find out the type of bug.  Each of my children (ages 3 and 5), completed this activity.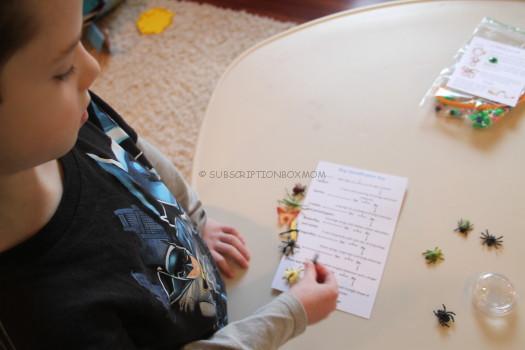 L (age 5) knew many of the bugs by sight, but he liked looking at each bug to answer the questions.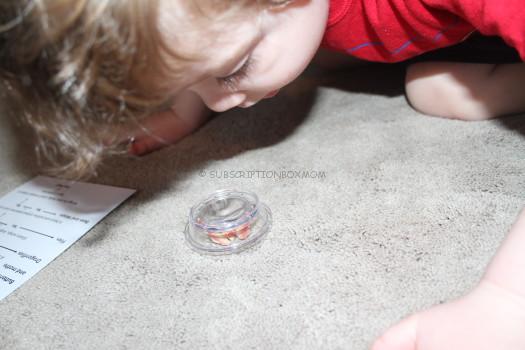 T (age 3) loved looking at all the bugs through the lid of the bug jar (see later in the review).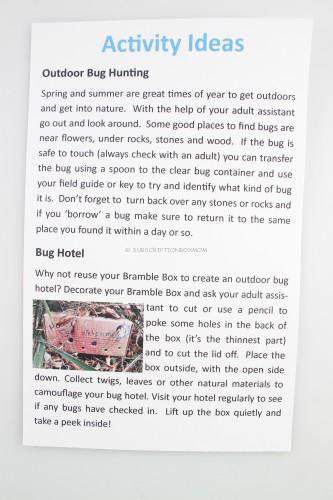 There were two activities suggested in the box.
1.  Outdoor Bug Hunting:  You child goes outside with their bug container and net to catch and examine bugs.  Bramble Box makes sure that adults accompany kids on this activity, so they will know safe bugs to touch.  Bramble Box also lets kids know, they need to turn the bugs loose after looking at them.
2.  Bug Hotel: Your child uses their actual Bramble Box, to make a bug hotel.  You cover it with grass and kids can pick it up and see if any bugs have check in.  We are going to do this activity this weekend.  I will make sure it's far from the house, so no creepy crawlies come in the house.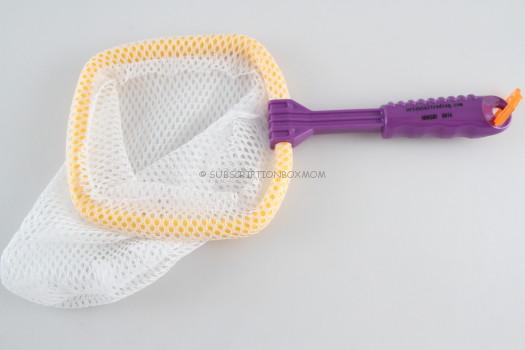 Net: Bramble Box included a net, to help catch bugs.
Bug Collecting Jar: There was a bug collecting jar, so kids can explore bugs.  There are holes in the lid and the lid has a magnifying glass, so bugs are easy to see.
There was a list of cool bug facts.  I was a bit freaked out  that 1 out of every four animals on Earth is a beetle.  I am scared of bugs.
Butterfly Bead Craft:  There was a fun craft where your child can make a caterpillar and butterfly.
Both of my boys wanted to make one, so I let each boy make a wing.  They both had a blast.  I used the activity to teach T colors.
T, age 3, did the top string, and L, age 5, did the bottom string.
The finished butterfly.  I love that it is a mix of both boys' work.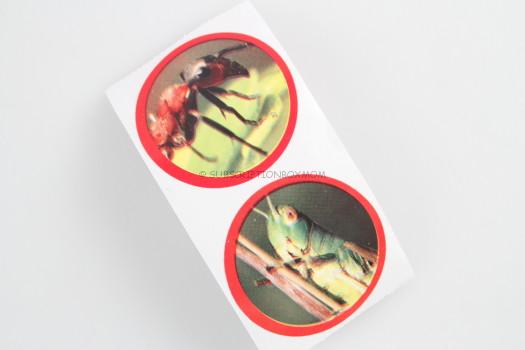 There were two little bug stickers in the box.  Both of my kids love stickers.
Take Along Guide: Caterpillars, Bugs and Butterflies: $7.52  There was a really cool book included in the box.  This book has colorful illustrations, 48 pages and is filled with information on all kinds of bugs.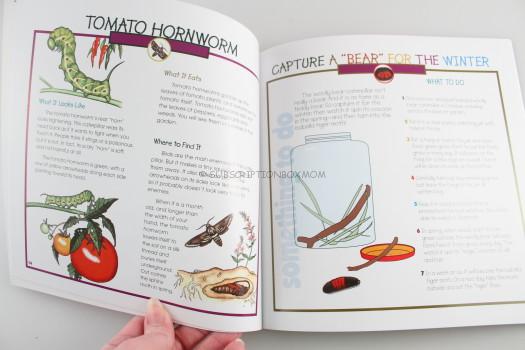 Here is a peek inside the book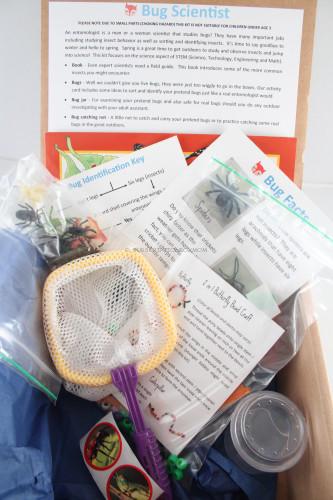 Final Thought: Bramble Box is a really fun, creative subscription.  This box isn't about adding up the value of each item.  Bramble Box is well worth the $25.00/month, because they combine, fun, learning and creativity in each box.  I am one of those "good intention moms".  I have good intentions to complete all those pins on Pinterest, but life gets busy.  I am glad Bramble Box makes cute creative boxes, that engage my boys' imagination and they think I am a cool mom.  You can try Bramble Box and save 40% on your first box, use this link with the code betterthaneggs.  exp 4/27  You can also save 20% off Pretend Play Box, just use this link with the code Easter.
Do you like FREE SUBSCRIPTION BOXES?  Click HERE to see my free subscription box list.
You can see my FULL coupon list HERE.