February 24, 2015
02/24/15

By Subscription Box Mom

1 Comment
1
Num-Nums Munch Box Review – February 2015
Disclosure: This box was received free for review.
Num-Nums Munch Box is a snack subscription box for people with allergies or dietary restrictions.  When you sign up, you choose between dairy-free, gluten-free or nut-free.  You also choose between a single box and a double box.  Single boxes are $21.99/month and filled with 10-12 snacks. Double boxes are $43.50/month and filled with 20-24 snacks.  Right now, all their inventory is dairy, nut and gluten-free, so your box will be the same, no mater what box you pick.  Many of their snacks are also free from the top 8 allergens: dairy, soy, wheat, gluten, egg, peanut, tree nut, fish, and shellfish.  My 5-year-old has a peanut allergy, so I was really excited to review a nut-free box.  I review snack boxes frequently, and I always have to be careful to consume any peanut products right away, so my son won't accidentally eat it.
The Details:
Cost: $21.00/Single Box, $43.50/Double Box
Shipping:  United States
What's in the box? Each month they will send out a box containing 10-12 snacks (small) or 20-24 snacks (big). We will handpick the snack items and include a variety of snack types.
Num-Nums Munch Box shipped priority mail
First Look;  This box was packed!
There was an information card with all the snacks in the box.  All the snacks in the box were free from dairy, soy, wheat, gluten, egg, peanut, tree nut, fish, and shellfish.  There were also notes on certain snacks that are manufactured at the same plant as an allergen.  I love their attention to allergens.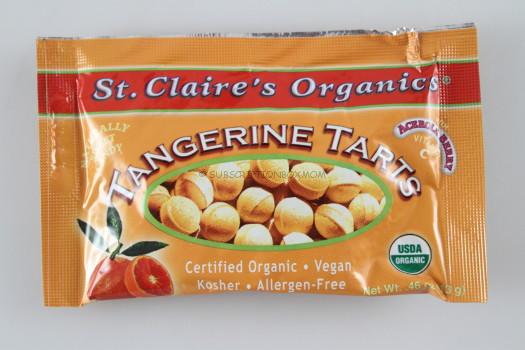 St. Claires Organics Tangerine Tarts  These are little candies that taste like tangerines.  These are really good and quite addicting.  They are also organic, vegan, kosher, and allergen-free.  My children loved these too.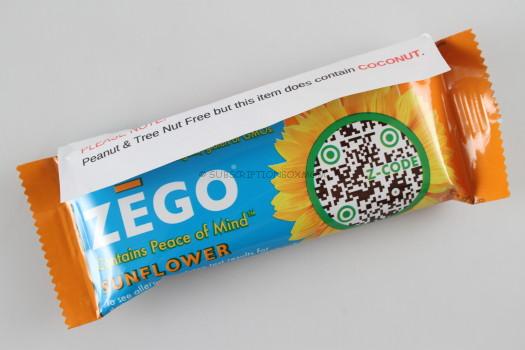 Zego Sunflower Snack Bar   This bar is free from allergens, gluten and gmos.  You can scan the code on the bar and see the testing that occurred in that batch of snack bars.  There was also a note attached to the bar that read "peanut & nut free but this item does contain coconut".  I love that there was a note taped to the bar, as some people don't read information cards.
Peeled Snacks Apple Clusters These are such a tasty snack.  They are little balls of puff dried apples.  They only have 75 calories and are gluten free.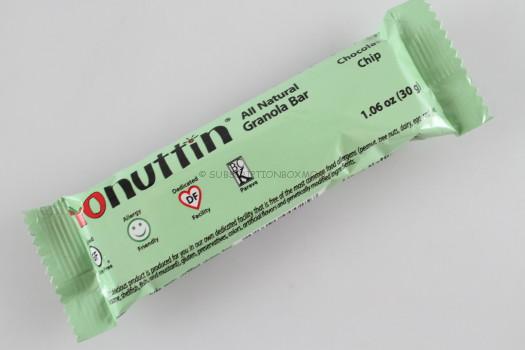 Nonuttin Chocolate Chip Granola Bar  I am typically not a granola fan, but this bar is amazing.  This granola bar has chocolate chips and is soft and chewy.
Beanfields Bean & Rice Chips- Barbecue:  I love Beanfield chips.  They are a healthier version of regular chips.  They are vegan, corn free, gluten free and all natural.  They also have 4 grams of protein and 4 grams of fiber.
Home Free Mini Double Chocolate Chip Cookies: These are very tasty chocolate chip cookies.  I love chocolate chip cookies and the double chocolate makes them even better.  These are all natural, nut free, whole grain, gluten-free and all natural.
Seasnax Roasted Seaweed:  Seaweed has some amazing health benefits, unfortunately, my family isn't a fan.  I know someone who loves roasted seaweed, so he is going to get this.  This is free from cholesterol free, trans-fat free, msg free, sugar-free, and gmo free.
Mandarin Orange Crisps These are dried mandarin oranges and my children love them.  These are all natural and have the same nutrition as regular mandarin oranges, they are just easier to eat.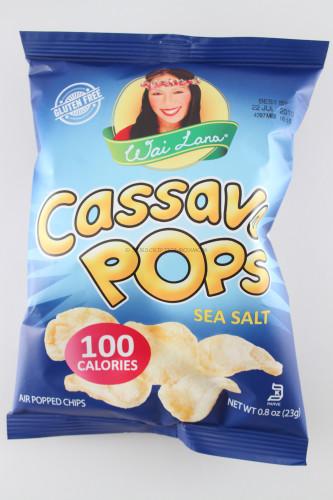 Cassava Pops: These are really good chips.  They have a light puffed texture and are sea salt flavored.  I have had these before and was really happy to get them again.
Enjoy Life Vanilla Honey Graham  These cookies are gluten-free and are free from anything artificial.  These have a nice flavor and are crunchy.  I prefer a softer cookie, but these were good.
YumEarth Sour Beans + Sucker:  My kids love YumEarth candy and I love that is free from all the nasty junk in regular candy.  These are all natural, gluten free, and nut free.
Final Thought: This was a great box.  I didn't do a price breakdown, but I thought this was a great box.  I love that everything was safe to be around my son and I didn't have to worry about his allergy with any of the snacks.  I love having the peace of mind that my whole family can enjoy everything in this box.  If you want to try Num-Nums Munch Box, click HERE.
Do you like FREE SUBSCRIPTION BOXES?  Click HERE to see my free subscription box list.
You can see my FULL coupon list HERE.
Do you love Giveaways?  Click HERE to enter all my Giveaways.