February 15, 2015
02/15/15

By Subscription Box Mom

1 Comment
1
Love with Food February 2015 Review + Free Box
Disclosure: The post Love with Food February 2015 review contains affiliate links
Love with Food is the one subscription my whole family can enjoy.  We get the tasting box, which is $10.00/month.  The tasting box comes with 8 or more snacks and it is generally big enough for all of us to enjoy.  If you have a bigger family or just like more snacks, the deluxe box comes with 16-20 snacks.  The deluxe box is $19.95/month and is a great value.  There is also Gluten Free box that is $24.50/month and you get 8-12 gluten-free snacks.  Right now you can try Love with Food for FREE, just click HERE and get your first box free (just pay $2.00 shipping).  You will get the Tasting box free.
The Tasting Box comes in a little red box and is wrapped in clear plastic.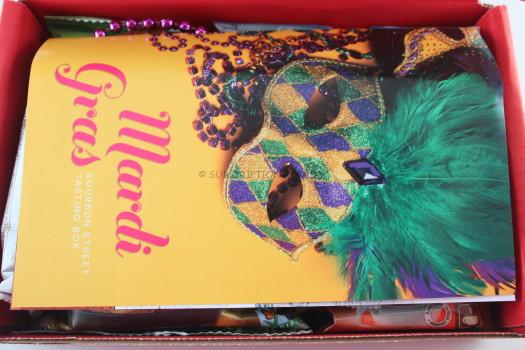 First Look
This box looked packed with items.
The theme for February is Mardi Gras.  This is a pretty fitting theme for February.
 Love with Food gives you information about each food item, like if it is non-gmo, vegan, or gluten-free.
There were a pair of Mardi Gras beads in the box.  No lewd behavior required.
Dilettante Toffee Crunch Trufflecremes These are milk chocolate truffles with a crunchy center.  This is made with butter toffee, almonds and milk chocolate.  My husband really liked these.
Tony Chachere's Original Creole Seasoning This vegan seasoning can be used in all kinds of dishes like gumbo.  I am not a gumbo fan, so I am not sure what to make with this.
Boulder Canyon Olive Oil Kettle Cooked Potato Chips  I love Boulder Canyon chips.  The olive oil flavor was good and tasted similar to the regular potato chips, only very oily.
Snikiddy Baked Mac n' Cheese Puffs: These gluten-free and non-gmo puffs have a yummy cheesy flavor.  The puffs are made from corn and rice and have a white cheddar coating.  These were really good and my whole family loved them.
Dolcetto Petites Lemon Wager Bites: These wafer treats have a nice lemon creamy center.  The flavor reminded me of lemon meringue pie.  These are free from trans fats, artificial colors, and artificial favors.
Rise Bar Protein and Almond Honey Bar I am not a fan of protein bars, but this one was really good.  There is literally only three ingredients: honey, almonds and whey protein isolate.  I ate a few bites and it is quite filling.  This would be a great bar to have on hand for busy mornings.  This bar is also non-gmo and gluten-free.
Divine Milk Chocolate This company is the only fairtrade chocolate company owned by cocoa farmers.  My husband really loved these Divine chocolates.  We don't do much for Valentine's Day, so I gave C all the chocolate from this box as a little gift.
Monbana Hot Chocolate This is made by French Master chocolatiers and this hot chocolate is made with 32% chocolate.  My husband and children love hot chocolate, so someone will drink this.
There were coupons for Rise Bar, Boulder Chips (Yeah!) and Pork Clouds.  My husband and one of his coworkers love Pork Clouds, so I might use the coupon if they are not in the Love with Food store.
Final Thought:  I thought this Love with Food box was really good.  I wasn't wild about the creole seasoning, but that's because I am not a big cook.  I love the Boulder Chips and the Rise Bar.  My children loved the puffs and my husband loved the chocolate.  There is always something in every box, that everyone in my family loves.  If you want to try Love with Food, click HERE and pay $2.00 for your first box.  If you want a bigger box, this link will also save you $10.00 on the Deluxe box and Gluten free box.
Do you like FREE SUBSCRIPTION BOXES?  Click HERE to see my free subscription box list.
Check out my Full List of Subscription Box Coupons
Check out my current giveaways 
HERE