February 16, 2015
02/16/15

By Subscription Box Mom

0 Comments
0
Kitchen Table Passport Review – February 2015 + Coupon
Disclosure: I received this box free for review.
Kitchen Table Passport is a monthly discovery box designed to teach you about a different location each month.  Kitchen Table Passport sends you a welcome card and a general guide to your trip.  You will be given a shopping list to make an authentic meal, along with some herbs and spices to add to your dish.  You will get some souvenirs to discover (6 or 12 months subscribers only) and 10 colorful cards with photos and facts.  This box is designed to be enjoyed by the whole family.  Monthly boxes are $19.95/month but you can get your first box for $9.95, just use the code TAKE10 at check out.
The Details
Cost: $19.95/month, $119.70 every 6 months,  $219.95 every 12 months
What's in the box? You will receive a full color 4-sided folded welcome guide, a bag containing the herbs & spice mix, a double-sided card with grocery list and recipe for the featured dish, and 10 full color information cards.  If you have a 6 or 12 month subscription, you will also get souvenirs.
How do I cancel?  You can cancel by logging on to your account.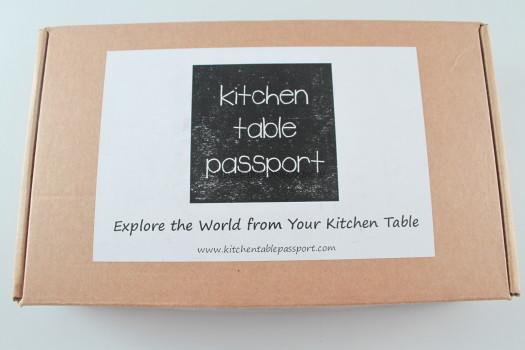 Kitchen Table Passport comes in a little brown box.
Inside the lid is a sticker.  It lets you know everything in the box and what you need to plan and gather for your meal.
First Look:  The top card is an information card about the featured location, South Africa
Inside the card, Kitchen Table Passport gave an introduction to South Africa and a brief description of the recipe of the month.  One fact I learned about Kitchen Table Passport, is every place they feature, at least one person from the company has been there.  The recipe for this month is Durban Curry, served "Bunny Style"  This dish is often referred to as "a Bunny".   A Bunny is hollowed out bread filled with curry.  When the apartheid regime was in power, Indians were not allowed in certain stores.  Workers would serve Bunnies through the back window, and it looked like they were just being given a loaf of bread.
The back of the information card lets you know about the souvenirs in the box.  Remember, the souvenirs are ONLY included in 6 and 12 month subscriptions.
There was a two-sided recipe card.  To make a Bunny, you need onion, tomatoes, potatoes, cilantro, garlic, chicken breast (or beef/lamb). olive oil and special seasoning (included in this box).  The recipe card tells you exactly how to make the dish.  I think even I can do it.
Herb and Spice Mix:  This is made with star anise, cinnamon, cardamom, fennel seeds, ginger, cumin and more.  This spice mix smells good and actually smells pretty strong.  I had the box sitting open downstairs, and I could smell the spice in the room.  I am going to use a little bit in the recipe, because it smells pretty strong and I don't want to overpower the recipe.
Souvenirs: Tiger's Eye Gem and Roobios Tea
Tiger's Eye Gem:  This rock (part of the quartz family) is abundant in South Africa.  People often carry this as a way to protect them against curses.
Roobios Tea:  This tea is grown in the Western Cape province of South Africa.  It is made like black tea.  People often use milk and sugar to taste.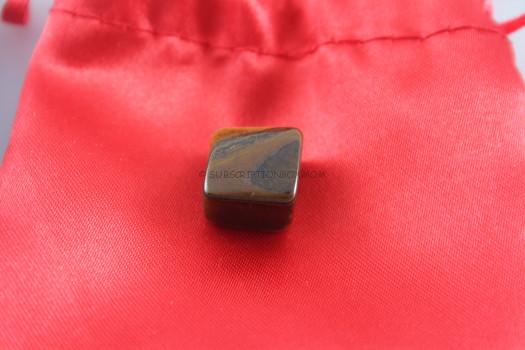 This is a closer look at the Tiger's Eye Gem
 Cards:  The cards were my favorite part of the box.  There were 10 cards included in the box, each giving details about a different aspect of South Africa.  The cards covered the following topics: minerals. food, Nelson Madela, tribes, education, nature, animals, history/fossils, changes in South Africa, and general facts about South Africa.  I loved the beautiful pictures on the front of the cards.
This is a close up picture of one of the cards.  This card is general facts about South Africa.
The back of each card is filled with pictures and facts.  I sat down with my 5 year and we had a good time learning about South Africa.
 Final Thought:  Kitchen Table Passport combines food, culture and family in one box.  I liked how they combined a good meal with information about different places.  This box is nice for anyone who wants to learn more about other counties.  The box is $19.95 and it's difficult to quantify a retail value of this box.  Given the time and effort it takes to curate a recipe, and in-depth cards about the country, I think $19.95 seems reasonable.  If you want to try out this box, you can click HERE and use the code TAKE10 at check out.
Do you like FREE SUBSCRIPTION BOXES?  Click HERE to see my free subscription box list.
You can see my FULL coupon list HERE.
Do you love Giveaways?  Click HERE to enter all my Giveaways.