February 8, 2015
02/08/15

By Subscription Box Mom

2 Comments
2
Julep Cupid's Mystery Clutch Review + Coupons + Free Boxes
Disclosure: This box contains affiliate links
Julep released a brand new mystery box and I will let you know, it's pretty cool.   The Cupid's Mystery Clutch is filled with a beautiful black sparkly bag, polishes  Yuki (Classic with a Twist), and Valentina (Bombshell) and other mystery goodies worth $100.00.  Just a note, Julep uses no maven prices when figuring up the retail value of boxes.  One person will even win a Tiffany & Co Elsa Peretti Open Heart Necklace!   You can also use the code GETCOLOR to get a free polish with a $15.00 purchase.

The mystery box arrived super quick!  I think this is the fastest a Julep box has arrived to me.
First Look
The clutch is a black bag.  This is really pretty and it has a little handle on the side.  I will admit, there is no way I can fit everything I need in this tiny bag.  This will be a makeup bag in one of my bigger, nicer bags.
Yuki (Classic with a Twist) $11.20 The polish itself is a bearly there pink.  There are little white glitter pieces that add to this polish.  The white hearts are a bit hard to get out, but it's a really beautiful polish.
Valentina (Bombshell)  $11.20 This is a pink chevron glitter top coat.  The little pieces of glitter look like hot pink foil.  It goes on pretty sparse, so you have to do multiple top coats to get a full coverage look.  This would look great over silver I think.
There was a special deal (sold out now), that let you add the wedding duo free ($33.00 value) , when you spent $20.00.
The box came with Sienna (Classic with a Twist) $11.20: Sophisticated, shimmery gold
Fifi (It Girl): $11.20 Tea time pink crème.
Julep Eye Glider in Navy Smoke $12.80  I love the Julep eye gliders.  They truly glide on your eyelid.  I am overrun with eye liners, but I like that this is a navy color.  The navy really looks good with my blue eyes.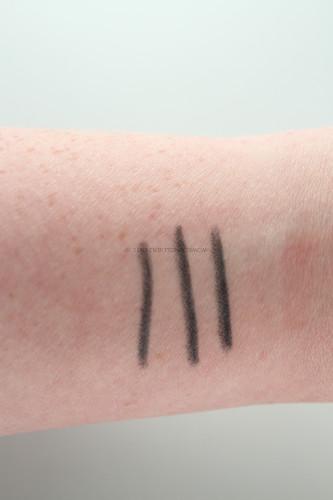 This is a swatch of Navy Smoke.
Julep Lip Gloss in Posh $16.00  I love Julep glosses, they are actually my favorite lip gloss.  They colors glide on and they don't feel heavy or sticky.  This is the color posh and it's a beautiful berry color.
Jessie Bombshell  $11.20  This a Deep Kalamata crème (purple).  This is a pretty color, but I already have it.  I will gift or swap this one.
Myriam Classic with a Twist $11.20 This is described as a casino red crème.  It has an orange tint to it and I don't think I own this.  I really like the color and it seem very Spring.
Margit It Girl $11.20  This is described as a mushroom with rose shimmer.  I really hate anything close to brown on my nails. so this one isn't my favorite.  I will gift or swap this one.
Final Thought: This box had a total value of $84.80, and that's not counting the wedding duo set.  I really love this mystery box, and I think this is my favorite one so far.  All the colors were really pretty, even if I already had them.  Well, I didn't really like Margit, but that's just one polish.  The two featured polishes with that cute bag, made this box totally worth it for me.  Remember you can also win a Tiffany necklace!  Click HERE to get the Cupid's Mystery Clutch  use the code GETCOLOR to get a free polish with a $15.00 purchase.
If you want to try Julep, check out the offers below.
Do you like FREE SUBSCRIPTION BOXES?  Click HERE to see my free subscription box list.
You can see my FULL coupon list HERE.
Do you love Giveaways?  Click HERE to enter all my Giveaways.
Offer expires on 2/15/2015 at 11:59pm PT, or while supplies last. Every Mystery Clutch Box will include the featured clutch and Julep Color Treat in Yuki and Valentina. Other products vary. Purchase of multiple Mystery Boxes may result in polish or product overlap. Offer may not be combined with any other promotional offer or discount (e.g Maven 20% discount). No exchanges or returns are possible on Mystery Box, individual items, or add-ons. Estimated full retail value is at least $100 for all Mystery Clutch Mystery Boxes. Taxes vary by location.