February 3, 2015
02/03/15

By Subscription Box Mom

1 Comment
1
January 2015 RawSpiceBar Review – Spice Subscription Box
Disclosure: I received this subscription for review purposes.  This post contains affiliate links.
RawSpiceBar is a premium spice subscription box.  Each month, you get 3-4 expertly blended spices from a different region.  Each spice, contains 2-3 ounces and there is enough to make 3 separate dishes serving 8-12 people.  I hate going to the store and buying a jar of spices, only to use it once.  I was really interested to see what RawSpiceBar would send.
The Details:
Cost: $6.00/month
What's in the box? Each month, they send 3-4 spice blends which are enough to create 3 separate dishes serving 8-12 people. The spice blends will weigh between 2-3 ounces each month.
Shipping: RawSpiceBar ships to the US and Canada.  Free shipping for both countries.
When does the box ship?  Subscriptions ship the first week of the month

RawSpiceBar ships in a sturdy brown envelope.
There was a letter introducing me to RawSpiceBar.  This month the spices come from Albuquerque, New Mexico.  You can share photos of the dishes you make, and enter to win a 6 month subscription.
All the spices were wrapped in brown paper.  While the packaging was simple, it was nicely put together.
This month Chef Freddie Bitsoie joins RawSpiceBar to create custom spice blends and recipes to use those spices.  RawSpiceBar also gave more information about each recipe in the package.  I like learning were recipes come from.
Posole Spices: This mix of toasted cumin, coriander and Mexican oregano is a perfect base to create some yummy sauces, salsa and other dishes that need a warm and earthy flavor.
Ground Chiles: This red chili mix is made of New Mexican Ancho, Guajillo and Arbol.  This has a medium hot heat that cooks out a bit during cooking.  This has a smoky and slight fruity taste.
Using the ground chilies and Posole spices, you can create Navajo Posole.  Posole is a ceremonial dish that is used to celebrate blessings.  Posole is a very flavorful Mexican stew.
Sumac & Herbs: This blend of rosemary, sage, Mexican oregano, fennel, black peppercorns, garlic, cinnamon, and sumac is used to make Navajo flatbreads.  This spice blend has a peppery, spicy, tangy flavor.
Sumac Flatbreads:  Using the Sumac & Herbs, these flatbreads makes the perfect pairing with the Posole.  I am not a big cook, but these look really good.
Juniper Berries Blend: Native Americans use juniper berries as a protective charm.  This mix of winter spices and juniper berries are a perfect blend to make poached apples or pears, and many more delicious treats.
The juniper berries blend is used to make poached apples & juniper berries.  I think this is the first recipe I am going to try.  I loved poached apples and I am curious how the juniper berries will make them taste.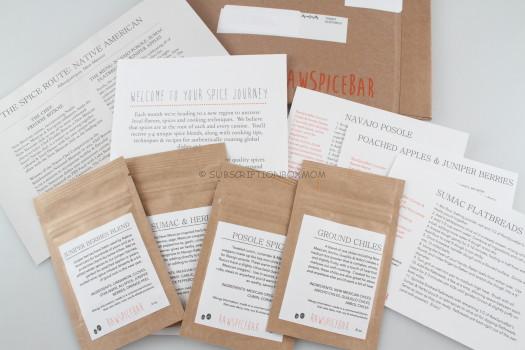 Final Thought:  I am really impressed with RawSpiceBox.  At $6.00/month, I think this was a great value for 4 different spice blends and recipes.  All the recipes look really tasty.  I plan to make the posole and flatbreads this weekend.  If you want to see what the finished recipes looked like, click here.  If you are interested in trying RawSpiceBar, click HERE.
Do you like FREE SUBSCRIPTION BOXES?  Click HERE to see my free subscription box list.
You can see my FULL coupon list HERE.
Do you love Giveaways?  Click HERE to enter all my Giveaways.