February 18, 2015
02/18/15

By Subscription Box Mom

0 Comments
0
Fortune Cookie Soap's 2015 Spring Soap Box Review "Wonderland"
Disclosure: This post contains referral links
When I heard the Fortune Cookie Soap Spring Box was shipping, I got very excited.  Fortune Cookie Soap (or FCS), is a bath/body subscription box that send 8 sample size items from their store.  Each item smells fantastic and FCS describes each item on their information card with such humor and wit.  I really love this box and I couldn't wait to open it.
Each FCS ships in a little brown box.  The Spring box is themed "Wonderland", from Alice in Wonderland.
First Look
I love FCS information cards.  The card read "Welcome to Wonderland…Beware the Bandersnatch".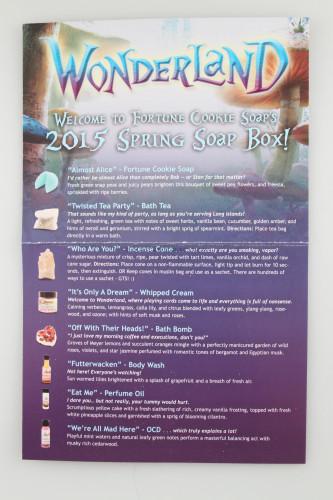 The inside of the information card has picture and descriptions of everything in the box.  They don't just list the items in a boring way,  Each product has a fun witty phrase or description.  I will give you the head's up now, this box was the most amazing, wonderful FCS box.
"We're All Mad Here" – OCD…which truly explains a lot!: I love Fortune Cookie Soap's hand sanitizer.  This one is made with mint waters, leafy green notes, and cedarwood. It smells great.
"Futterwacken"-Body Wash Not Here! Everyone's Watching. This body wash is the perfect way to wake up in the morning.  This has a very fresh scent with notes of grapefruit.
"Eat Me" – Perfume Oil I dare you…but not really, your tummy would hurt. This perfume oil is made with scents of yellow cake, vanilla frosting, white pineapple slices, and cilantro.  This does smell like pineapple and cake, but it's really not my scent.  On a side note, this little bottle proved to be very difficult to photograph.
"It's Only A Dream" – Whipped Cream Welcome to Wonderland, where playing cards come to life and everything if full of nonsense.: This is the most amazing smelling body cream ever.  This is by far my favorite scent and I want it in every product.  It is made with verbena, lemongrass, calla lile, citrus, leafy greens, ylang-ylang, rosewood and ozone (what's ozone?).  This blend of wonderful scents is so calming.  I am going to run out of this in a week.  Simply Amazing!!!  It also makes your skin so soft.  This is happiness in a jar.
"Off With Their Heads!"- Bath Bomb "I just love my morning coffee and executions, don't you?  I love bath bombs.  As a bath convert, I love dropping a bath bomb in a warm bath, at the end of a long day.  This is made with Meyer lemons, oranges, roses, violets, star jasmine, bergamot, and Egyptioan musk.  I can really smell the musk and rose scents.  This is another amazing scent.
"Who Are You?" – Incense Cone…what exactly are you smoking, vapor? I was surprised to see incense in my FCS.  My husband loves incense but I am always afraid I will burn the house down.  My husband hasn't burned any since before we got married.  This is scented with pear, tart limes, vanilla orchid and cane sugar.  This has a very light sweet, fruity scent.  We burned this tonight and it was really nice.
"Twisted Tea Party" – Bath Tea That sounds like my kind of party, as long as you're serving Long Islands! Bath teas are a new thing for me, and they are pretty nice.  This is a mix of green tea, sweet herbs, vanilla bean, cucumber, golden amber, neroli, spearmint and geranium.  It smells like citrus and florals, very nice!
"Almost Alice" – Fortune Cookie Soap I'd rather be almost Alice than completely Bob..or Stan for that matter. It wouldn't be a Fortune Cookie Soap box without a Fortune Cookie Soap.  This smells like green snap peas, pears, sweet pea flowers, berries and freesia.  This has a nice fresh scent and it is at my sink now, as my new soap.
Final Thought: This was an amazing box.  This may be my single favorite subscription box that I have received.  I loved all the scents and they are so perfect for me.  The perfume oil isn't my thing but that whipped cream…. OH MY.  This box was the rainbows and smiley faces in my day. To order the soap box, click HERE.  If you want to buy something in the store, you can click HERE and get $5.00 off a $30.00 purchase (this won't work on the subscription).
Do you like FREE SUBSCRIPTION BOXES?  Click HERE to see my free subscription box list.
Check out my Full List of Subscription Box Coupons
Do you love Giveaways?  Click HERE to enter all my Giveaways.