February 11, 2015
02/11/15

By Subscription Box Mom

0 Comments
0
February 2015 POPSUGAR Must Have Box Review + Coupon
Disclosure: This post contains affiliate links
I was surprised to see my POPSUGAR Must Have Box on my doorstep today.  I get a few boxes, so I generally don't even track it.  POPSUGAR is $39.95/month and filled with all kinds of fun "must have" items.  You get items like makeup, snacks, items for your home, jewelry and more!  POPSUGAR is one of my favorite subscriptions.
The Details
Cost: Month to Month $39.95
3 Months: $109.85
6 Months: $214.70
Coupon: Save $5.00 on your box when you use the code MUSTHAVE5.
Shipping: Popsugar only ships to the United States
What's in the box? Every month, Lisa Sugar and her editorial staff will curate an exciting monthly box full of fun, must-have picks across fashion, beauty, home decor, fitness, and more which we will deliver to your door. The monthly box targets women ages 18-40 and features full-size products and premium items including tried-and-true classics, celebrity favorites, and brands consumers have yet to discover. Your monthly subscription box will include products worth over $100. (Please note: The $100 value is based on the manufacturer's estimated MSRP at the time products are acquired by POPSUGAR. All prices are subject to change without notice.)
When do I get my box? Your POPSUGAR Must Have box will ship by the 15th of the month, or the following business day if the projected shipment date is a holiday, or as otherwise indicated in your account. Your account settings will initially display that your box is "processing" after you are billed. When your box ships out, the "processing" message on your account settings will update to reflect your tracking information.
When am I billed? You will be billed for your first month immediately upon placing your order for a monthly subscription. Please note that if your monthly subscription begins in a later month, you will still be billed at the time you place your first order. After the first month has completed, you will be billed when your next shipment is being processed (expected to occur in the beginning of each month, or as otherwise indicated in your account).
How do I cancel? In order to cancel your subscription, simply go to your Account Page, and under the "Subscriptions" tab, click "Manage Billing." On the "Billing" pop-up, please scroll to the bottom where you will find the text "You can cancel your subscription here." Please click the highlighted "here." You will be prompted to confirm whether or not you want to cancel. Please note, clicking "Cancel" will disable the auto-renewal feature on your account but will not affect your current order. For example, if you have a 3-month subscription, you will still receive all three boxes but no additional boxes. Also, any referral bonus boxes as noted on your account settings page will be placed on hold after you cancel your account, as you need to have an active subscription in order to receive any of your referral bonus boxes.
POPSUGAR Must Have Box ships by FedEx.
First Look
Every box includes a fold out information card.
Inside the information card, there is a full list of items in the box, along with the retail values.
Baublebar Mini Arrow Pendant Necklace $32.00  Some people received this in gold, but I am crazy happy I got silver.  I pretty much only wear silver pieces, unless it's mixed metals.  Awhile back, I updated my profile with Popsugar and they asked several questions about our preferences.  I am not sure if I received silver randomly, or if they went by my profile; either way, I love it.
U.S. Apothecary Rose Water Bubble Bath $30.00 This bubble bath smells like roses and is 98% natural.  It's free from parabens, sulfates and petrochemicals, so you can feel good about using it.  My boys love bubble bath, so I am hiding this in a safe place.  This one is all mine!
Tarte Cosmetics Amazonian Clay 12-Hour Blush $26.00  I love Tart Cosmetics, so I was thrilled to get this blush.  This is in the color "True Love" and add just a soft pink to your skin.  I did a swatch but, it really didn't show up that well.  This is a nice build-able color, so it really works with all skin tones.
ACME Party Box Company Bamboo Heart Cutting Board & Cheese Knife $32.00- This set is a POPSUGAR exclusive, well the knife is at least.  The cutting board and knife is sold as a set, but the red knife is exclusive to POPSUGAR.  I love cheese and can't wait to use this for cheese and crackers.  I think I had a cheese knife, but I am not sure where it is.
Figs & Rouge 100% Natural Balm $8.00  I love lip products and I am addicted to applying lip balm.  Does anyone else love the feeling of applying lip balm?  This is 100% natural and smells like lemon and berries (thus the lemon berry scent).
Chuao Chocolatier Ravishing Rocky Road Bar $4.00  This is a delectable combination of salted almonds, marshmallows and chocolate.  I don't really eat chocolate too much, but I really enjoyed this.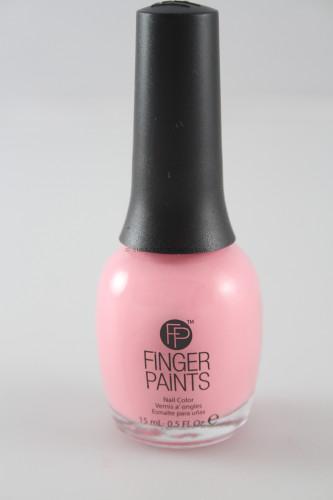 Sally Beauty FingerPaints Nail Color $5.50  This polish is a special extra, sponsored by Sally Beauty in the color Brushstroke Blush.  I think it is a pretty color and I am going to try it with a pink glitter topcoat.  There was also a coupon included in the for a B1G1 polish at Sally's Beauty Supply.
Final Thought:  This box had a total value of $137.50.  This may be my favorite box from POPSUGAR.  I was sure I was going to get a gold necklace, so I was really happy to see silver.  I love getting makeup this month too!  I am a total makeup addict, so blush and nail polish was perfect for me.  I am going to use every single thing in the box.  I think POPSUGAR is really doing an outstanding job on their boxes this year.  The February box is sold out, but some people have been able to get this box by going on the waitlist.  If you want to sign up and try POPSUGAR, click here and use the code MUSTHAVE5.  
Do you like FREE SUBSCRIPTION BOXES?  Click HERE to see my free subscription box list.
Check out my current giveaways 
HERE
Disclosure: This post contains referral links