February 22, 2015
02/22/15

By Subscription Box Mom

2 Comments
2
February 2015 Koala Crate Review + Coupon
Disclosure: This post contains affiliate links
Our Koala Crate actually arrived pretty early this month, which is good because our Kiwi Crate is delayed..  Koala Crate is $19.99/month and is made for 3-4 year olds.  Koala Crate partnered with Highlights magazine to create imagine! magazine.  Koala Crate is filled with fun project and activities, so preschoolers can have hands on learning.
I was really excited to see the little yellow box on my doorstep.
First Look
The theme for this month is "Friendship & Feelings".
imagine! magazine is filled with stories, poems and activities.  The magazine is very similar to Highlights magazine.
There is always a little information booklet with instructions for each project.
Each project is divided into sections.  Each section has a list of items you need, step by step instructions, and ideas for play.
There is a section of the instructions that brings down each project by the messiness scale, grownup involvement, and the skills your child will learn.
The first activity was "Feeling Puppets".  This ranked low on the messiness scale and high on the grownup involvement.  This activity focuses on creating and caring.
This is all the materials included
There was also a poster with various feelings on it.  This is a great learning tool for kids.
T (almost 3) has a great time making the puppets.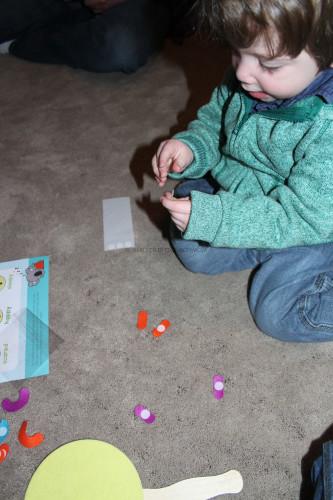 He had to use his fine motor skills to apply the Velcro to the felt pieces.
T had a great time making faces with the pieces.  I had help Tyler a bit showing him where the pieces went.
The puppets are so adorable.  I want to use these for parties.  I love them!
There were also pieces to make sad faces.  The puppets are still cute, even if they are sad.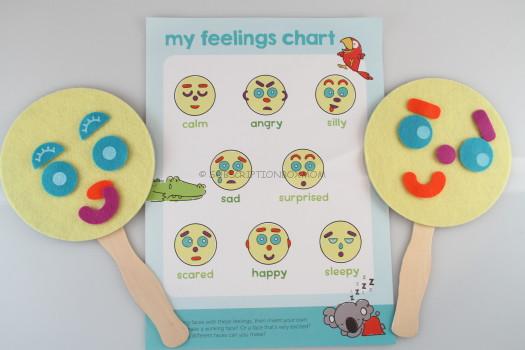 These are the finished puppets.  The great thing about this activity, is the faces can be played with again and again.
The second activity was "Funny Face Game"  This activity rated low on the messiness scale and low on the grownup involvement.
Once your child completes the puppets, you use them on the "Funny Face Game".  To play, you spin the spinner then add the appropriate facial feature to your face.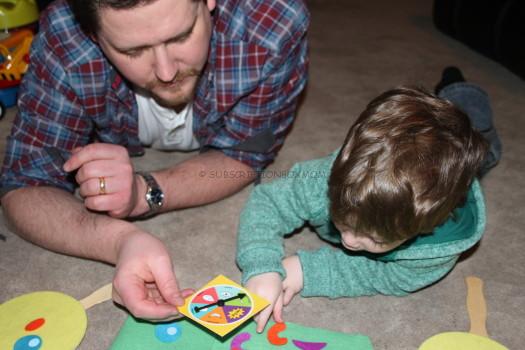 My husband and T played the game.  T beat him fair and square.  They both had so much fun.

The finished faces.  Seriously, how cute!
Funny Faces Game.  The game came with a felt envelope to store all the pieces.  This would be a great game to play in the car, since all the pieces stick to the envelope or puppets.
The last activity was "friendship bracelets".  This activity ranked medium on the messiness scale and medium on the grownup involvement.  Your child will working on creating and fine motor skills.  This activity lets your child make bracelets out of homemade beads.
This project included straws, model magic and materials to make a necklace or bracelet.
T loved making beads.
Some beads were a little flatter than other, but look at that smile.
After the beads are made, your child take a straw and makes a hole.
You leave them out to dry overnight.  We just let them dry several hours, so I could get a photo.
T ended up making a necklace.  He actually didn't intend on making a pattern, but it looks pretty cool.

Here is a closeup of the beads.
We combined crafts for a cute picture.
This is all the completed projects.  Super fun and adorable.
Final Thought: This was a really fun month.  I am really loving the puppets.  I think it would be fun to have a party and everyone take a picture with a different face.  T had a great time making the puppets, playing the game and making the beads. I think he really loved the beads the most.  Koala Crate is such a fun subscription, my little guy loves it.  If you want to try Koala Crate, click here and use the code SHARE10 to save $10.00 on your first box.  This code will also work for Kiwi Crate, Tinker Crate and Doodle Crate.
Do you like FREE SUBSCRIPTION BOXES?  Click HERE to see my free subscription box list.
You can see my FULL coupon list HERE.
Do you love Giveaways?  Click HERE to enter all my Giveaways.