February 8, 2015
02/08/15

By Subscription Box Mom

1 Comment
1
February 2015 KitNipBox Review + Coupon
Disclosure: This post contains affiliate links.  I received this box free for review purposes.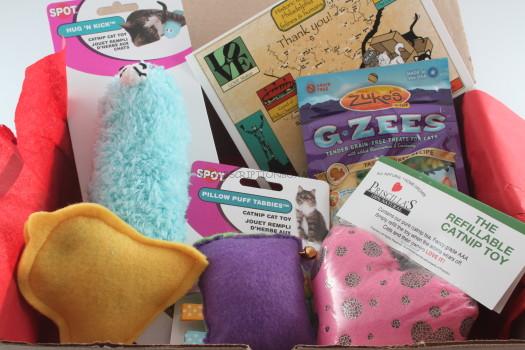 KitNipBox is a subscription box for cats, that's $19.00/month.  KitNipBox sends yummy treats, cat toys, and other goodies for your cat.  There are two different boxes to choose from: The Happy Cat Box and The Multi Cat Box.  If you just have one cat, The Happy Cat box is all you need.  If you have a few fur babies, The Multi Cat Box is the box you want.  My cat Oliver enjoys getting his KitNipBox every month.
The Details:
Cost: The Happy Cat (4 or more items) $19.00 and the Multi Cat (6 or more items) $29.00.
Coupon:  Click HERE and use the coupon BoxMom15 to save 15% on your first box.  If you want to give back to charity, use the code PHILADOPTABLES at check out to save 15% (5% will go to Philadoptables) Thanks Ashley.
What's in the box? Depending on the box you get, you will get an assortment of goodies, just for your cat.
When will I get my box? Your first box will be shipped on the first of the month (August 1 if you order before the end of July. Please allow 6-10 business days for delivery, once your KitNipBox has shipped.
When am I billed? You will be billed when your KitNipBox ships on the 1st of every month. When you first sign up, your credit card will not be charged until they mail your first KitNipBox.
How do I cancel? Email them at meow@kitnipbox.com with your account details (full name, e-mail address, and shipping address), and request a cancellation. Please note that you must cancel by the 15th of the month to avoid receiving a shipment for the following month. Any additional feedback you could share on why you chose to cancel would be appreciated tremendously!
Website: https://www.kitnipbox.com
KitNipBox comes in a brown box and ships by USPS.
First Look: This month, KitNipBox partnered with Philadoptables in Philadelphia.  I think KitNipBox is partnering with different animal organization across the United States.  Last month, they partnered with an organization in New York.
I enjoyed the artwork on the information card this month.  They included all kinds of landmarks in Philadelphia.
KitNipBox changed their information cards this month.  In past months, KitNipBox would send a 8×10 piece of paper with all the items in the box.  This month, everything is printed on the back of the postcard.
SPOT Hug 'N Kick Catnip Toy $9.29 This is a long soft toy that Oliver can hug and play with.  Oliver has enjoyed knocking it around the house.
Priscilla's 100% Natural Refillable Cat Toy. $8.95 This little plush heart is perfect for Valentine's Day.  It has a Velcro closure, so you can refill the pouch with new catnip, when it looses its potency.
Zeke's G Zees Taste Turkey Recipe $4.48 Oliver has had treats from Zeke's before, and really enjoys them.  These have turkey as the #1 ingredient and are grain free.  Oliver went crazy over these.  Oliver was sleeping in the corner of the room, but when I opened the bag, he jumped up and ran to me.
Liberty Bell Catnip Toy: This toy is handmade and filled catnip.  It's in the shape of the Liberty Bell, which is perfect for this box.
Spot Pillow Puff Tabbies $4.16  This toy reminds me of a baby toy, with the taggies.  This toy is filled with catnip and it has a little bell on it.  Oliver really loved the bell.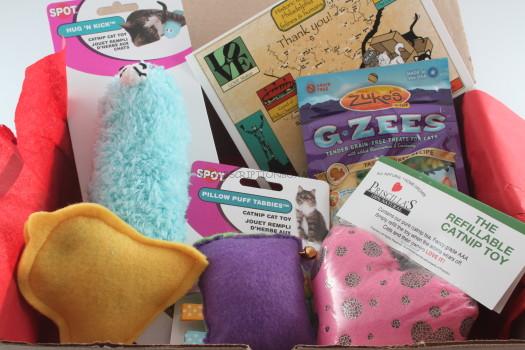 Final Thought: This box had a total value of $26.88.  This total cost doesn't include the retail price of the Liberty Bell toy.  Oliver loved the treats the most this month.  He has also played with the blue fuzzy toy and the taggies toy several times.  KitNipBox is an affordable subscription for cats.  If you want to try KitNipBox for your cat, click HERE and use the coupon BoxMom15 to save 15% on your first box.  If you want to give back to charity, use the code PHILADOPTABLES at check out to save 15% (5% will go to Philadoptables) Thanks Ashley.
Do you like FREE SUBSCRIPTION BOXES?  Click HERE to see my free subscription box list.
You can see my FULL coupon list HERE.
Do you love Giveaways?  Click HERE to enter all my Giveaways.