February 17, 2015
02/17/15

By Subscription Box Mom

3 Comments
3
February 2015 JusBetweenUs Review
Disclosure; This box was received free for review.  
JusBetweenUs is a new box for tweens and teens.  You fill out a profile and then get 4-5 lifestyle, beauty and fashion pieces.  Tween boxes are $19.99/month (plus shipping) and for girls 9-12.  Teen boxes are $24.99 (plus shipping) and for kids 13-16.  I love all the new boxes for teens and tweens.  I wish they would have been around when I was younger.  I was sent the tween box for review, but I didn't fill out a profile.
The Details:
Cost: $19.99/month for Tweens and $24.99/month for Teens
Shipping: $5.50 for shipping.  JBU only ships within the US (does not include Hawaii or Puerto Rico). Jus Between Us ships USPS Priority. (Estimated delivery time 2-4 days)
What's in the box? Each box has an exciting assortment of 4-5 lifestyle, beauty and fashion pieces. Each month you will receive new surprising items. Most items will be based on your profile.
How do I cancel? Email cancel@jusbetweenus.com by the 1st of the month.
JusBetweenUs ships by USPS and comes in a big white box with a sticker on top.
First Look
There was a little welcome note from JusBetweenUs.  You can share your selfie using #JBUBOX, #Jusbetweenus, and @jusbetweenus.  There was no traditional information card in the box.
Heart Shaped Glitter Soap: This heart soap is nice for February and it was wrapped up really nice.  I had to contact JusBetweenUs and ask for sure what it was, since it wasn't marked.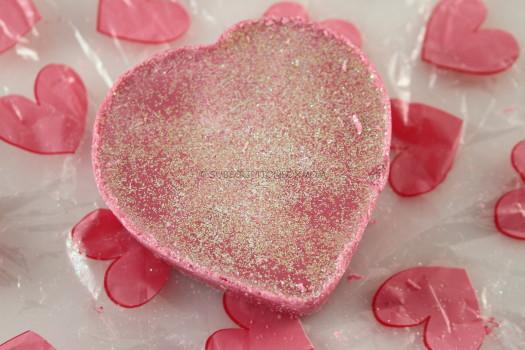 This is what the soap looks like.  It smells like roses.  I might gift this, as I am not sure I want to wear glitter, unless it's eyeliner.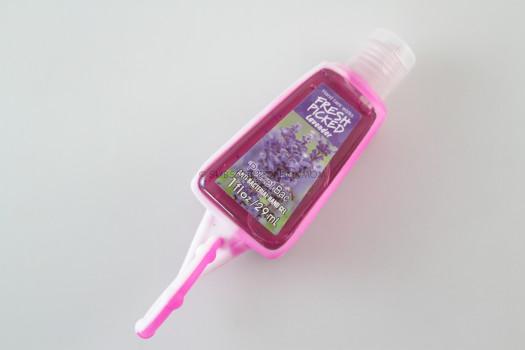 Anti-Bacterial Hand Gel and Holder: It is always nice to have anti-bacterial gel.  This holder is great for a book bag or purse.  This smells like lavender, which is one of my favorite scents.
Jewelry:  There was four pieces of fashion jewelry.  The necklace says love and the bracelet has little gold hearts and two little rhinestones.  There were a pair of heart earrings and a heart ring.
Journal: There was a journal with an initial "V on it.  I am sure this is one of the items that will personalized based on your profile.  It would have been cool to have this personalized with an "E" or "H", but since it's a review box, I don't mind.
Key Chain: This is a really cute bunny key chain.  There is a wrist strap and several gold rings for your keys.  I actually have lost my keys in my hand (busy mom of 2 does that), so I will use this.  Maybe I can loose my keys on my wrist.  This pink and purple key chain is perfect for a young girl.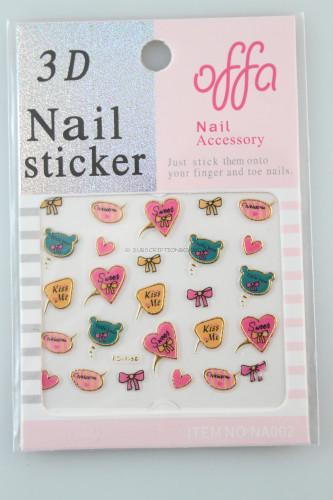 Offa Nail Stickers:  These are cute little nail stickers.  There are cute little messages and designs.  As a nutty overprotective mom, I was a bit surprised by the kiss me stickers.  As a friend pointed out, conversations hearts do have "kiss me" on them.  They are pretty cute and girly.
L.A Colors Nail Polish: These are bright yellow and purple nail polishes.  These are awesome and fun.
Conversation Bubble: There was this little conversation bubble that girls can scrapbook with or put on their notebook.
Hair Bow: There was a cute hair bow for Valentine's day.  I am not a mom of a girl, but the bow seems a little young for 9-12 year olds.  For those moms of tweens, what do you think?
Final Thought: This was a cute box for tweens.  I do wish there was an information card.  I love information cards and it would be nice to hear why items were selected.  I couldn't get a retail value of the box, due to the lack of brand names.  None of the items were very expensive but I think the $19.99 value was there.  There were 14 items in the box, which works out to $1.43 per item.  If you want to try JusBetweenUs, click HERE.
Do you like FREE SUBSCRIPTION BOXES?  Click HERE to see my free subscription box list.
You can see my FULL coupon list HERE.
Do you love Giveaways?  Click HERE to enter all my Giveaways.