February 13, 2015
02/13/15

By Subscription Box Mom

0 Comments
0
February 2015 From the Lab Review + New Price
Disclosure: From the Lab was received free for review purposes.  This post contains affiliate links.
From the Lab arrived on my doorstep, and it was a welcome surprise.  From the Lab is a beauty subscription box that brings you the best in European beauty products to your door, for a fraction of the price it would cost retail.  From the Lab has partnered with some of the best beauty labs in the world to give you exclusive access to products, up to 18 month before they hit stores.  Now, all the products have passed the safety tests, so you are not being the guinea pig.  From the Lab recently lowered their prices.  You can now subscribe to From the Lab for only $19.95 (plus s/h), instead of $29.95 (plus s/h).  When you subscribe, you also get 33% off items in the online store.  I haven't received a From the Lab since November, so I was excited to see what was inside.
You may be wondering what kind of ingredients are in these products.  From the Lab does not use any product that is tested on animals or is derived in any way from an animal.  The products are made to be used by all skin types and are free from parabins, phthalates, and other nasty ingredients.  You can check out the full list on their FAQs page.
From the Lab also has a point system.  Once you earn 1.000 points, you earn $10.00 for the store.  They are working on their system, and will be adding more ways to earn points.
 The Details:
Cost  $19.95 plus s/h.  From the Lab just has a month to month subscription.
Shipping: $5.95 for the monthly membership within the US. $8.95 for the monthly membership to Canada. $5.95 US / $8.95 Canada for all Member store orders, regardless of quantity.
What's in the box?  Each month, you will receive a full, 30-day supply of one, two, or three products of Skin Care, Hair Care, or Color Cosmetics. Every product that you receive is a luxury product, not yet available on the US market, with a projected retail value of $50-$200. These products often have patented ingredients, are manufactured in Europe by the top labs, and are more innovative than what's available on the US market today.
When do I get my box? Your monthly shipment will arrive within the second week of each month.
Satisfaction Guarantee: For month to month Members if you are ever dissatisfied in a product you receive from your monthly service, they will refund your monthly payment for that month in full, less shipping and handling if applicable and only if they are notified within 30 days of you receiving the product. Trial memberships are excluded from the monthly refund on the first month of actual Membership but are still granted a 30-day satisfaction guarantee to replace defective products, or to exchange products for store credit.
Website: www.fromthelab.com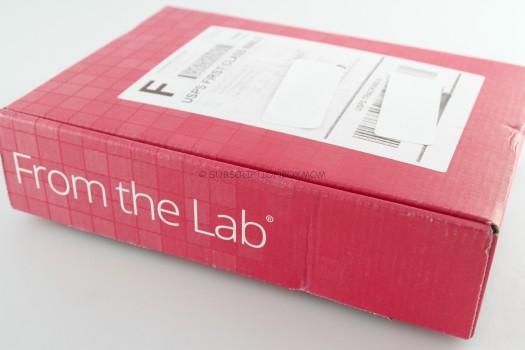 I was excited to see the pretty From the Lab box.  Some of my favorite beauty products are from this subscription.  I love their primers!
First Look.  From the Lab doesn't include a little information card, they include a full detailed brochure about everything they send. They tell you all about what is in the product, how to use it and other interesting facts.
This is a look inside the brochure.  I always keep my brochures from this subscription, as they are great to reference.
Rejuvenating Face Cream No 594 $39.95 (store price). From the Lab says this product has a $150.00 retail price and promises to diminish age spots, wrinkles and lines.  Neodermyl and Senestem are the two main active ingredients in this product.  Some people have said this product reduces wrinkles as much as collagen injections from the doctor.    This product reactivates the production of collagen and elastin.  If you are young, this product will keep you looking that way.  If you are more mature, you can see repair and rejuvenation!  This face cream improves your skin's hydration, elasticity and smoothness.
The Test:  After reading all the great stuff it does, this took me a whole 10 seconds to try. Obviously, I didn't expect anything drastic, especially with one use.  This product is made to be used over a few weeks.  My skin, especially my face, has felt really dry lately.  I washed my face and tried out the face cream.  I will say, my face feels very hydrated and soft.  I was surprised, but my skin doesn't feel greasy.  My fine lines haven't disappeared yet (hello, just one application), but I am going to use it every day for a few weeks.  I will report back in a month, and let you know if I look 25 again.
Subscribers were given a little coupon.  Subscribers will get a $10.00 credit on February 13th and From the Lab will have a sale Feb 14th and 15th!
Final Thought: This box had a From the Lab store price of $39.95 and the subscription was only $19.95.  I really enjoyed the face cream and while I don't look younger yet, my skin feels great.  I hate how the winter weather makes my skin feel.  Even if I don't look younger, I love this face cream and a hydrating moisturizer.  I really love From the Lab and I am always use their products every day.  If you want to try From the Lab, click here.  You will get $5.00 in store credit for just signing up for a free account.
Do you like FREE SUBSCRIPTION BOXES?  Click HERE to see my free subscription box list.
You can see my FULL coupon list HERE.
Do you love Giveaways?  Click HERE to enter all my Giveaways