February 3, 2015
02/03/15

By Subscription Box Mom

4 Comments
4
February 2015 Date in a Crate Review – Coupon + Giveaway
Disclosure: This box was received free for review. Giveaway is sponsored by Date in a Crate
Date in a Crate is a subscription that sends you everything you needs for a date, in a box.  Since we have two kids and I am a crazy over protective mama, that doesn't hire babysitters, we don't get out that often.  Date in a crate is $39.99 and boxes contain fun, unique, and spontaneous date night items, ideas, and activities.  I was excited to check out Date in a Crate.
The Details:
Cost: $39.99/month
What's in the box? Date in a Crate sends fun, unique, and spontaneous date night items, ideas, and activities.
When will I get my box?  You box will arrive the month following your payment.
How do I cancel?  You can cancel from your account.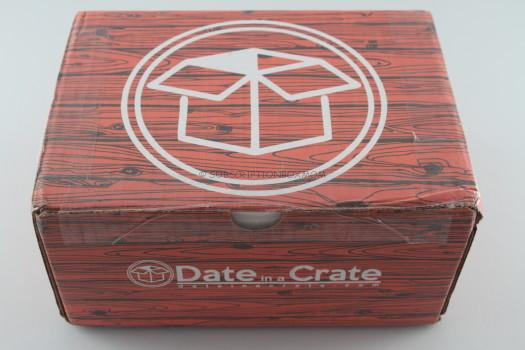 Date in a Crate ships in a little box that looks like faux wood.
The box was packed full of stuff.  I don't think they could have fit one more thing in the box.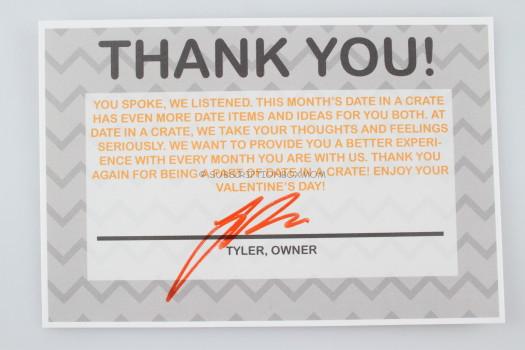 There was a thank you note on top that said Date in a Crate listened to feedback and they included more items in the box this month.  It's nice to see companies that take feedback and improve their boxes.
The theme for this month is "Soothing Tranquility".  This month is all about a spa experience for you and your date.
Inside the brochure, Date in a Crate explained the theme of the box.  Date in a Crate reminds guys not to go into "spa night" with any agendas.  Inside the brochure was a FREE Redbox code and a suggestion for a movie.  Date in a Crate suggested "They Came Together" with Amy Poehler and Paul Rudd.  My husband and I ended up renting Fury.  I am usually the one to pick the movies and I let hubby do it this time.
Redbox Code Value: About $1.46
There was a two sided card that gave suggestions for "Spa Night", as well as some massage tips.  It's important to give a good massage, you don't want to give each other back pain.
Bath Gloves $3.00 est There were two bath gloves in the box.  My husband thought these were to wash each other.  I am thinking they are to help apply the lotion.  I guess depending on the date, they can be used for either.
Eye Mask $5.00 I love these eye masks. We had one but it has disappeared in my house.  You can chill this eye mask and then it helps reduce puffiness and swelling.  My husband liked this, but wondered why everything was girl colors.
Ennce Beauty Neroli & Sweet Orange Body Cream $10.00 I could only find this on sale in a bundle on Amazon, so I divided out the cost for the lotion by itself.  I am really picky about my lotions, but this one was pretty good.  It has a faint sweet smell that is not overpowering.  Both my husband and I really enjoy the scent.
Russell Stover Caramel in Fine Milk Chocolate
 $4.65  My husband will enjoy these more than me.  I am not a big chocolate eater.  These are made by Russell Stover and are milk chocolate covered caramel.
Candles $2.00 est There were 5 tea lights and a votive.  These help set the mood for your spa night.
Wooden 4 Wheels Manual Back Body Massage Roller $5.06  This was my favorite item in the box.  This is a rolling massage roller.  You can take turns rolling down each partner's back.  It feels pretty good.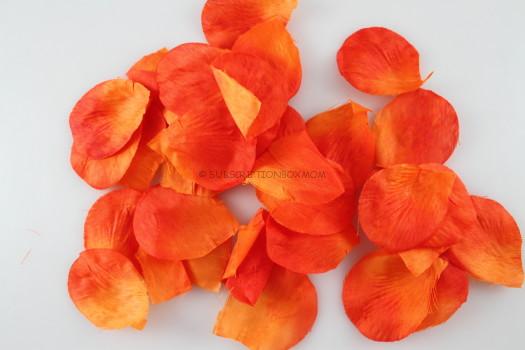 Rose Petals $1.00  There were several rose petals included in the box.  They came in a little box, so they won't get smashed in shipping.
Final Thought: This box had a total value of $32.17.  While I wish there was a higher value in this box, but I thought it was a very cute box.  Everything in the box coordinated well together and it made for a really fun date.  My husband and I used this box for a mid-week date night.  We really enjoyed everything in the box and it was a great way to connect at the end of a long day. If you need a date night, check out Date in a Crate.  If you use the coupon TRANQUILITY, you will get $5.00 off your first box (exp 2/28/15).  Date in a Crate is going to give one of my readers a box!  Just enter below to try to win your own Date in a Crate.