February 15, 2015
02/15/15

By Subscription Box Mom

0 Comments
0
February 2015 Bulu Box Review + $10.00 for 3 Months
Disclosure: I received this box free for review.  This post contains affiliate links
Bulu Box is $10.00/month and is a subscription box devoted to health, nutrition and weight loss.  There are two different subscription boxes: a weight loss box and a regular Bulu Box.  Bulu has a points system similar to Birchbox.
Bulu Box also has a great reward system. You can earn points easily to spend in the online store. Every 10 points equals $1.00. Your points will expire 90 days after you earn them. Here is how you earn points.
1. 50 Points: for each $10 Bulu Box in your month-to-month subscription 2. 50 points: Refer a Friend and get 50 points. 3. 20 Points: Fill out your user profile 3. 10 points: Refer your products in your box. You will have a min of 4 a month, so that is 40 points easily. 4. 1 Point: Earn 1 point for every dollar spend in the box.
If you fill out your reviews you can earn 90 points a month easily! That's $9.00 for the store each month. A monthly subscription is only $10.00 a month, so this rewards system will make your first box better than free. Each month after, you will be basically paying a $1.00 for your box.
The Details:
Cost: $10.00 a month, $30.00 for 3 months,
Types: Regular Bulu and Weight Loss Bulu Box
Coupon:  Sale:  Bulu is having a great sale.  Get 50% off any subscription.  To get this great deal, click HERE and use the code BULUGAN751
Rewards: You earn at least 50 points ($5.00) or more for reviewing products in your box. You can then use the money, to buy full size products of things in your box.
When am I billed? 5th of the month
When does my box ship? Around the 15th of the month
How do I cancel or pause? You can cancel by logging into your account or emailing Hello@BuluBox.com
Website: www.bulubox.com
Every Bulu Box has inspiring words written on the box.  I like the phrase "Find your comfort zone, then leave it."
First Look
Bulu included a booklet filled with 28 ways to a healthier heart.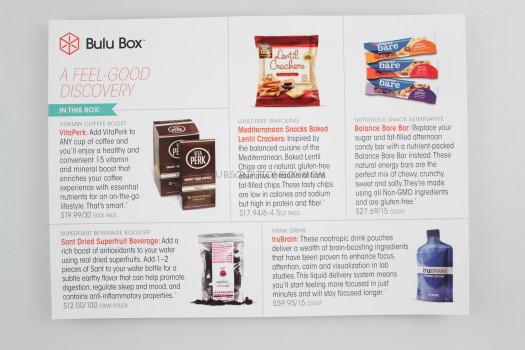 Bulu always includes an information card with everything in the box and all about each item.
Calsura: $2.62 This is a three pack sample of Calsura, which is a calcium supplement.  Each packet contains 500mgs of calcium, along with D3, magnesium, and vitamin c.  There were three flavors: peach mango, pineapple coconut, and blueberry acai.  I can tell you, out family will not be trying the pineapple coconut.  I will note, this was not listed on my information card.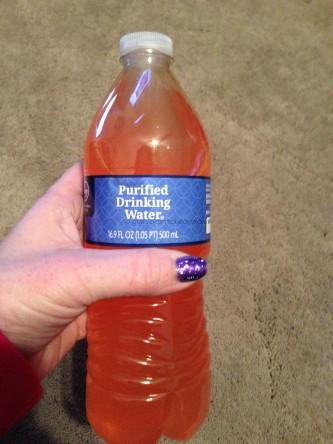 This is the peach mango flavor.  It wasn't horrible, but I am generally not a fan of drink supplements.  It tasted like watered down peach mango juice.
Lentil Crackers Cracked Pepper: .28 cents  I have had these before and they are really good with humus, although I can eat them right out of the bag.  These are packed with protein and fiber, but don't have the trans fats that chips do.
Sant Dried Superfruit Beverage $1.50 These are dried superfruits that you can add to water.  Once you add them to your water, you let them sit and they release flavor into the water.  They are said to digestion, regulate sleep, mood and it also has anti-inflammatory properties.  These looked a bit weird and smelled like old dry rose petals (not a good smell).
In the interest of a good review, I made a glass.  Thankfully, my lovely husband tried it out.  It wasn't as horrible as he expected, but didn't care for it.  He said it tasted like watered down cherry juice.
Vita Perk  $1.34 You add one of these packets to your cup of coffee and get 15 vitamins and minerals.  I received original and hazelnut flavors.  My husband drinks coffee from time to time, but he won't use these.
Balance Bare Bar $2.27 This is a natural energy bar and are a mix of salty and sweet nuts.  The bar is non-gmo, gluten-free, soy free and dairy free.  I generally don't like energy bars, but this one is pretty good.  The bar is mainly sweet, but there are different hints of spiciness.
Barlean's Omega Swirl Lemon Zest: 16 cents This is a little foil packet of fish oil.  Fish oil is really good for you and it is supposed to help your cholesterol.  This is lemon flavored and is said to taste like a lemon smoothie.  I convinced my husband to try this and he said it tasted like lemon pudding.  I personally prefer to take my fish oil in capsules.  This was another product that wasn't on the information card.
Missing Item: There was supposed to be truBrain.  truBrain comes in drink pouches that help enhance focus, attention, calm and visualization.  I wish this had been in my box.
Final Thought This box had a total value of $8.17.  I was really disappointed in the value of this box.  Usually there is some sort of vitamin in the box, but there were three drink supplements.  The lentil chips were tasty but were a very odd choice for this box.  I really feel Bulu dropped the ball on this box.  In general, I like Bulu, so I hope next month is better.  Bulu still has a great deal on their three-month subscriptions.  Click HERE and use the coupon THREEFORONE to get a 3 month subscription for $10.00. OR You can get 50% off any Bulu Box subscription.  To get this great deal, click HERE and use the code BULUGAN751. If you get the 3 month subscription, you will pay $15.00 after the half off.
Do you like FREE SUBSCRIPTION BOXES?  Click HERE to see my free subscription box list.
You can see my FULL coupon list HERE.
Do you love Giveaways?  Click HERE to enter all my Giveaway