February 10, 2015
02/10/15

By Subscription Box Mom

1 Comment
1
Bath Time Box Review – February 2015 + Coupon
Disclosure: This box was received free for review purposes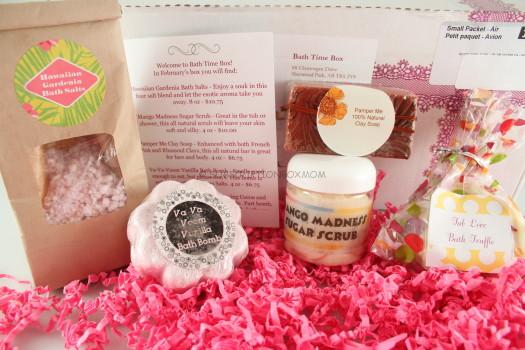 Bath Time Box is a new bath/spa subscription box.  Boxes are $29.00/month and each box is filled with all 5 deluxe sample and full size natural and handmade bath products.  If you fall in love with the items in your box, you can purchase more in their store at http://www.bathtimestore.com/.  I am a recently converted bath lover.  I used to only take showers, until I discovered bath bombs.  Since then, I love a nice relaxing bath, especially after a long day.
The Details:
Cost: $29.00/month $85.00/3 months, $335.00/12 months
Coupon: Use the code LAUNCH10 to save 10% on your subscription (It works out to $5.80 on your first box)!
What's in the box?  Each box is filled with 5 deluxe sample and full size natural and handmade bath products.  Some of the products you may find in you box is milk baths, bubble baths, bath salts, soaps, after bath lotions, and bath accessories.
Shipping:  Shipping is Free and the box ships worldwide.
How do I cancel?  You cancel by logging into your account.
Bath Time Box ships in a big white box.  I loved the decorative tape on the outside.  Bath Time Box ships from Canada and I am really impressed that they can ship free.
First Look
Second Look:  I loved the smell when I opened this box.  The first smell I noticed, was vanilla.
There was an information card included in the box.  I was bummed that the wording was cut off at the bottom.  Luckily, all the directions are printed on each item, so I didn't really miss much.
Mango Madness Sugar Scrub: $10.00 for 4oz.  I couldn't wait to try this out.  This is made with real mangoes and smells like mango sorbet.  I tried this out and I was amazing how soft my skin felt
Tub Love Bath Truffles: $6.74 for 4 oz  This heart-shaped bath item is part bath bomb, part bath melt and it smells like chocolate.  This is made with cocoa and shea butters (my favorite).  Since I used the mango scrub, I just washed my hands with this (I didn't think a chocolate mango would smell too good).  This feels almost like butter and left my dry hands really soft.  I might just save this for my hands.  This is a perfect solution for the dry winter air.
Va-Va-Voom Vanilla Bath Bomb $6.75 for 4 oz  I was so excited to get a bath bomb, they are my favorite bath product.  Depending on the type of bath bomb, they are almost like a toy, and I personally love watching them dissolve in the water.  When I first smelled this, I instantly thought of cake.  It technically smells like vanilla, but it sure smells good.
Pamper Me 100% Natural Clay Soap $6.75 for 4 ozs  This soap is made with French Pink and Rhassoul Clays. Rhassoul Clay comes from Morocco and it removes toxins and impurities from your skin.  French Pink Clay is a very mild clay and it works for all skin types to cleanse your skin.  This soap has a great scent and you can use this on your face and body.
Hawaiian Gardenia Bath Salts $10.75 for 8 ozs  I saved the best for last.  This bath salt is made four different salts, including Epson and Dead Sea Salts.  This smells like Gardenias and one smell instantly took me  back to my grandmother.  My grandmother was a fantastic gardener and she had Gardenia bushes.  Gardenias smell amazing and I love that this bath salt reminded me of her.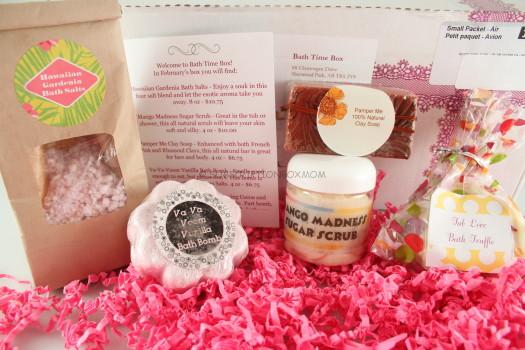 Final Thought: This box had a total value of $40.99.  I thought this box had an excellent value and it was filled with fantastic bath products.  I love the Gardenia bath salts and I will be buying more from the Bath Time store, when I run out.  I love that all Bath Time Box's products are natural and handmade.  If you want to check out Bath Time Box, just click HERE.  Use the code LAUNCH10 to save 10% on your subscription (It works out to $5.80 on your first box)!  Remember shipping is free and they ship worldwide.
Do you like FREE SUBSCRIPTION BOXES?  Click HERE to see my free subscription box list.
Check out my Full List of Subscription Box Coupons
Do you love Giveaways?  Click HERE to enter all my Giveaways.