February 14, 2015
02/14/15

By Subscription Box Mom

0 Comments
0
BuddhiBox Review – February 2015 – Yoga Subscription Box
Disclosure: I received this box free for review purposes
 BuddhiBox is a yoga subscription box.  Every month, you will get 4-6 deluxe and full size products.  Boxes are $30.95/ month and are made for people who love yoga and want to live a healthy lifestyle.  Most of the items you will find in the box are organic and vegetarian.  BuddhiBox also gives back to a charity each month.  I personally don't do yoga, but I have found BuddhiBox very useful for me.
The Details:
Cost: $30.95/month, $27.95/month for 6 months, $25.95/month for 12 months.
Coupon: Use the code buddhifriend to save $3.00 off your month to month subscription plan.
What's in the box? BuddiBox ships you a curated box of 4-6 products that enhance your yoga practice and lifestyle. BuddhiBox practices Saucha or pure living.
We only partner with businesses that follow ethical and conscious standards of production. Most of the items we feature are organic and vegetarian.
When does the box ship?  10th of the month.
Website: https://www.buddhiboxes.com
 BuddhiBox ships in a plan brown box and arrived in only a few days.
 BuddhiBox has a box inside filled with all the goodies.
The front of the information card always has a quote.  This month, the card read, "Love is the bridge between you and everything – Rumi".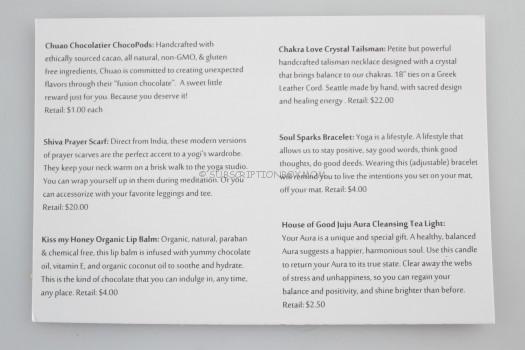 The back of the information card has a list of everything in the box, a little about each product and the retail value.
Every month, there is also a recipe included.  This month the recipe is for H20 Nutrition Vegetarian Taco Salad.  I might pass this on to a friend or let my husband make it.  I don't eat salads (I'm a little weird).
Buddhibox always includes a card with a yoga pose.  In previous boxes, they have been the size of a business card.  This month the card is much bigger and it has even more information on how to do the pose.
Chuao Chocolatier ChocoPods (2 ct) $2.00 These chocolates are all natural and only have 50 calories a piece!  The ingredients are all natural, non-gmo and gluten free.  I am not sure if this qualifies as a healthy piece of chocolate, but I think it comes pretty close.  I was sent potato chip and spicy maya.  I haven't tried the spicy one yet, but the potato chip is awesome.  It is made with mint chocolate and potato chips.
Shiva Prayer Scarf $20.00  This scarf comes from India and it is huge.  This picture is poor quality, but I wanted to show you the beautiful pattern on the scarf.  This is a modern version of a prayer scarf that can be worn while you meditate, to and from the gym or just as a scarf.  I normally don't wear gold or yellow, but this is too pretty not to use.
Here is a better picture of the colors and part of the pattern.
Kiss My Honey Organic Lip Balm $3.99  This organic lip balm has anti aging properties and is made with vitamin E and organic coconut oil.  This lip balm is scented with mint (some subscribers received chocolate).
Chakra Love Crystal Tailsman $22.00  This necklace is made with a crystal that brings balance to your chakras.  The cord is made of Greek leather and it is made by hand using sacred design and healing energy.  I don't know much about chakras, but I could always use more balance and healing energy.
Here is a close up of the crystal.
Soul Sparks Bracelet $4.00 This adjustable bracelet is about Karma.  When you wear this, you are reminded to keep your circle positive.  Set an example of how you want to be treated.  There are always people in the world who want to bring you down, but you choose how you react to that.  This is a great bracelet.
House of Good Juju Aura Cleansing Tea Light $2.50  This tealight is made to return your Aura to a happy, harmonious state.  This candle will help you regain your balance and positivity.  Like chakras, I don't know much about Auras, but this candle smells amazing.  It is made with cypress, lemongrass, lavender, grapefruit, cedar, and and rosemary essential oils.  This candle would be perfect for a long warm bubble bath.
This is a closer look at the candle.  Isn't it pretty?
There was a $3.00 coupon in the box (see final thought) and an advertisement for Gurus sandles.
Final Thought: This box had a total value of $54.49.  I loves everything in the box and I don't do yoga.  This is a great box for people who do yoga, but also a great box for people who want to live healthier and happier.  This box is filled with positive message and that chocolate was a nice touch.  If you want to try BuddhiBox, click HERE and use the code buddhifriend to save $3.00 off your month to month subscription plan.
Do you like FREE SUBSCRIPTION BOXES?  Click HERE to see my free subscription box list.
You can see my FULL coupon list HERE.
Do you love Giveaways?  Click HERE to enter all my Giveaways.