January 8, 2015
01/08/15

By Subscription Box Mom

1 Comment
1
January 2015 Wantable Makeup Review
Disclosure: This post contains affiliate links
My January Wantable Makeup arrived on my doorstep and I was so excited to check it out.  Wantable is one of my favorite subscriptions.  The makeup Wantable box was the first Wantable box I ever tried.  I am a total makeup girl and I love trying new products and colors.  I have a huge makeup stash, but I always have room for more.  Wantable makeup, intimates, and accessories are $36.00/month or $40.00 for a one time only box.  When you sign up, you fill out a profile, so Wantable can pick out products just for you.  There is also a comment box now, so you can request specific products from Wantable.  This is my January Wantable Makeup review.

My makeup box arrived in a small Wantable box.
First Look: There is a sticker on the inside lid with your name, and another sticker with who packaged my box.  Jack packaged my box this month, Thanks Jack!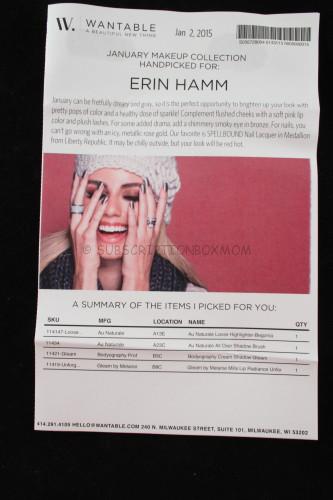 The front page of the information card has a list of everything in the box and a general introduction to the box.
Inside the information card, there a copy of your profile and a detailed description about the products in the box.  They also have color coded circles around your items in the box.  Green circles mean you love the item, blue means you like it.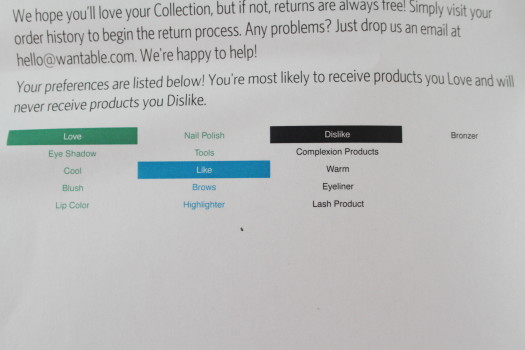 Here is a copy of my profile.  If you like the products in my box, you may want to choose some of the same profile choices.

Bodyography Professional Cosmetics Cream Shadow in Gleam $20.00 This has to be the prettiest eye shadow I have ever seen.  The colors remind me of ice cream.  This is a cream shadow, but it turns to a powder finish when applied.  This is just a stunning color.
This is a swatch of Gleam.  There are so many colors in this swatch, it really is a beautiful color.
Au Naturale All Over Shadow Brush $22.00  If there is one beauty item I can't get enough of, it's brushes.  I love playing around with eye shadow colors, but I hate washing my brushes all the time.  This is a great quality brush.  The bristles are super soft and great at applying mineral eyeshadow.
Lip Radiance By Melanie Mills in Unforgetable $24.00  Purple gloss, be still my heart.  This gloss is amazing.  It is made with botanicals, has vitamin e and other natural ingredients.  This moisturizes your lips but doesn't rub off easily and isn't sticky.  I hate sticky gloss.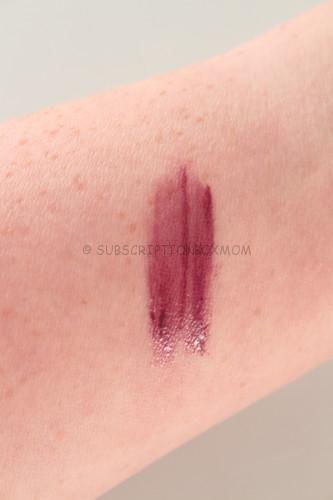 Here is a swatch of the gloss.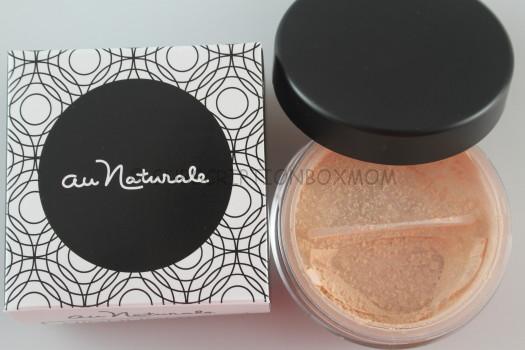 Au Naturale Loose Highlighter in Begonia $22.00  This is a yellow highlighter and I was worried it would look bad on my fair skin.  I have pink undertones, but this looked pretty on me.  I prefer to use a smaller brush to apply this, as it has quite a bit of shimmer to it.
Final Thought: This box had a total value of $88.00.  Wantable never fails to deliver amazing boxes.  I love everything in this box.  The Gleam Bodyography is my favorite product in the box, because the color and texture is so unique.  I also adore the Lip Radiance lip gloss.  The texture, color and long lasting wear, is fantastic.  If you want to try Wantable, click here.  Remember, you can always send back you box, if you don't love it!  Update 1/22 Click HERE and save 30% on your first box.  New subscriptions only.  Doesn't work on Fitness Edit or Old (inactive) accounts.  Exp Sat (1/24) 11:59pm.
o you like FREE SUBSCRIPTION BOXES?  Click HERE to see my free subscription box list.
Check out my Full List of Subscription Box Coupons
Check out my current giveaways 
HERE