January 24, 2015
01/24/15

By Subscription Box Mom

0 Comments
0
January 2015 Okashi Connection Review + Coupon
Disclosure: This box was received free for review purposes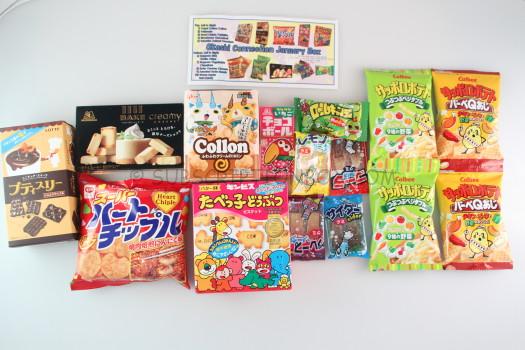 Okashi Connection is a yummy snack subscription box that sends a huge amount of Japanese snacks for only $22.00/month.  Okashi Connection really has great tastes and I usually enjoy almost every snack!
The Details:
Cost: $22.00
Shipping:  Shipping is FREE and they ship WORLDWIDE.  They don't ship to a few locations, click HERE to see a complete list.
What's in the box? We send a size 60 box with around a pound (between 400-600 grams) of Japanese candy and snacks. We strive to include things that are difficult or impossible to get outside of Japan and seasonal items. We also include some information about the candy, as well as a video, hosted by Karin (13) and Haruka (11), with their opinions and instructions on how to make / eat the items.
When am I charged?   Your card will be charged on the 30th (or last day) of the month.
When does my box ship? Boxes will be shipped within the next week after being charged, and they should arrive at your door within 1-3 weeks after that. 
Website: http://okashiconnection.com/
Okashi Connection ships from Japan, so it takes a little longer to arrive.
First Look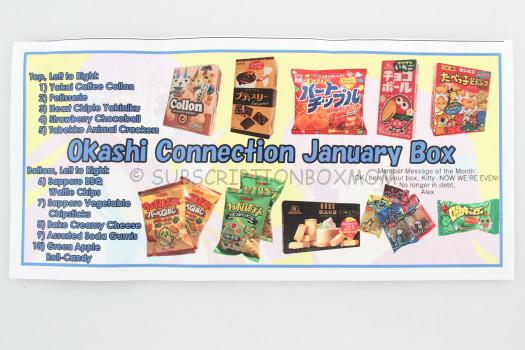 Okashi Connection includes an information sheet that lists all the products in the box.  When you subscribe, you will also be emailed a password to access their blog.  There is always a detailed blog post about all the snacks.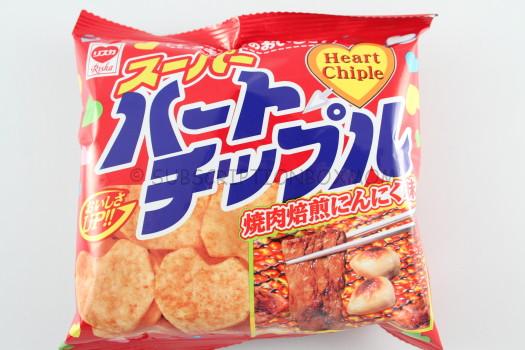 Heart Chiple Yakiniku: These chips are flavored like yakiniku, a Korean BBQ.  These are a light, fluffy chip with a bbq taste.
Here is what the Heart Chiple Yakiniku looks like.
Green Apple Roll Candy: This is a roll of gummy sour apple candy.  This was really good and my kids really enjoyed it.
Strawberry Chocoball: This is strawberry flavored chocolate and is covering a crunch rice ball.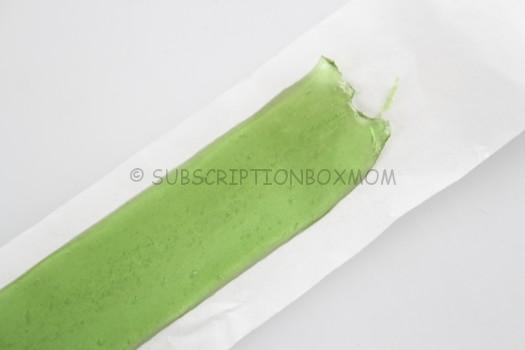 This is the Green Apple Roll Candy
This is Strawberry Chocoball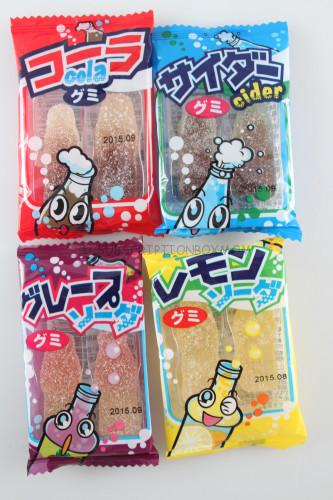 Assorted Soda Gumis: I have had these in other boxes and they are always a favorite with my family.  These gumis are different flavors: grape, lemon, cider and cola.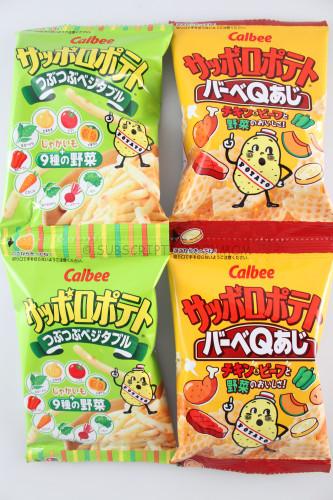 Sapporo Vegetable Chipstick: These are puffy french fry type snacks, flavored with vegetables.
Sapporo BBQ Waffle Chips: These waffle chips taste similar to the Heart Chiple Yakiniku, but with a slightly different bbq taste.
This is the Sapporo Vegetable Chipstick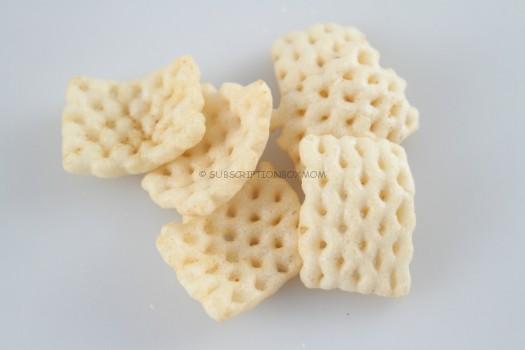 These are the Sapporo BBQ Waffle Chips

Yokai Coffee Collon: Yokai is a very famous Japanese cartoon.  The snacks don't have anything Yokai on them, it's just on the package. The snacks are little crunchy cookies with coffee cream in the center.  The coffee is very mild and it is quite tasty.  I actually hate coffee, but I think this tastes good.
This is Yokai Coffee Collon
Petisserie: This is chocolate covered wafer cookies and they taste just like they sound.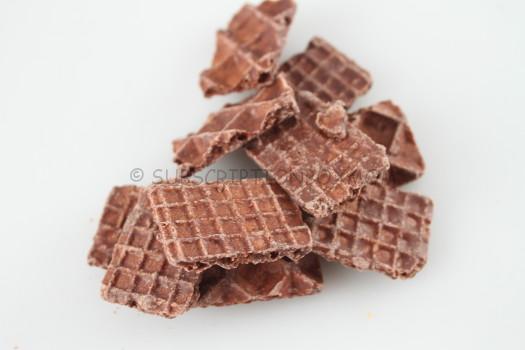 This is the Petisserie:
Bake Creamy Cheese: These are similar to cheesecake.  These are little baked cheesy treats.  Now, I love cheese, but I did not care for these at all.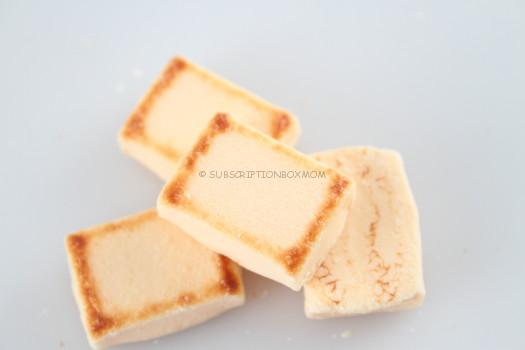 These are the Bake Creamy Cheese snack
Tabekko Animal Crackers: This was my favorite snack in the box.  This box is filled with little animal cookies.  The cookies are not super sweet and it is a cookie/cracker.  Each cookie has the name of the animal written on it.   These are used to teach Japanese children English.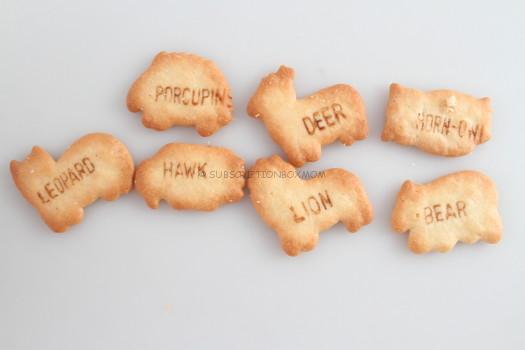 This is the Tabekko Animal Crackers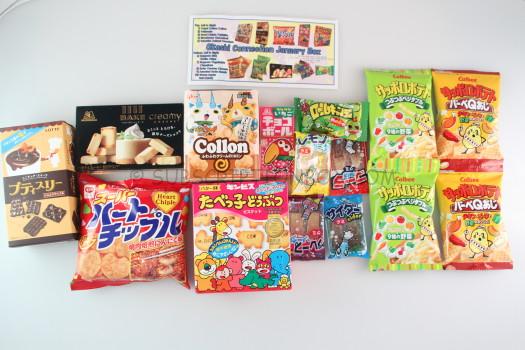 Final Thought: I really loved this box, with the exception of the Bake Creamy Cheese.  I am always impressed with Okashi Connection.  It's  such a fantastic value, especially considering they ship from Japan!  If you want to Okashi Connection,  click HERE to subscribe and use the code Boxmom to get $1.00 off your box.
Do you like FREE SUBSCRIPTION BOXES?  Click HERE to see my free subscription box list.
Check out my Full List of Subscription Box Coupons
Check out my current giveaways 
HERE