January 28, 2015
01/28/15

By Subscription Box Mom

0 Comments
0
January 2015 Nerd Block Jr + Coupon
Disclosure: This post contains affiliate links
Nerd Block Jr is a cute subscription box for girls and boys ages 6-11.  Every month, your child will get toys and other collectibles from their favorite tv shows, movies and more.  Just think of this as a geek and gamer/toy box for kids.  Nerd Block Jr separates the boxes by girl or boy, but if your girl would rather play with Avengers than My Little Pony, feel free to switch to a boy box and vice versa.
The Details:
Cost: $13.99 plus $6.00 shipping
Coupon: To subscribe to Nerd Block Jr, click HERE and use the code SUPERHERO to save 10%.
What's in the box: Nerd Block Jr. is filled with toys, games, and collectibles from your kids favorite brands including Star Wars, Disney, Adventure Time, My Little Pony, Angry Birds, and many more!
When am I charged? Initially, you will be charged for your first Block at the time you register for your subscription. Then, you will be billed at the beginning of every month for that month's subscription (January block is billed on 1 January). The monthly billing closes on the 8th of the month. 
For example, if you subscribe on January 10th, that payment will be applied to February Block (remember, the closing date for January was the 8th). Your next billing will occur on March 1st for the March Block.

 
If you subscribe prior to the closing date for that month's Block (you subscribe on January 7th or prior) you will be billed immediately for January's Block and your next payment will occur February 1st for February's Block.

The closing date can be found on the homepage (hint: it's the countdown timer).
When does it ship?  Nerd Block Jr. is sent out at the same time as Nerd Block – approximately the 15th of every month, give or take a day. Once your Nerd Block Jr. is shipped, you'll receive an email notifying you of your tracking information! 
How do I cancel? Cancelling a subscription is easy! Just email cancel@nerdblock.com with your name and address, and they will cancel your account. Please note that all orders must be cancelled 24-hours prior to the 1st of every month.
Website: https://nerdblock.com/#nerdblockjr
Nerd Block Jr ships from Canada.  They don't include an information card, but they do print the contents of the box on the shipping label (for customs).
Johnny Test Collectible Figurine (2-Pack), Styles May Vary $6.99  My 5 1/2-year-old likes watching Johnny Test.  Johnny lives with his two genius sisters.  The show revolves around Johnny being subjugated to his sisters' experiments and fighting off evil dudes.   This two pack figure.  This pack contains Johnny Goalie and a mystery figure.
I love mystery figures and given the popularity of some YouTube channels, I know I am not alone.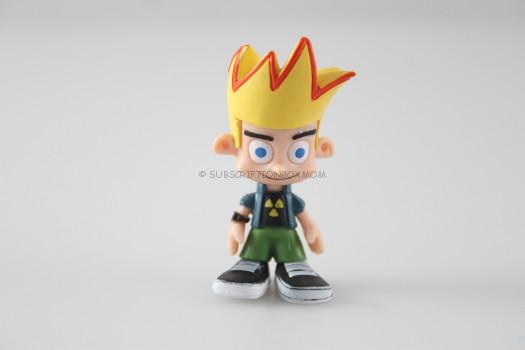 I think this mystery figure is just plain Johnny Test.  Let me know if I am wrong.
Gacha Ball Toys (2 count) $3.99 x 2 I couldn't find these for sale, so I took an average price I saw for Gacha balls.  Gacha balls are mystery figures with different themes.  Normally there is a plastic wrapper around the middle with the series name on it.  I am not sure why these were missing the label, but they were sealed.  These were both Harry Potter Gacha balls.
Oddly enough, we received two Professor Snape.  Maybe we can trade one for a different character.
Transformers Mashems $2.99  Mashems are fun squshy balls, that are formed into different characters.  This is the Transformers Series.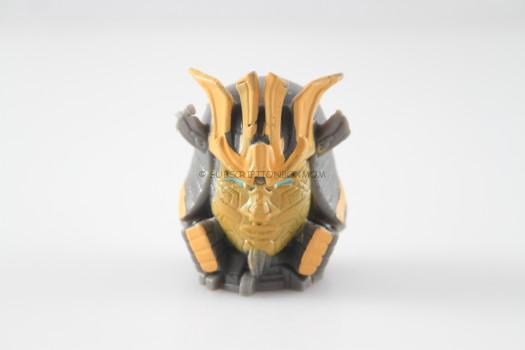 We received Drift.  I actually had to Google who this was, as my son was not around to tell me.
Avengers Assemble 13 Piece First Aid Kit in Collectible Travel Tin
 $6.09  This First Aid kit comes in a collectible tin and is filled with gauze, band aids and other first aid times, themed with the Avengers.
Kre-o Dungeons and Dragons Army Builder Collection 1 Figure Pack
 $6.49 Kre-o is a building set similar to Lego and Playmobile.  This is Dungeon and Dragons themed and this mystery pack has one figure.
We received Lander
Final Thought: This box had a total value of $30.59.   I liked all the mystery figures in the box.  My son hasn't had a chance to see this box yet, but I think he will enjoy it, especially the Johnny Test and Mashem.  If you want to try Nerd Block Jr, click here and click HERE and use the code SUPERHERO to save 10%.  Nerd Block Jr also has multi-month plans now!
Do you like FREE SUBSCRIPTION BOXES?  Click HERE to see my free subscription box list.
You can see my FULL coupon list HERE.
Do you love Giveaways?  Click HERE to enter all my Giveaways.