January 16, 2015
01/16/15

By Subscription Box Mom

0 Comments
0
January 2015 MunchPak Review + Coupon – Snack Subscription Box
Disclosure: This box was received free for review.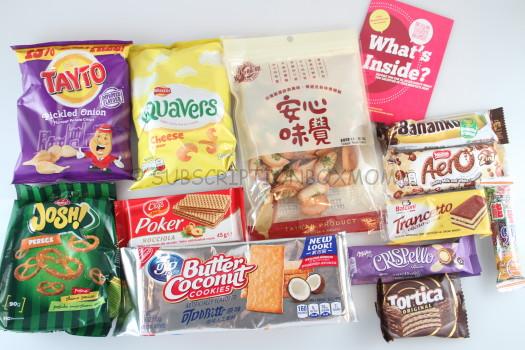 MunchPak is a snack subscription box that packs a huge amount of yummy snacks into their boxes.  Subscriptions are $21.00/month and each box packs old favorites and new goodies.  I reviewed this box in November, and it was yummy.
The Details:
Cost: $21.00, Family plan $39.00
Coupon:  If you want to try MunchPak, click HERE and use the code SNACKIN to take $2.00 off.
What's in the box?  Boxes are filled with a huge variety of delicious munchies from Australia, Sweden, Japan, United States, Canada, and many other countries from all over the world
When will I get my box?  You box will ship within about 48 hours after ordering.  You will then get a new box around the same time each month.
How many snacks will I get?  You will get 20-30 snacks.
Where do you ship?  USA and Canada
Website: www.munchpak.com
Facebook: https://www.facebook.com/munchpak
Twitter: https://twitter.com/munchpaksnacks
MunchPak ships in a plan brown box and has MunchPak tape on it.
First look: MunchPak wraps their snacks in newsprint.  It's actually pretty interesting, because they use newspapers from all over the world.
Second Look: This box was packed with snacks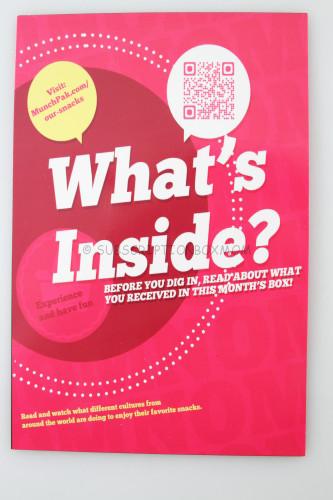 There is a card that you can scan and check out all the MunchPak snacks.
Tortica Chocolate Wafer with Chocolate: This is from Croatia.  This is round and tastes very similar to a Kit Kat bar.  This was really good.
Pei Tien Energy 99 Stick:  This snack is from Tawain and is made with 12 different kinds of natural cereals.  This doesn't have any preservatives.  This was good and it had a soy sauce flavor to it.
Poker Nocciola: This is two wafer cookies with hazelnut spread in the middle.  This was really good too.  It was like a Nutella cookie.
Balconi – Cocoa Trancetto: This is from Itally and is soft yellow and chocolate cake.  This was very good too.
Milka Crispello  This is from Switzerland. There is a milk chocolate shell, with vanilla cream inside.  I am not crazy about vanilla cream, but this was surprisingly tasty!
Bananko: This is a fluffy banana filling and covered with chocolate.  My youngest liked this, as he loves anything banana.
Aero This from the United Kingdom and is made with white chocolate, milk chocolate and coconut.  I did try this, as I didn't see the coconut on the label.  This is a lighter candy bar.  Unfortunately, I hate coconut, so I really didn't like this.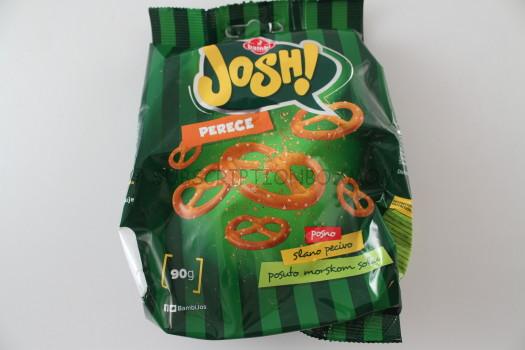 jos perece pretzel These are from Serbia and are pretzels.  They don't have hardly any salt on them, which I really enjoy.
Tayto Pickled Onion: These are from Ireland and they pack a strong taste.  I am personally not a fan, but my husband and oldest son love them.
Quavers Cheese: These are from the United Kingdom and are light cheesy snacks, with a hint on onion.  I loved these.
Butter Coconut Cookies: These are from Taiwan and are made with coconut.  As many of you already know, I hate coconut.  I haven't/won't try these.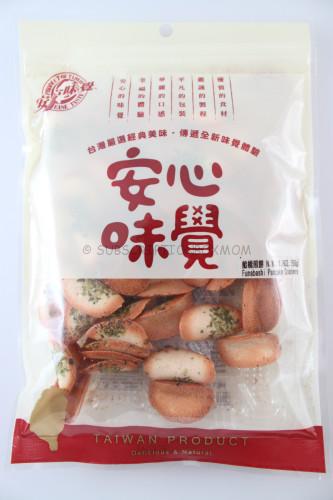 Ease Taste Funabashi Pancakes: These treats are from Taiwan and they taste similar to fortune cookies, only slightly different.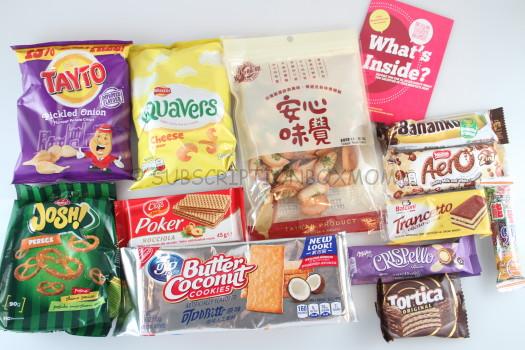 Final Thought: I really enjoyed this box.  There were 12 snacks total and they were from all around the world.  While some may be purchase locally, almost all of them were new to me.  I love that MunchPak introduces you to so many tasty snacks for such a great price.   If you want to try MunchPak, click HERE and use the code SNACKIN to take $2.00 off.
Do you like FREE SUBSCRIPTION BOXES?  Click HERE to see my free subscription box list.
You can see my FULL coupon list HERE.
Check out my current giveaways 
HERE