January 31, 2015
01/31/15

By Subscription Box Mom

0 Comments
0
January 2015 Little Lace Box Review + Coupon
Disclosure: This post contains affiliate links. I received this box free for review purposes.
Little Lace Box is easily one of my favorite boxes.  Boxes are $39.99 and filled with hand-curated, near impossible to find designer products.  Little Lace Box is run by three sisters and together, they have incredible taste.  I am consistently impressed with Little Lace Box, both in the value and the selection.
Little Lace Box shipped in an extra long box this month.
First Look: The box was packed with packing peanuts.
There was the regular red Little Lace Box and a tea set box.

Little Lace Box always included a two-sided information card.  The theme this month is  "The Dining Car", inspired by the show Downton Abbey.  I have never watched the show, so I really didn't know what to expect by this box.  The back of the information card had a detailed list of everything in the box.
Siena Tea Collection – Tea for One $24.00 This is an Oprah's favorite and I can see why.  This tea set comes with a pot, cup and saucer.  Sadly, my plate came broken, but Little Lace Box is sending me a new one.  The tea pot can sit on top of the cup for a cute look.  I don't drink tea, but this set is so cute.  It reminds me of tea parties with my grandmother, when I was little.
My plate was broken but Little Lace Box packed everything just right.  I emailed Little Lace Box and the emailed me back very quickly (less than an hour).  Little Lace Box has great customer service.
Capital Bee Raw Hand Cut Holly Honeycomb $7.00  This honey comes from the White Holly Flower.  It has a very sweet taste, perfect for the obvious tea or my favorite, chicken and biscuits.  My husband tried this (after I bribed him with a new geek and gamer box) and he was thrilled.  My husband drinks tea and he really loves this honey.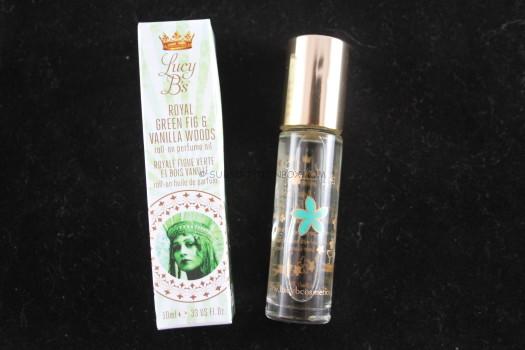 Lucy B's Roll On Perfume Oil in Royal Green Fig and Vanilla Woods $16.99  It took me smelling this perfume a few times, before I decided if I liked it.  This is a sweet perfume,and generally, I prefer a stronger scent.  My husband really likes this, so I am going to keep it.  I am curious about the jasmine scent though, it looks really good.  This is also another Oprah's favorite.
Downton Abbey Hair Jewellery Bobby Pin Set $21.99 I hate my hair in my face and generally, I use an elastic.  These are stylish and I am going to wear these to pull the side of my hair back.
Royal Apothic Bubble Cream $18.99 This is a body cleanser and it comes in a giant tube.  This has a nice fresh scent and a little goes a long way.  The packaging is beautiful and it has a nice vintage look.  I have about 10,000 things in our shower, but what's one more?
Beckman 1802 Authentic Hand-forged Britannia Fruit Spoon $19.99 This spoon is made with Britanna metal, which is what they use to make the Oscar statues with.  The spoon is made by a real Blacksmith.  The original spoon this is patterned from, was found in an abandoned shop on the Beekman Mansion.  The spoon is quite large, and is made to be eaten with fruit.
How to Be a Lady by Candace Simpson-Giles $16.99  This book has been updated for the times.  It contains useful, and thoughtful advice on how to be a proper lady.  Good manners are timeless and I have this book on my night stand now.
Here is a look at one of the pages.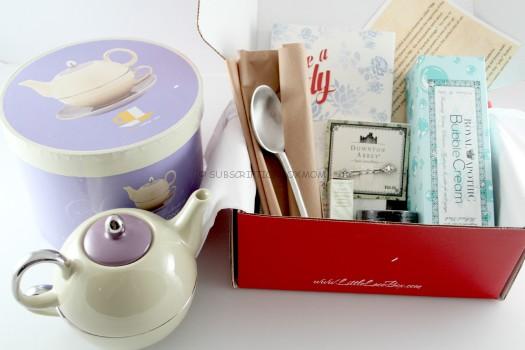 Final Thought: This box had a total value of  $125.95.  Once again, Little Lace Box delivered a well curated box.  I enjoyed all the items in the box, even though I never watch Downton Abbey. This box had a touch Victorian Class, without being stuffy.  This is one of my favorite subscription boxes.  Subscriptions are still open and if you want to secure a box, click here and use the code SubscriptionBoxMom10Today, to save $10.00  UPDATE:  I was informed that there are less than 55 subscription slots open.
Update: Little Lace Box sent me a replacement plate, actually they send me a whole new set!  They responded to my concerned right away and sent out the replacement.
I was surprised to see a whole new box!
This is how the set look like all put together.
Do you like FREE SUBSCRIPTION BOXES?  Click HERE to see my free subscription box list.
You can see my FULL coupon list HERE.
Do you love Giveaways?  Click HERE to enter all my Giveaways