January 9, 2015
01/09/15

By Subscription Box Mom

0 Comments
0
January 2015 The KinderBox Review + Coupon – Subscription Box For Men
Disclosure: This box was received free for review.
The KinderBox is a subscription box for men.  Each month, for $29.00, The KinderBox sends 5 products from various categories, like food, grooming products, knives, fashion accessories and more.  The KinderBox tests and tries every product that goes in their box.  If for any reason you don't like a product, you can email them and they will send you a new product.  I was really excited to check this box out.
The Details:
Cost: $29.00/month, $81.00/3 months, $150.00/6 months
Coupon: Use the code Kinder10 to save 10% on a GIFT purchase.
Shipping:  Free shipping for the United States.  $7.99 Internationally
What's in the box? The KinderBox sends 5 products from various categories, like food, grooming products, knives, fashion accessories and more.
When does the box ship? Boxes ship the middle of the month.
How do I cancel? You can cancel from your account.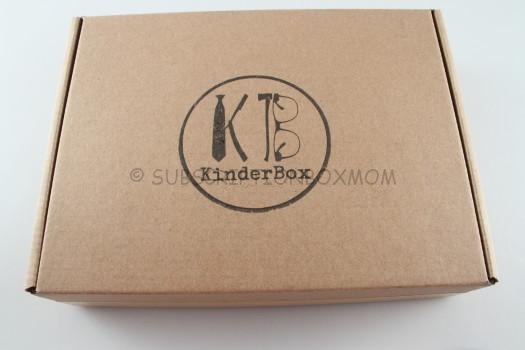 The KinderBox ships by USPS and comes in a little brown box.
First Look:  This box looked packed with goodies and I was excited to check it out with my husband.
There was a little card in the box with a coupon.  Use the code Kinder10 to save 10% on a GIFT purchase.  My husband loved the quote on the card " Every Man Dies, Not Every Man Lives", by William Wallace.  When you subscribe, you will be emailed a newsletter about the products in your box.
Nutty Pirate Beef Jerky This jerky comes from a shop on Etsy (It will reopen Jan 19th).  This jerky is made with brown sugar, onion powder and soy sauce.  This is a very chewy jerky, but it has an amazing taste.  Both C and I loved it.  You can save 10% in their Etsy shop with the code KINDER.
This is a closer look at the jerky.
Bacon Lip Balm by LuxeBodyCareCo $2.50.  LuxeBodyCareCo has created a lip balm for men, that women won't take.  This lip balm is made with vitamin e, essential oils, cocoa butter, and it totally smells like bacon.  C  (my husband) thought this was pretty cool and I have no interest in taking it.  Well played KinderBox.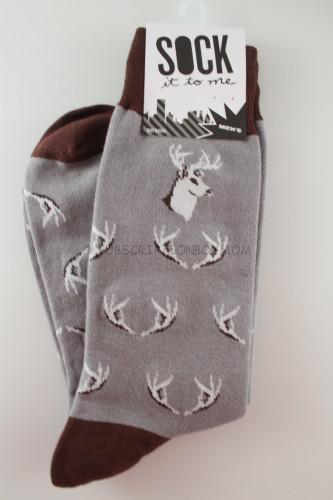 Sock It To Me Antlers Crew Socks $11.50  These are for a man's man!  While my husband doesn't hunt, he really likes these socks.  This company also makes cool socks for women and kids.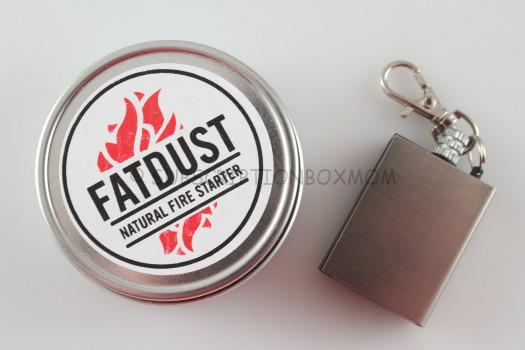 FATDUST Natural Fire Starter and Survival Life EverStryke Perma-Match $7.00 (firestarter) This was my husband's favorite item in the box.  The fact that The KinderBox sent something to make fire, makes this box so awesome.  The fire starter is a byproduct from processing fatwood. Depending on the fire, this FATWOOD will help start-up to 20 fires.  The butane match is a great addition to this set.  You fill it with lighter fluid and use the match inside to light against the flint.  VisualLingual makes the FATDUST and they have some really neat other items on their site.  You can check them out HERE.
Puur Blacksmith Aftershave $3.50  KinderBox says this aftershave has a bold scent, and they are right.  This is a bit too bold for my husband though.  If your husband doesn't shave, he can use this as beard oil.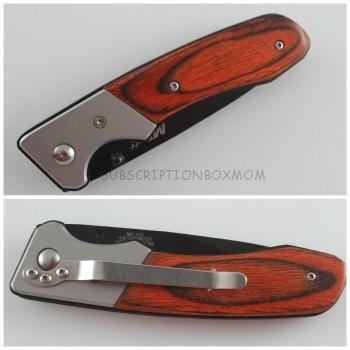 MTech Mil-Spec Knife As if the fire starter wasn't cool enough, The KinderBox threw in a knife.  This MTech knife has Pakkawood Inlay and a brushed aluminum handle.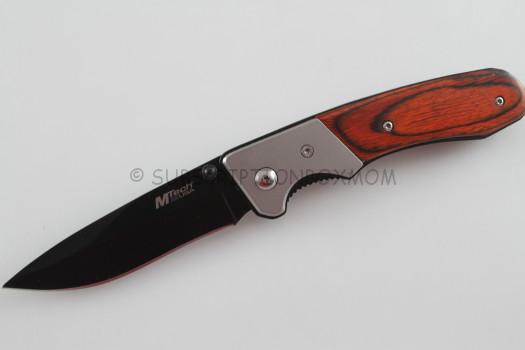 I couldn't find a retail value of this knife, but my husband loves it!  The KinderBox says guys can use this to whittle wood to help start that fire.
I had to show you the empty box.  There are no girly squiggles in this box, just manly shredded brown paper.
Final Thought:  This was a fantastic box and I am really impressed.  I couldn't get the full retail value of this box, but I think it is well worth the $29.00 cost.  I think it is really hard to have a really good subscription box for men, but The KinderBox has done it.  The FATDUST and knife were by far my husband's favorite products.  The aftershave is really the only product he didn't love.  If your guy is looking for a subscription box, check out The KinderBox.  You can save 10% on a gift subscription with the code Kinder10.  Remember, if your guy doesn't like something in his box, he can email support@thekinderbox.com, and The KinderBox will replace it with a NEW product.  I am amazed at the guarantee and the box.  "Release Your Inner Man" at The KinderBox!
Do you like FREE SUBSCRIPTION BOXES?  Click HERE to see my free subscription box list.
Check out my Full List of Subscription Box Coupons
Check out my current giveaways 
HERE