January 20, 2015
01/20/15

By Subscription Box Mom

1 Comment
1
January 2015 Ivy Kids Review + Coupon
Disclosure: This box was received free for review purposes.
I received the Ivy Kids box a few days ago and I was excited to check it out.  Ivy Kids is a craft and activity subscription box.  Each box is simply huge and is packed with 10 or more activities, along with a personalized item.  The boxes are for 3-8 year olds and each activity has suggestions for both the younger kids and older kids.  Ivy Kids does a great job combining both the younger and older kids in one box, so no one is board or overwhelmed.  Boxes are $38.95/Month, but I have a coupon in their review.
The Details:
Cost: $38.95 monthly, $36.95/mo for 3 months, $34.95/mo for 6 months.  Add a sibling pack for $5.00 a month.
Coupon: Click HERE and use the code IVY20 to get 20% off your subscription.
What's in the box?: Each month you will receive a kit containing a book and ten or more activities based upon the story. Everything you need to learn and play is included in your kit. The activities have been carefully crafted to encourage curiosity, problem solving, and creativity in young children. The Ivy Kit games and projects are a fun way to develop fine and gross muscles, build math and literacy skills, encourage reading comprehension, and promote scientific thinking.
When does the box ship? Boxes ship around the 22nd of the month for ongoing subscribers with the expectation that the kit will arrive within 5-10 business days in the U.S.  You can check the status of your shipments in the U.S. on your My Account page once your kit has shipped.
When will I receive my kit?  Kits arrive around the 1st of the month
When am I billed? When you sign up for the monthly membership, you will be billed for your first kit immediately. After that, you will be billed on the 20th of each month until cancelled.
Can I skip?  Yes!  Just email  info@ivy-kids.com
How do I cancel? You can cancel a monthly subscription any time after the first kit ships. Please cancel by the next month's billing date to avoid getting billed for and shipped the next kit. Gift subscriptions (3 or 6 month terms) are not eligible for cancellation. Auto-renewing subscriptions (pay every 3 or 6 months) are only eligible for cancellation after the initial prepaid term has been completed. To cancel, please email customerservice@ivy-kids.com
Website: http://ivy-kids.com/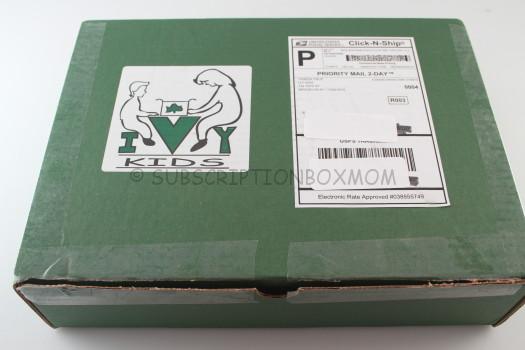 Ivy Kids comes in a pretty large box, because there is so much stuff inside!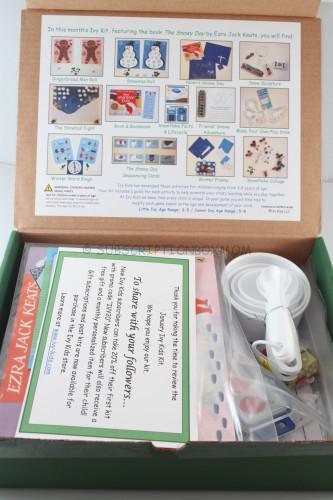 First Look:  There is always a full breakdown of what's in the box, located on the inside of the lid.
Each box comes with a book and all the activities in the box are based on that book.  This month, the book was The Snowy Day by Ezra Jack Keets.  I remember this book from Reading Rainbow.  It is a Caldecott award-winning book, and I am happy to have it now.
The personalized item this month was set of "Season Greetings" note cards. These are really cute.  They remind me of Christmas, but they can make cute playdate invitations.
Gingerbread Man Roll:  This is a game where you roll one dice and then match the number on the dice with the number on the gingerbread man.  You place a button (there was a bag included, see later in this review) on each number.  The person who fills their card first, wins.  This is a great game to teach number recognition.
Snowman Roll: This a similar concept of the gingerbread game, but more challenging.  You roll both dice in this game, add them up and find that number on your board.  Once you find the number, you place a button.  The person who fills their card first, wins.
Peter's Snowy Day: After reading the story, you child draws their favorite scene from the story, using the blue paper and chalk.  Once you are done, you can add the little card of Peter.  There was also a paper where your child can write a narrative of their favorite part of the story.
Snow Sculpture: Your child uses the model magic to make their own snow sculpture.  You can use the pipe cleaner to hang the finished piece.  Your child can also use the watercolors to paint the piece after it dries.
I wasn't feeling well over the weekend, so we took that time to work on several of these activities.  L (age 5) had fun making his sculpture.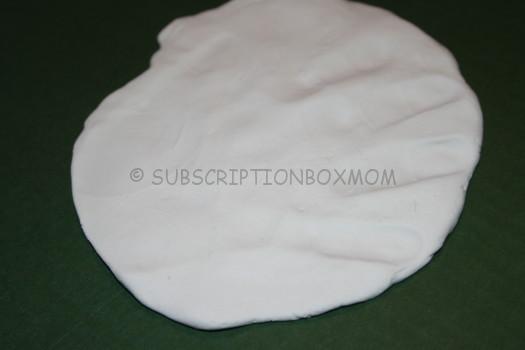 He decided to make a hand print.  T (almost 3) made a project too, but it has walked away.  I don't really know how we lost a clay sculpture, but we did.
I gave L the water colors to paint his sculpture and he decided to go with black.  He loves coloring with black.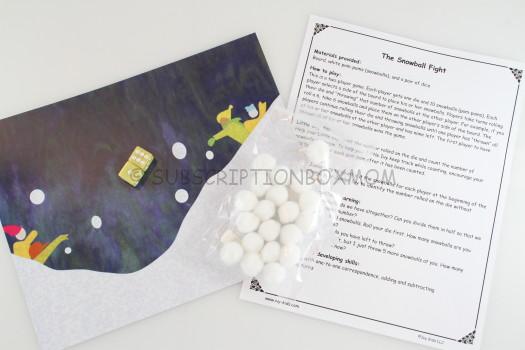 The Snowball Fight: This was a favorite activity from the box.  You roll the dice and then throw that number of snowballs at the other player.  Both of my boys played this and had a seriously good time.
This is my little guy and my husband playing the Snowball Fight.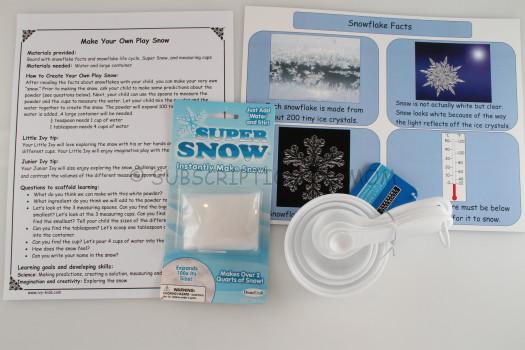 Make Your Own Play Snow: Ivy Kids included a factual card about snowflakes.  L loves learning about Science and he enjoyed this card.  After learning about snowflakes, your child can make fake snow.
This is the other side of the snowflake fact sheet.
Friends' Snow Adventure:  After reading the book, you can have your child predict what will happen when they go into the deep deep snow.
Winter Word Bingo: L and I had a so much fun with this game.  You spin the spinner, then match the letter with the word that begins with that letter.  This is a perfect activity for L, as he is in the beginning reading stage.  L ended up beating me, fair and square.
Having Fun!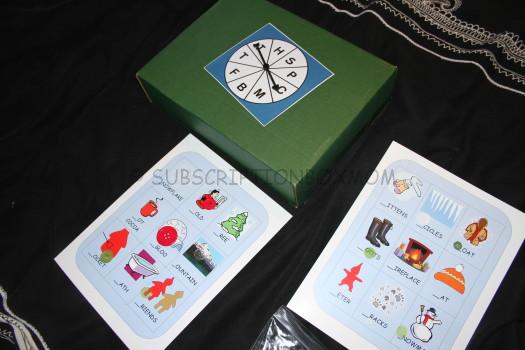 Our game setup.
The Snowy Day Sequencing Cards: You separate all the cards and then have your child place them in order of how they happened in the story.  When you are done, your child can use the cards to create their own story.
Winter Frame: This activity includes all the materials to make a foam picture frame.
L loves crafts and he completed this without help.
Here is the finished picture frame.
Snowflake Collage: There are two snowflakes that you can decorate with glitter, pom poms, and jewels.  I thought you would need glue, but the snowflake is like a big sticker.  You just peel off the paper and the whole snowflake is sticky.
This is L's snowflake
This is my little T working on his snowflake.
This is T's finished snowflake.  He picked the placement of each pom pom.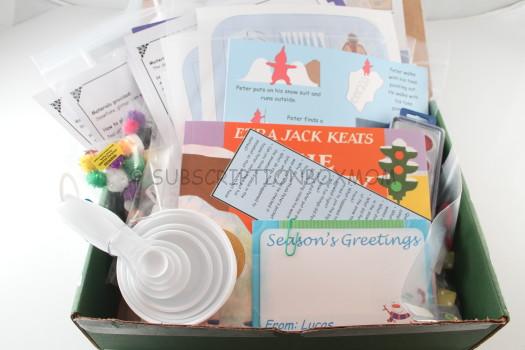 Final Thought: This box was packed with fun and learning.  I love that there were so many activities and supplies for both of my boys to enjoy this box.  This box was really educational, but L didn't notice he was learning, he was just having fun.  This is a fantastic box for children.  If you want to try Ivy Kids, click HERE and use the code IVY20 to get 20% off your subscription.  
Do you like FREE SUBSCRIPTION BOXES?  Click HERE to see my free subscription box list.
You can see my FULL coupon list HERE.
Do you love Giveaways?  Click HERE to enter all my Giveaways.