January 19, 2015
01/19/15

By Subscription Box Mom

0 Comments
0
December 2014 Wantable Fitness Review
Disclosure: This box was received free for review. This post contains affiliate links
Wantable recently released a new box, Wantable Fitness Edit.  The fitness edit is very different then Wantable's other boxes: Makeup, Intimates, and Accessories.  Wantable Fitness Edit is similar to Stitch Fix, but with fitness clothing item.  You pay a $20.00 styling fee and your stylist will send you 5 handpicked items to try before you buy.
When you sign up, you will fill out a style survey.  This is your opportunity to let Wantable know all your preferences and dislikes.  There are comment boxes, so you can give very specific requests.  Once you get your box, you have 5 days to try everything on and make a decision.  You will be sent a return address label, so you can return what doesn't work.  If you don't purchase anything, you will lose the styling fee.  If you purchase something, your styling fee is deducted from the amount.  If you purchase everything in your Wantable Fitness Edit, you will get a 30% discount.  I am currently training for my second half marathon, so I was excited to review this.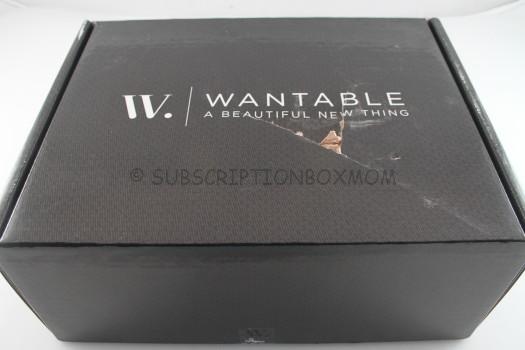 Wantable Fitness Edit shipped in a huge box.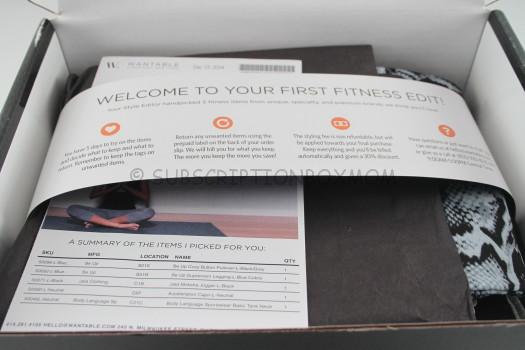 First look
There was quote in the box "Do something today that you future self will thank you for".  This is a great for anyone, but especially for a fitness box.  Some days I don't want to run, but then I remember why I do it.
The back of the card has a description of how Wantable Fitness Edit works.
The information card is similar to other Wantable boxes.  There is a list of all the items in the box.
Inside, there is a list of your preferences.  I said I love neutrals and I like hoodies/jackets, colors, running, activewear tops, and activewear bottoms.  In the comments, I gave my preferences for a sports bra and I said I like my pants to fit a bit looser.
Be Up Cozy Button Pullover: $72.00 This is a long sleeve hoodie.  It has two pockets which I love.  It is made to be worn to and from the gym.  I run at home, so I don't really need this.  It is a bit expensive and really prefer to have a hoodie to run in.
Body Language Sportswear Basic Tank $36.00 This is a really comfortable tank, but it's too expensive to buy for $36.00.  I can be a bit cheap.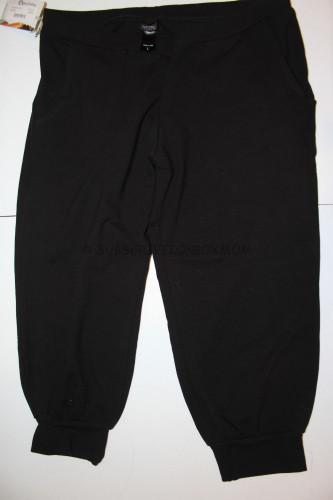 Jala Moksha Jogger $62.00  These are jogger pants that are short sweatpants.  These are really comfortable and I love them.  I think I may keep these!
Be Up Supremen Legging $69.00 These are some wild, loud and tight cobra print pants.  They are very comfortable, but I don't wear tight pants.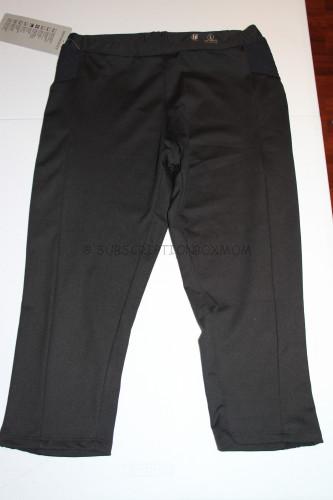 Acceleration Capri: $62.00 These are capri that lifts and tucks.  They were very comfortable, but still a bit form-fitting.  I haven't quite decided about these yet.
Final Thought: The total cost of all the items is $301.00.  Once they deduct the $4.99 styling fee (this was a special promotion) and the 30%, I could get the total box for $205.71.  This was a mixed box for me.  The only item I was really disappointed with, was the cobra pants.  The don't seem to fit with my profile or comments.  The jogger and capris were my favorite items in the box.  I think Wantable Fitness Edit was fun to try out and I like that they can accommodate many different workout styles.  After trying it out, I know that I need to be more specific on my comments, so I could get an even better box.  If you want to try Wantable Fitness Edit, click HERE.
Do you like FREE SUBSCRIPTION BOXES?  Click HERE to see my free subscription box list.
You can see my FULL coupon list HERE.
Do you love Giveaways?  Click HERE to enter all my Giveaways.