January 22, 2015
01/22/15

By Subscription Box Mom

0 Comments
0
December 2014 Surprise Ride Review + Coupon + January Spoilers
Disclosure: This post contains affiliate links. I received this box free for review
Suprise Ride is a monthly subscription box for children 6-11.  Each monthly box is $30.00, and each box has a specific theme like art, geography, outer space, food, and more.  Boxes are filled with all the materials to complete the projects that go with the current months theme, a book, snack, and other fun surprises.  There will also be a Surprise Ride booklet, which is packed with all kinds of information about that month's theme.
The Details:
Cost: $30.00/Month
Details: Each monthly package will include:
All the supplies needed to complete projects that explore the month's theme.
A book, a snack, and other fun surprises to go along with the ride.
Our famous Surprise Ride booklet with lessons on the theme, interesting facts, and ways to continue the exploration.
Coupon: Click HERE and use the coupon GIFT5 to save $5.00
When does the box ship? 6th of the month.
Website: http://www.surpriseride.com/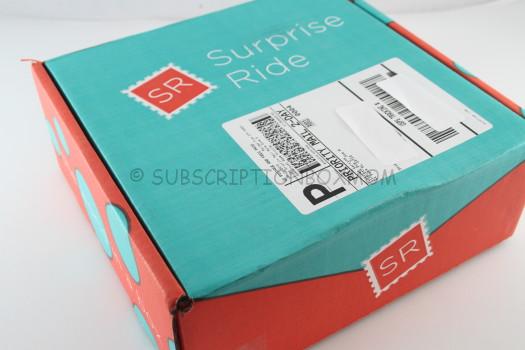 Surprise Ride ships in a really cute reusable box.  I love the colors and graphics on the box.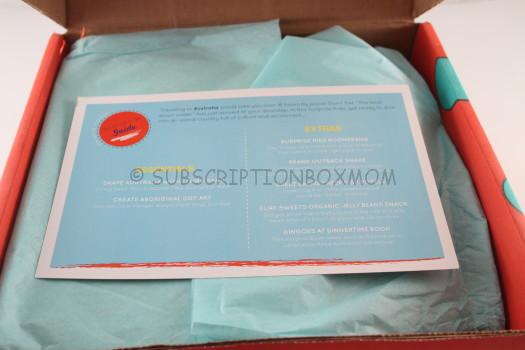 First Look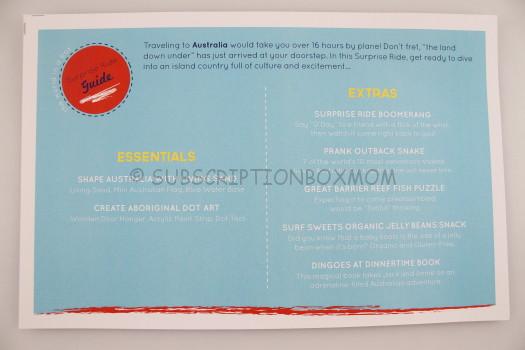 Surprise Ride includes and information card.  This month, we Surprise Ride is traveling to Australia.  The card lists the "essentials". which are the two main crafts.   The "extras" are a list of all the bonus items in the box, this includes a snack, a book and other fun items.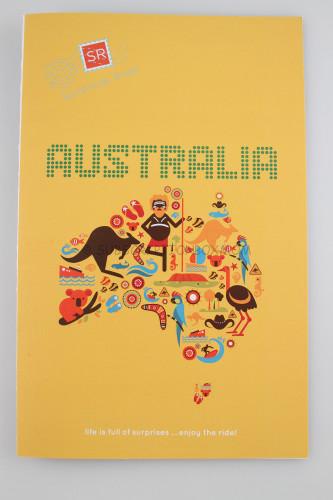 There was a full color booklet about Australia.
Inside, Surprise Ride included information about marsupials, the outback, the Aboriginal people and more.  My oldest son L (5 1/2) enjoyed reading this together.
The back of the booklet has all kinds of fun and interesting facts.  Did you know the first boomerangs created didn't come back to the person who threw them?
The Essentials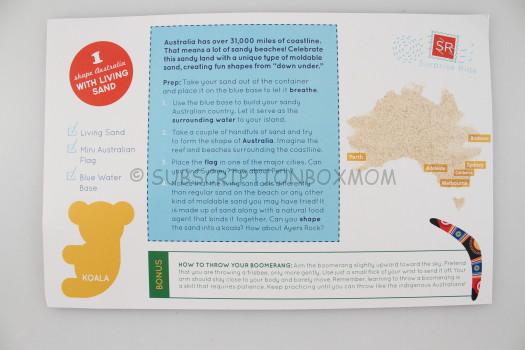 The first activity is "Shape Australia with Living Sand".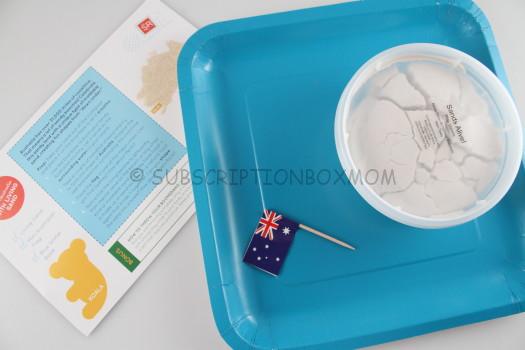 Surprise Ride included everything you need for the project: a paper plate, living sand and a flag.  The living sand is nothing like I have ever felt.  It felt like sand dough.
My son had a blast with the dough.
This is the finished project.  L needed a bit of help making Australia, but I think the finished project looks great.  The flag is placed to represent Sydney.  Surprise Ride also gave suggestions to use the sand to make a koala and Ayers Rock.
The second project is "Create Aboriginal Dot Art".  The Aboriginal people use "dot paintings" to tell stories.  This activity lets your child make their own door hanger using a dot painting.
Surprise Ride included paint, a dot tool, and a wooden door hanger.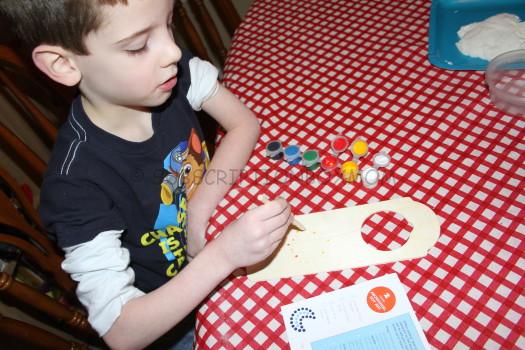 L has a tendency to rush projects, but L took extra time to complete the project.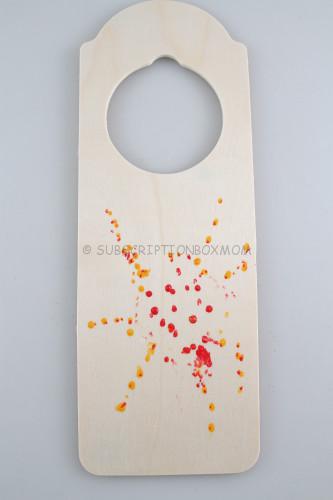 We are still waiting for the paint to try, before he paints the other side.
The Extras
There was a snake in the box, because 7 of the 10 most poisonous snakes living in Australia.
There was also a boomerang.  L loved trying this out and he kept trying to get it to com back to him.
 After L finished his projects, he go out the sand and played in it with the snake.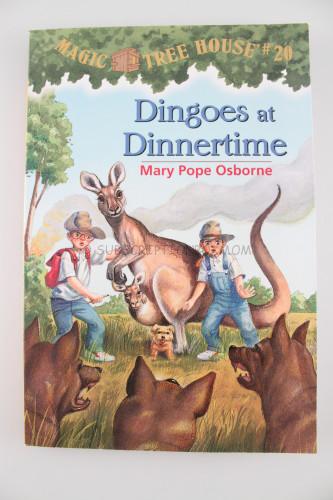 Dingoes at Dinnertime Book: This book is about Jack and Annie and their adventures in Australia.  This is one of the first chapter books that L has read.  I love subscription box that includes books.

Surf Sweets  These are packed with vitamin c and made with organic sweeteners and organic fruit.  These are really tasty and are not filled with all the junk as other candy.
Great Barrier Fish Puzzle: This was a fun puzzle of a fish in the Great Barrier Reef.  I would love to visit Australia and see the Great Barrier Reef in person.
L is really getting into puzzles and we had fun putting this together.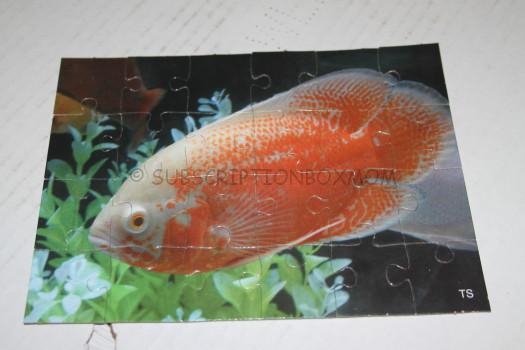 This is the completed puzzle
Final Thought: Surprise Ride is a really fun subscription for kids 6-11.  There not many fun activity filled boxes for kids over 5.  I liked how they combined educational aspects with fun activities.  My son had a great time with this box and we will enjoy reading the book together.  If you want to try Surprise Ride, click here and use the coupon GIFT5 to save $5.00.  When you subscribe, you will get the January box, which you can see below.
The January box is themed Hot and Cold.
From Surprise Ride "This month we are heating things up while still keeping it "cool" with our Hot and Cold Themed Box! Riders explored the world of temperature science by weaving a colorful potholder, reading about firefighting adventures, and experimenting with freezing temperatures to make a delicious slushy! They also received a Surprise Ride hot and cold pack, color changing spoon, reusable ice cubes, and delicious all-natural popcorn."
Do you like FREE SUBSCRIPTION BOXES?  Click HERE to see my free subscription box list.
Check out my Full List of Subscription Box Coupons
Check out my current giveaways 
HERE